Allô, allô, Bonjour!


In honour of this fiftieth issue of Slurp! we will ruthlessly dissect the brain of the Frenchman. You will probably have seen one before, a Frenchman. At first glance everything appears in order. But beware! There's an entire trench worth of differences between a French brain and a Dutch brain!
The four most striking differences are:
1. The French do not eat Oliebollen (Dutch Doughnuts).
2. The French suffer from compulsive administrative disorder.
3. The French think money is embarrassing.
4. The French love waiting!

Allez, on y va!





---

| | | |
| --- | --- | --- |
| During the New Years Eve festivities we treated our French circle of friends to the traditional Dutch snack. This turned out to be less than successful. All night long people avoided the bowl of sugary balls as if she were contaminated with the Ebola virus. | | The next morning we decided to skewer the 'Balles de huile' on a bit of wire hanging from the bird tree. But even the winter-starved castle finches ignored the Dutch delight. Why? In the film clip below you will witness how the chauvinistic Blue Tits look down their conceited beaks at the Dutch Oliebol and instead opt for their native croissants. |
Cliquez ici for the movie


(Cliquez on the image below)
---
Filthy lucre and to trip up time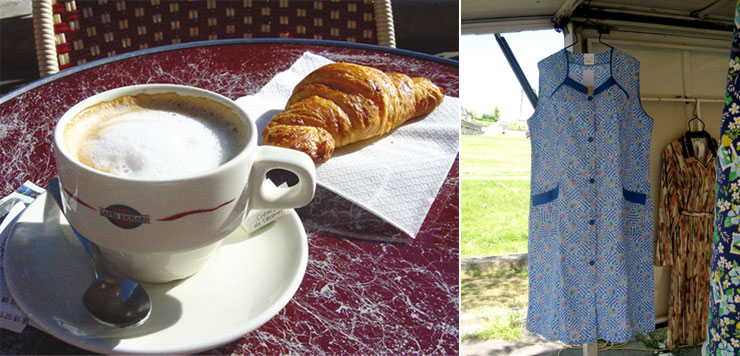 | | | |
| --- | --- | --- |
| Because the store cupboards have all been raided and need to be filled up again, we're starting the fresh New Year with a visit to the market. But first a typical French breakfast on the chilly sunny terrace of the Bar du Marché. | | A new year deserves a new dress. We're spoilt for choice but we opt for model 'cornflower'. |
At the checkout we make a discovery: Dutch supermarkets will round up all prices with great zest. One and two cent coins are no longer in circulation. In France on the other hand, these humble coins are still prominent players in day-to-day monetary traffic.

As well as that, money over here is considered to be slightly embarrassing. On parle pas. You don't talk about money. If it's really unavoidable to mention money, it is referred to as 'trésorerie', the treasury. It is because of this monetary shame that coins and banknotes don't change hands directly but via a so called 'money tray'. You'll find them at every boulangerie, boucherie or other establishment.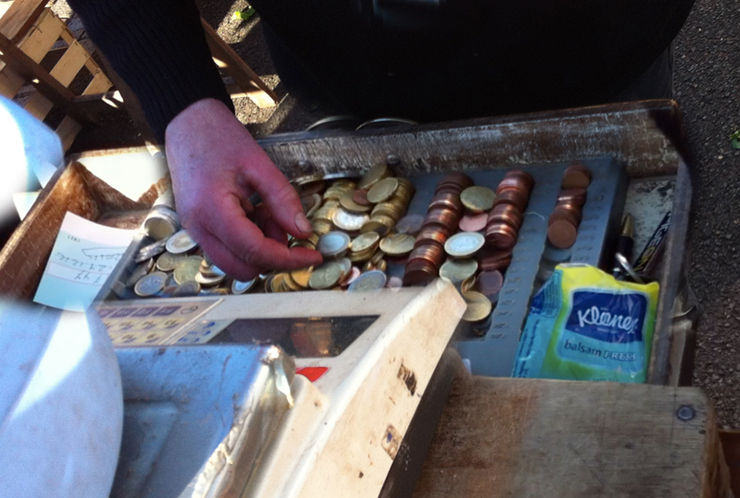 Even at this market we find a small, designated area for the root of all evil to discretely change ownership. In the money drawer on the right hand side of the image we see the gulley for one-cent coins, beside it the two-cent coin shelter. On the left side of the drawer there is an area reserved for hand- calligraphed cheques, still a frequently used method of payment (the tissues are used to dry the tears when the shopkeeper runs out of one-cent coins).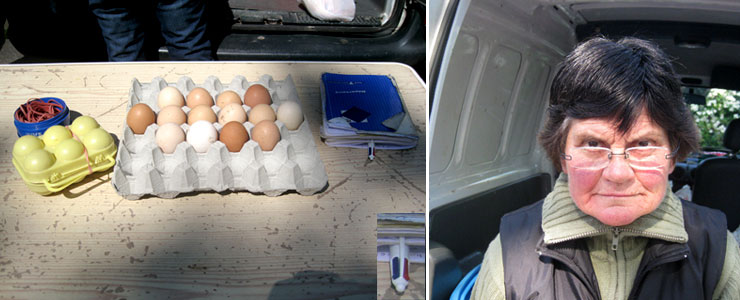 Virginie lays her own eggs. The best eggs at the entire market. She doesn't have many so make sure you're on time, before they sell out. No matter how modest her turnover may be, every transaction is meticulously recorded. A box of six eggs comes to 0.84 centimes.
Please note: the pen used in Virginie's 'Cahier de trésorie' writes all colours of the national tricolour, including red ink.

Virginie likes a joke as much as the next man but she's not keen on well-intended jesting as 'So, you are the chicken with the golden eggs'. 'Un poule? Moi!?' she shrieks while she rustles through her rust stained moneybox. 'Quat'-ving'-quat'-centimes, s'ils vous plait, monsieur.'
Ostréiculteur Jean-Louis supplies us with a dozen 'Spéciales'. Oysters the colour of the sea; caught this morning in Cap Ferret, 80 kilometers further south. His treasury too communicates the ostentatious French nonchalance for hard cash.
| | | |
| --- | --- | --- |
| Macarons, the saccharinely sweet specialité de Bordeaux we procure from Tony Macaroni. | | His 102-year old neighbour, booming with health and vitality, fills our basket with 'Pissenlits', dandelion leaf. These will not cause you to, as the name suggests, wet your bed, but they are restorative to the liver. This particular part of our body has had an awful lot to endure over the recent festive period and certainly deserves a bit of a boost. |
The unflappable ex-postman Jean-Daniel makes a bit of extra cash by selling snails. Five different kinds; fait maison en prêt à cuire. Just pop them in the oven for an hour and they're good to go. He waits patiently for his customers. Waiting doesn't bother him.
Why? We'll come back to that in a moment.

A good chunk of fresh pumpkin. Cut up in to thick slices and fry in the home-pressed huile de noix. Delicious!
The winter forms the heart of the hunting season. Doves, partridges, pheasants, ducks, hares, rabbits...
Even wild boar are waiting, muzzle to muzzle, for the home chef. Looking at all this it can be considered a miracle that there are any animals left alive at all in France.
Game is much sought after. So that means waiting. Waiting in line. The Dutch hate it. And therefore just don't do it. They leave and might come back later. Or not. But the French are seemingly unbothered. They have mastered the noble art of waiting.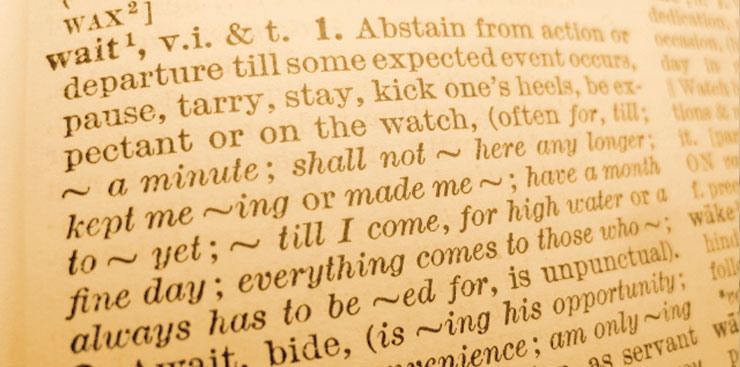 To wait (verb)
"Abstain from action or departure till some expected event occurs."

An extraordinary phenomenon, waiting. The 'now' is labelled inadequate and substituted for a 'later' that is deemed to deliver something more pleasurable. Waiting is the mental anticipation of something that will improve the 'now'.



'Everything will come in due time for he who can wait'




Francois Rabelais

'I retreat and wait.
This is the time that never gets lost:
Every minute is converted into future.
I am an ocean of waiting,
Fleeting like water, enveloped by the moment.
There is no time. Or is there nothing but time?'
M. Vasalis
---
Twelve months of waiting


The grapes were harvested in October. We have gave them shelter in steel tanks and during the past two months they have been transformed into wine. A hectic time. But now peace prevails in the wine cellar. There is not a sound to be heard.



The grape presses are waiting, sparklingly clean; sponge cloths at the ready on the railings. For an entire four seasons they will allowed to contemplate their lives; reminisce about how they crushed innocent grape skins between their powerful plates during those warm late summer evenings. They now take an 'année sabbatique'; they have to wait until next year before they can show off their muscles again.

The tanks are empty. The wine they used to bear has been taken from them and transferred to the adjoining 'chai à barriques'.
Hollow and without purpose the steel barrels rise up in post-natal silence. Nothing to do.
In the cellar the wine can take her time to mature. In the dark, peacefully breathing through the wood of the barrels, she has entered a peaceful state of hibernation. Not until twelve months from now we will wake her up. Then the young and headstrong wine will be reborn; the wait will be rewarded: time will have made her stubborn tannins soft, round and chubby. Supple and voluptuous the wine will stretch out and with a happy sensual smile she will let herself slide into the bottle. Enriched by the dark spices of the oak she will then seduce our noses with brain teasing aromas.

(Author's note: what's up with the wine porn?! Cliquez ici for the facts.)
---
Zenification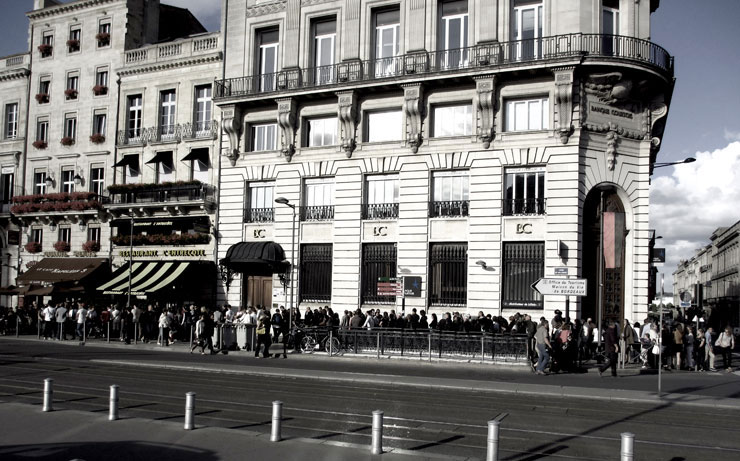 Dutch photography detective Hans Aarsman would have been intrigued. What is happening here?! A protest march? A financial institution that has collapsed? Angry customers looking for their money back? Then, immersed in the image, magnifying glass in hand, he would have been overcome by a huge shock: it's a queue, long enough to snake around the corner of the street. And no, this is not the great wartime famine of November 1944, this is Bordeaux, November 2012.
We're talking about a restaurant. An exclusively carnivorous restaurant to be exact. This begs the question why; nom de dieu, are over one hundred seemingly able-bodied individuals queuing up to get into a restaurant?! Even though the Wineboer is not a fan of meat, and even less so of waiting, he, encouraged by his lover, meekly joins the back of the queue. The sacrifices one makes for art..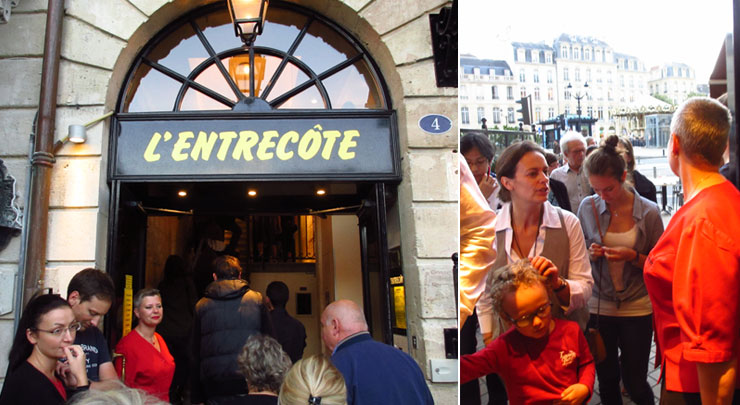 After about twenty minutes a whispered rumour begins to circulate: "the doors are about to be opened...
The doors will open soon...!" Slowly the human chain begins to snake forward. Fastidiously scrutinized by Madame Jokiel, dressed for red alert, the guests make a shuffled entrance to the culinary temple.
In order to prevent too much commotion a break is inserted after every tenth visitor to give the previous bunch a chance to settle down. With her hawk like eyes the former boot camp commander does a headcount. After every tenth person that enters, a powerful 'Stop!' reverberates over the cobblestones.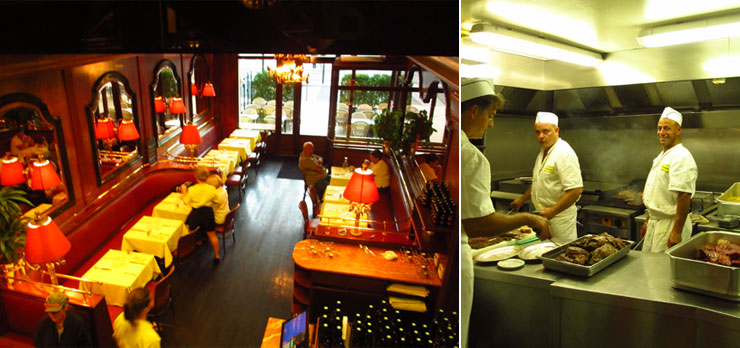 | | | |
| --- | --- | --- |
| When the Wineboer and his beloved finally make it inside the building, the ground- and first floor are already full beyond capacity. Only on the third floor do they manage to find a seat. | | All the chefs are happy here. Understandable, because the terms of employment inL'Entrecôte cannot be beaten: steak and chips. That's the only thing they need to be able to cook here. Oh and a 'Salade aux Noix'. |
| | | |
| --- | --- | --- |
| Overcome by light bafflement the wineboer studies the smallest menu ever. The 10x20 cm piece of card lists 1 entrecôte, 1 chips, 1 salad and includes the wine list as well. The carte des vins contains just two wines: a red one with AOC, so at least we know it's made of grapes and a rose that could be made out of anything. | | Frightfully the wineboer counts his blessings. 'What am I doing here? Who am I?' And most importantly: 'How do I get out of here?" |
Gingerly, as if he were kissing the belly of a crocodile, the chateau owner slurps up a tiny sip of the dictatorial grape juice. Courteously he makes every effort to control his facial features after swallowing.
But unfortunately the peristaltic sounds that are inadvertently produced alert the waitress who comes running over, defibrillator manual in hand.
| | | |
| --- | --- | --- |
| They don't bother with starters here, The Wineboer's lover receives her 'Tranche de faux filet paré avec sa fameuse sauce et ses pommes allumettes'. | | The Wineboer himself has to make do with a 'Salade au Noix'. Indeed in legal terms there is no argument: 'Noix' is unequivocally plural; we count one and a half. |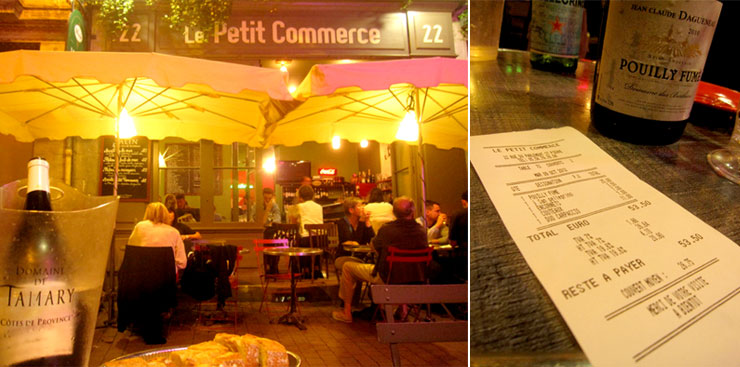 But a Wineboer worth his salt is not so easily discouraged. On the contrary: he'll just go and have dinner again somewhere else. In a tiny restaurant in the sailors' quarter of Bordeaux we celebrate the evening once more with a plate of fresh oysters, sea bass carpaccio, a dish of grilled baby squid and a bottle from a region the existence of which is explicitly denied.
L'Entrecôte 4, Cours du 30 Juillet, 33000 Bordeaux, Téléphone : 05 56 81 76 10
Epilogue
L'Entrecôte has five branches in France turning over on average 6.5 million euro each. The company heirs Gineste de Saurs total up a fat lot of 32 million euro a year. Not bad for a leathery steak, a bowl of flaccid chips and a bottle of undrinkable wine.
The question remains: WHY ARE HORDES OF PEOPLE PREPARED TO QUEUE UP FOR THAT?

Cliquez ici for the answer.

---
| | | |
| --- | --- | --- |
| | Share this Slurp! on Facebook | |
---
---
Cuvee Trois Mille is a very rare red Bordeaux wine of the highest standard, of the best year of the decade: 2009.
Only 3000 bottles have been produced, supervised by
Michel Rolland, the world's best wine maker.
The name has been printed in 18 carat gold directly on to the bottle.

Cliquez ici for the Fiche Technique and a film clip.


Finally,
Château la Tulipe
de la Garde 2010
est arrivé.


order here
order here
---
Allez, Wholeharted Santé et à la prochaine!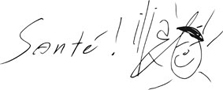 ---
| | | | |
| --- | --- | --- | --- |
| | | | SlurpShop |