Allo, allo, Bonjour!

In the afternoon of Sunday the 10th of July, twenty-two amateur singers, of at best bathroom level, arrived at Chateau la Tulipe de la Garde. In this edition of Slurp we will report how choir conductor Edwin Schimscheimer and well-known vocalist Mathilde Santing, who spontaneously dropped by, turned these twenty-two passionate amateurs into a first-rate choir.

Allez, on y va!



In this edition of Slurp!

Everything on the Chateau Sing-along




---
| | | |
| --- | --- | --- |
| Week 1: The Chateau Sing-along 2011 | | |
| Still a little unsteady on our feet after all the events of the last while we shall report in this Slurp on our vendanges vertes chantants, the Chateau Sing-along. Like many ambitious ideas, this one too originated during a meal accompanied by a glass of beautiful wine. During said meal, myself and my friend, composer Edwin Schimscheimer, contemplated the phenomenon of choir-singing. An intriguing phenomenon indeed; dating back to the dark shadows of time. Prehistoric folk around a camp fire, religious believers in a church and supporters at a match: singing together creates and strengthens ties. In addition to that it is well-known that speaking to plants is beneficial to them, so singing to our grapes surely would do them a world of good. We came to the conclusion that the coming summer harvest would be considerably alleviated if we were to pick our grapes whilst singing. | | |
Sunday afternoon July 10th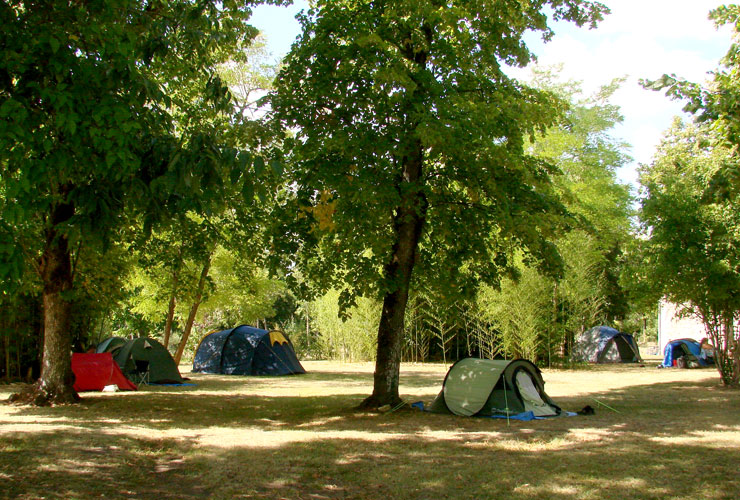 We spent weeks trying to find the appropriate singing pickers to fill our grape pickers-choir.
As a result of announcements in Slurp, the national newspapers and a radio program we were overwhelmed by the response we got. We held auditions on YouTube; we weren't looking for professionals, just ordinary people who loved singing and who loved wine. On Sunday the tenth of July the selected choir members begin to arrive; today they'll meet each other for the first time.

Slowly the castle park begins to fill up with tents. Disposable fold-out models seem ever popular. As opposed to previous equipes, who would scatter and spread out across the park, this troupe seems to be a cohesive unit from the start; their tents are all clustered together. Just in time for the aperitif our 22-headed choir is complete and soon the wildly romantic sound of the unscrewing of screw caps can be heard everywhere.
The brand-new choir members have already been practicing the wine-chansons, written by Edwin Schimscheimer and the wineboer, on their journey from Holland to the castle. So after dinner on the Sunday night we have our first animated singing session. During this first session Edwin detects a wealth of latent talent and decides to do more than 'just teach them some songs'. Instead he decides on special vocal training- commando style, to drill the choir not just into shape but to the next level. From now on the mornings start with vocal gymnastics: stretching out the vocal chords followed by thirty push-ups with your tongue.
cliquez on the image for a movie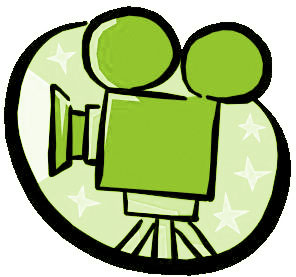 (cliquez on the image, and then again)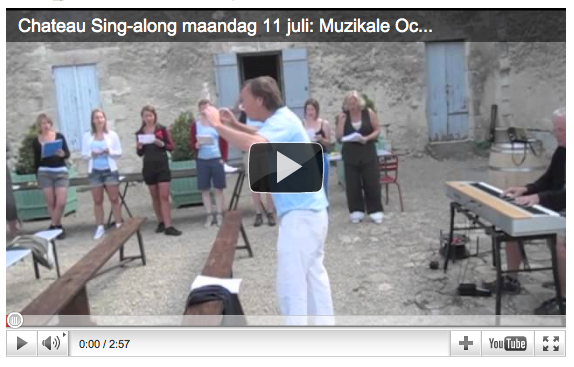 Then our choir leaves for the vineyard: to sing for the grapes and to gently relieve them of their spare bunches. Initially the choir is hesitant but soon, thanks to the inspirational leadership of Mathilde Santing who has spontaneously dropped by, the first wine-chansons are roaring across the fields and the bunches are swaying happily and rhythmically on the vines.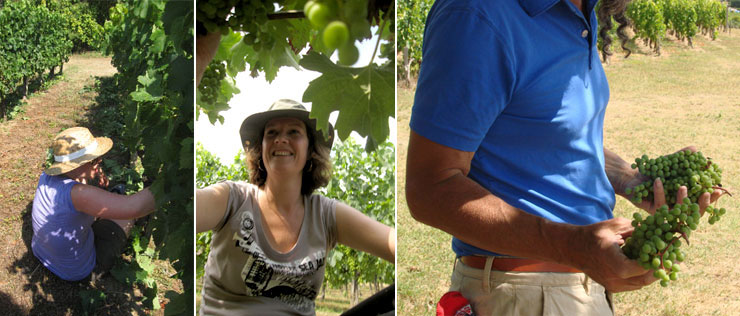 Before the successful French cuisinier Jean-Pierre Coffe cuts up a carrot he'll always take a moment to whisper some calming words into its ear: "Don't fear, dear carrot, yes I am about to cut you up, but I promise to make you into a wonderfully delicious soup."
Apparently Prince Charles himself speaks to his roses before pruning them. So, why carrots and roses but not grapes? After we've bottled this years harvest, which will be in July 2013, we'll find out if our wine has acquired a happier, more joyful taste thanks to all this singing.
The wineboer himself sings along too. But his voice is hoarse with emotion; he is in a mournful mood when he inters these two newly born cut off grape bunches.
Cliquez ici for the full reportage of the Chateau Sing-along!



---
Week 2: The non-singing picking week
The following week we hosted a fresh equipe. Everything was back to normal. Although, can we really call it 'normal' when we experience how sixteen independent individuals transform into friends who have fun together, eat and drink together, laze about together, laugh together and work together.

cliquez on the image to see it happen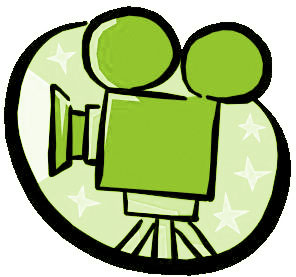 (cliquez on the image and then again)
---
A deserted square and the smell of fresh croissants
It is not unusual that we break up the 1100 kilometers to our Chateau with an overnight stay. Preferably not in one of those disheartening motorway-hotels that radiate atmosphere like a detention center. We prefer to stay in a local old-school rural French hotel.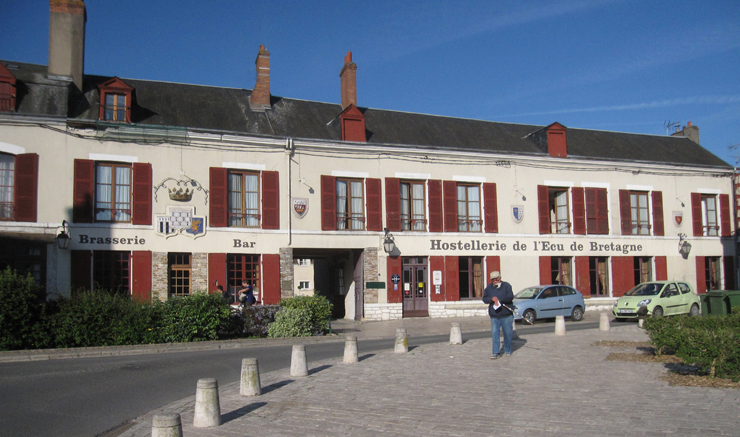 One of those hotels that is called hostellerie, where everything squeaks and creaks, and where you enter the courtyard through a gate that has seen centuries of horse drawn stage coaches.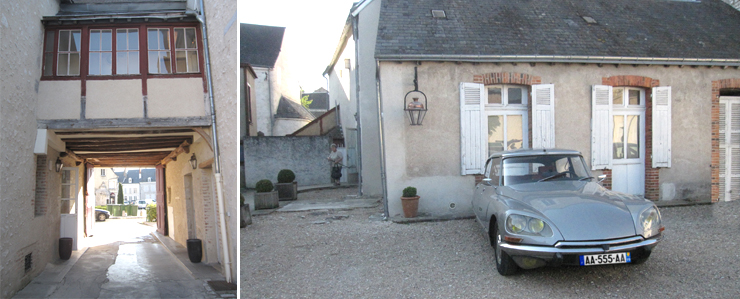 If time hasn't stood completely still here since those days, they've at least thirty years still to catch up on, although, if it was up to us, we'd rather they didn't...


Inside, the scent of beeswax and leather lingers. The wooden floors squeak when you walk, golden-framed oil paintings. Solemn, is the word that comes to mind. But attention: don't lose yourself in daydreams, stay sharp now. You need to ask for a chambre in the main building. This is vital because otherwise you might find yourself in one of the recently "completely modernised" (read: ruined) rooms in the courtyard.



Walk through the hall and pass the resident game, still searching for the emergency exit...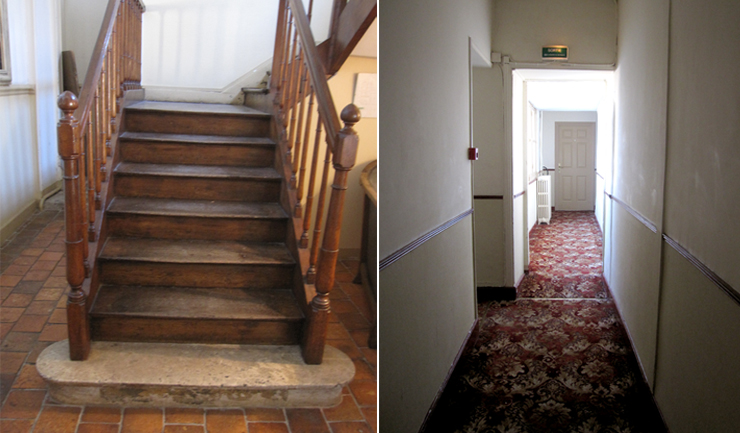 Take the groaning wooden stairs and enter the dimly lit, crooked corridors.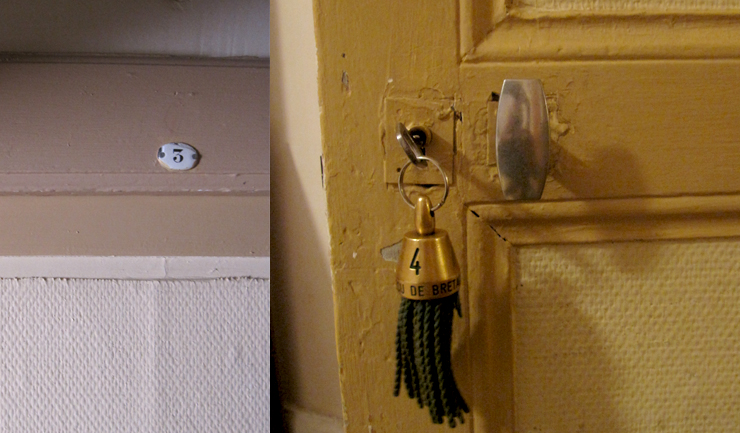 The rooms are numbered with enamel signs and you open your door, not with a little plastic card, but with a key.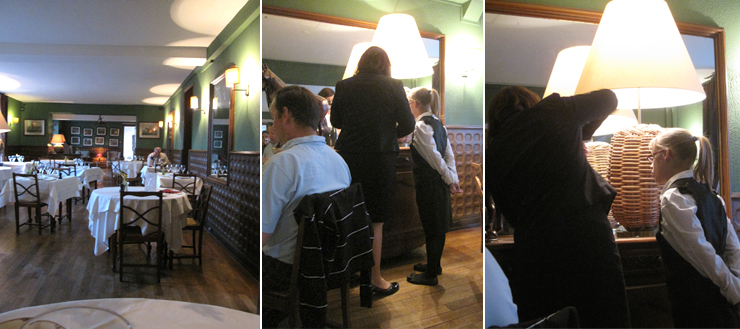 The seemingly empty restaurant fills up quickly and you'll be served by adorable mini-waitresses.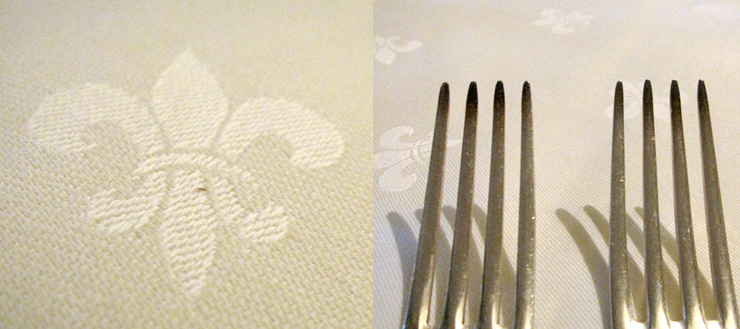 The tables have been made with linen and silver in order to....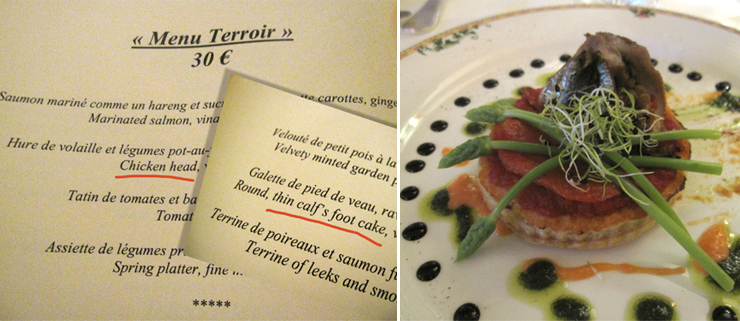 ...provide a suitable platform for the 'chicken head' and the 'thin calfs' foot cake'.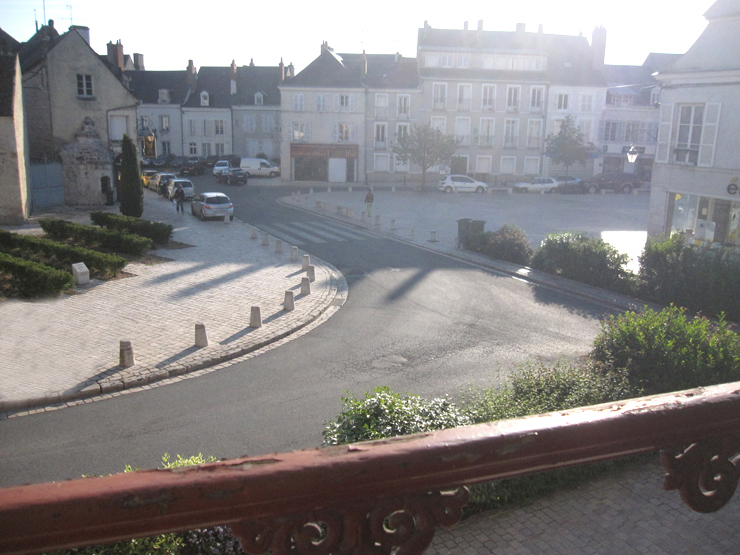 The next morning you open the bedroom window and look out over the cobblestone square. This early it is still empty but you can already smell the fresh croissants from the bakery across the square.


Hotel restaurant Ecu de Bretagne Place du Martroi 45190 Beaugency -
Telephone: +33 02 38 44 67 60 - Fax: +33 02 38 44 68 07, [email protected]
---
You'll have to fight them off!

We have recently received a lot of mail from female wine-tigers who were wondering why the wine-tiger shirts were not available in female models. Hence we swiftly sat ourselves down at the sewing machine this week we are happy to welcome the first brand-new female wine-tiger t-shirts.

The shirts are made from special soft material, come with a v-neck and have been impregnated with pheromones that will attract every man within a hundred meter radius to the wearer of the t-shirt. Exclusively available to the recognized wine-tigress!


www.slurpshop.nl



---
Allez, wholehearted Santé et à la prochaine!




Restaurant-owners, cliquez ici for La Tulipe Premium






Slurp! 2


€ 14,95
Order here in our SlurpShop!

---
| | | | |
| --- | --- | --- | --- |
| | | | SlurpShop |