Vendanges Vertes
Like many ambitious ideas, this one too originated during a meal accompanied by a glass of beautiful wine. During said meal, myself and my friend, composer Edwin Schimscheimer, contemplated the phenomenon of choir-singing. An intriguing phenomenon indeed; dating back to the dark shadows of time. Prehistoric folk around a camp fire, religious believers in a church and supporters at a match: singing together creates and strengthens ties. In addition to that it is well-known that speaking to plants is beneficial to them, so singing to our grapes surely would do them a world of good. We came to the conclusion that the coming summer harvest would be considerably alleviated if we were to pick our grapes whilst singing.
Sundayafternoon, July 10th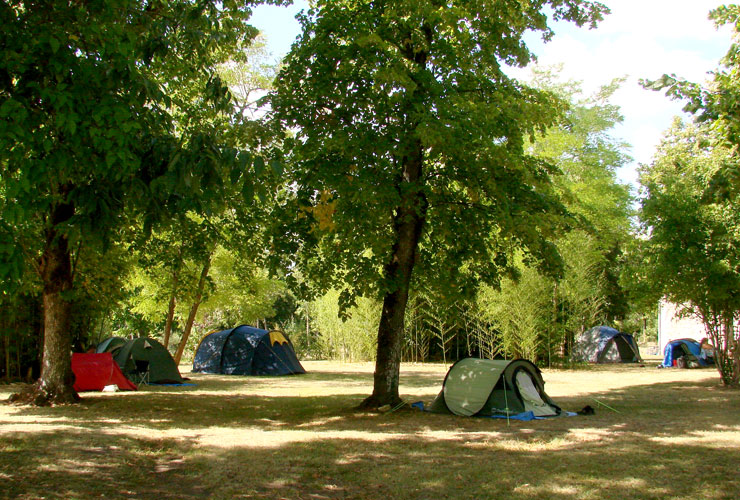 We spent weeks trying to find the appropriate singing pickers to fill our grape pickers-choir.
As a result of announcements in Slurp, the national newspapers and a radio program we were overwhelmed by the response we got. We held auditions on YouTube; we weren't looking for professionals, just ordinary people who loved singing and who loved wine. On Sunday the tenth of July the selected choir members begin to arrive; today they'll meet each other for the first time.

Slowly the castle park begins to fill up with tents. Disposable fold-out models seem ever popular. As opposed to previous equipes, who would scatter and spread out across the park, this troupe seems to be a cohesive unit from the start; their tents are all clustered together. Just in time for the aperitif our 22-headed choir is complete and soon the wildly romantic sound of the unscrewing of screw caps can be heard everywhere.
---
Monday morning, July 11th
The brand-new choir members have already been practicing the wine-chansons, written by Edwin Schimscheimer and the wineboer, on their journey from Holland to the castle. So after dinner on the Sunday night we have our first animated singing session. During this first session Edwin detects a wealth of latent talent and decides to do more than 'just teach them some songs'. Instead he decides on special vocal training- commando style, to drill the choir not just into shape but to the next level. From now on the mornings start with vocal gymnastics: stretching out the vocal chords followed by thirty push-ups with your tongue.
cliquez on the image for a movie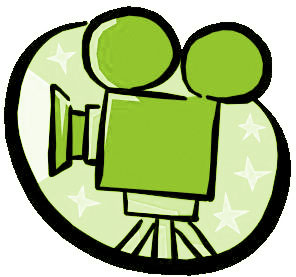 Then our choir leaves for the vineyard: to sing for the grapes and to gently relieve them of their spare bunches. Initially the choir is hesitant but soon, thanks to the inspirational leadership of Mathilde Santing who has spontaneously dropped by, the first wine-chansons are roaring across the fields and the bunches are swaying happily and rhythmically on the vines.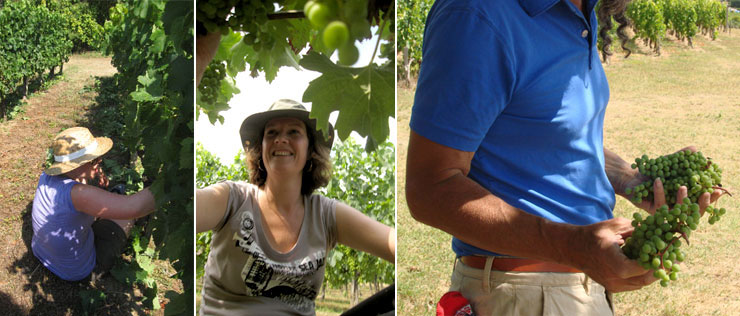 Before the successful French cuisinier Jean-Pierre Coffe cuts up a carrot he'll always take a moment to whisper some calming words into its ear: "Don't fear, dear carrot, yes I am about to cut you up, but I promise to make you into a wonderfully delicious soup."
Apparently Prince Charles himself speaks to his roses before pruning them. So, why carrots and roses but not grapes? After we've bottled this years harvest, which will be in July 2013, we'll find out if our wine has acquired a happier, more joyful taste thanks to all this singing.
The wineboer himself sings along too. But his voice is hoarse with emotion; he is in a mournful mood when he inters these two newly born cut off grape bunches.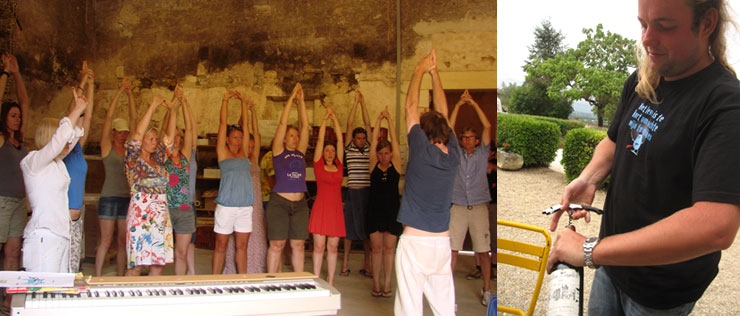 | | | |
| --- | --- | --- |
| It's to hot to rehearse outside, so after the lunch on Monday afternoon we decide to continue our singing-exercises in the cool of the chai, the wine cellar above ground level. | | That night son Klaas teaches his first wine-class: "What does bad wine taste like?" Specifically for this purpose he opens a bottle of Chateau de la Garde 1992: a wine that tastes like motor oil and has an after taste like battery acid, we inherited some of these bottles from the generous previous owner of the chateau. |
---
Tuesdaymorning, July 12th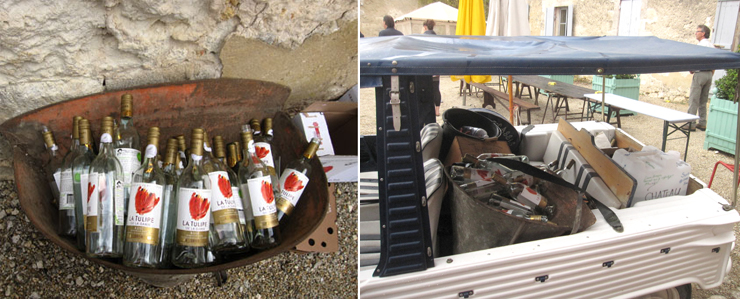 Our choir learns quickly. They truly deserve their name 'Les Voix du Vin'.
Edwin sticks to our motto: "Early to rise, late to sleep". The next morning at the crack of dawn he tunes his guitar. Like a fairytale minstrel he ambles along the path, plucking the strings of his instrument on his way to 'La Cote', where we shall sing for our cabernet sauvignon today. In his wake follows the sleepy choir, who have just woken up, are rubbing out their eyes and wondering:" is this real? Or are we dead in heaven?'
| | | | | |
| --- | --- | --- | --- | --- |
| It's hot, hot, hot. And we have been weeks without rain. The leaves on the vines are drooping and the picking ladies are turning red. | | Bass-baritone and saxophone-monster Joep treats his agonized skull to a refreshing shower. | | Despite all this our newfangled vineyard crew stays alert enough not to accidentally destroy one of our cherished bird dwellings. |
Tuesday afternoon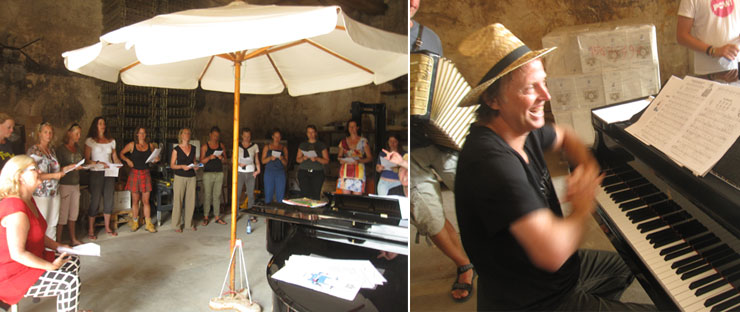 | | | |
| --- | --- | --- |
| Singing outside today would most likely lead to spontaneous combustion; we spend the entire afternoon rehearsing in the chai. The choir sounds unexpectedly well there; the thick soft stone walls full of holes and tears fragment the sound, the wooden ceiling insulated with a foot and a half of stone wool provides an adequate dampening of the sound. | | This, in combination with around 30.000 bottles of wine turns out to result in incredible acoustics. Edwin blurts out: "You should get rid of all this wine and start a recording studio!" Mathilde, in support: "Yes for sure! I'll come over and record my new album here! But don't get rid of the wine though..." |
Meanwhile we can hear the sound of hammer blows. Maitre de chai Philippe and chateau carpenter Frederic are building a stage.
cliquez on the image for a movie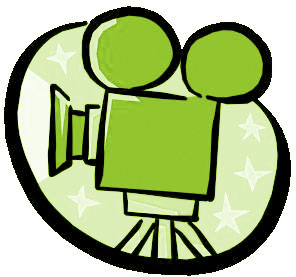 Dinsdagavond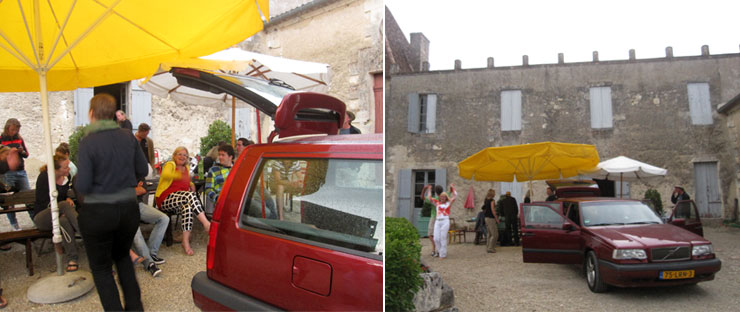 | | | |
| --- | --- | --- |
| After dinner Mathilde hands the wineboer her latest album. It's a real press-moment only without the press. Due to lack of playback facilities, Joep parks his Volvo next to the dinner table so we can play the CD. Goose pimples. Mathilde starts singing along. | | The sky turns a bright orange and without warning it starts to rain softly. After weeks of drought, the grapes are saved. The harvest of Bordeaux 2011 is indebted to Mathilde. |
| | | |
| --- | --- | --- |
| "Hurraaaay!!" Wine tigress Caroline catches the long awaited rain drops in her welcoming palms and sings and dances in the rain. | | The two wine composers too have burst forth in a spontaneous foxtrot. |
When the rain keeps on the party continued in the chai.


cliquez on the image for a movie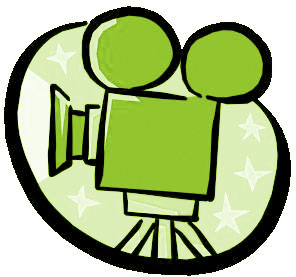 ---
Wednesday morning the 13th of July
| | | |
| --- | --- | --- |
| Last night in a sudden burst of inspiration Edwin, Mathilde and the wineboer wrote a fresh wine chanson. This morning they're practicing with the entire choir in the vineyard. | | The song sounds beautiful. So much so that even the seasoned wine giant Regis, who is listening hidden in the foliage, is touched by it. A tear runs quietly down his weathered wine cheeks. |
Wednesday evening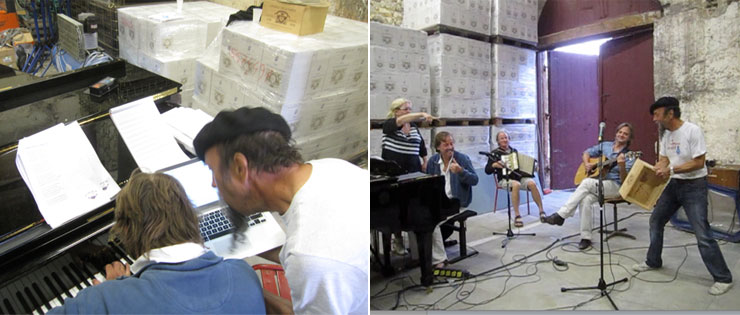 | | | |
| --- | --- | --- |
| We are witnessing a small miracle: everyone, including the choir members themselves, is amazed at the professional sound that they are producing after only a couple of days of working together. Twenty-two amateurs who were all strangers to each other have developed, with lightning speed, into a homogeneous choir that sounds spectacular. | | However, the French hit numbers that we qualified as easy sing-along songs turn out to be minefields when it comes to the lyrics. So right after breakfast the two composers come up with a simple and uncomplicated wine song that's easy for everyone to sing along to. The wineboer pounds the beat on an empty wine crate and amongst 30.000 bottles of wine they sing: 'Yes, we have no wine." |
cliquez on the image for live footage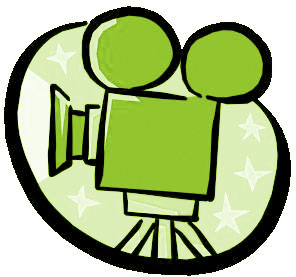 ---
Thursday morning, 14th of July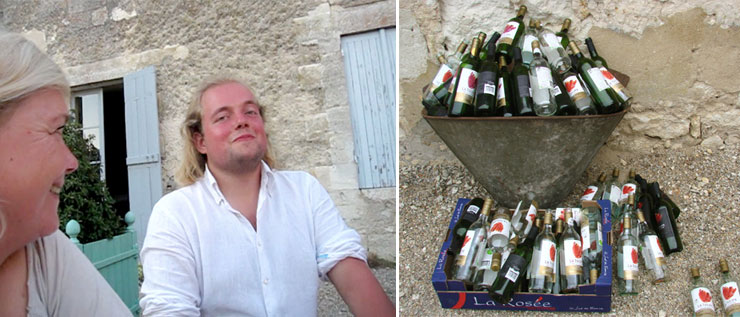 Ceasar of the cork screw Klaas is content: 'They are learning a little bit too soon, dad, those singers of yours...we'll be left without any wine if things continue like this!'
Meanwhile Les Voix du Vin has earned themselves an afternoon of lazing by the pool.
Just as we are about to sit down for the apero we are overwhelmed by a deafening roar; the helicopter est arrive. A second grand piano is being flown in today by helicopter as a special feat. 'Feather light, as if it were my own pregnant mother I will lower her down onto your lawn' so the pilot had guaranteed me, 'pas de soucis', the piano tuner that we had ordered in wouldn't have much work to do.
A few seconds after the helicopter has blasted over the castle walls one of the cables comes loose. The grand piano soars down, narrowly misses the wine cellar containing the entire 2009 harvest and crashes down and shatters on the green. The celebrations of quatorze juillet have started well.
Thursday night: quatorze juillet

| | | |
| --- | --- | --- |
| That night, the entire choir has been invited by the mayor to attend the festival of Quatorze Juillet in the Salle des Fetes. | | The atmosphere is like it always is: French sixties hits performed by a maternal French singer, accompanied by an accordeon player who has long been deceased, but is as of yet unaware of that fact. |
| | | |
| --- | --- | --- |
| For reasons that are beyond our comprehension, line-dancing is, and has been for years, extremely popular amongst the wine makers in our village. | | However, the two wine composers counter with a vigorous Twist. |
---
Friday morning; the 15th of July

| | | |
| --- | --- | --- |
| The tension is palpable. This is the big day. The worldwide kick off of Les Voix du Vin! Tonight the golden throated singers shall make themselves be heard for the very first time. The whole village has been invited for the Grand Concert. In order to supply the whole chateau with French lights, chateau carpenter Frederic needs to climb a high ladder. As a safety precaution he is wearing a shirt with wings, so that in case of a sudden plunge he might take to the air. | | Chef d'Orchestre Edwin wants to take the entire grape pickers choir into the vineyard. In order to build a solid foundation for a successful performance this evening, it has been decided that a silent meditative zen-walk needs to be undertaken through the grape fields. Incidentally chief laboureur Erik is ploughing those very fields with his horse Hyacinth. |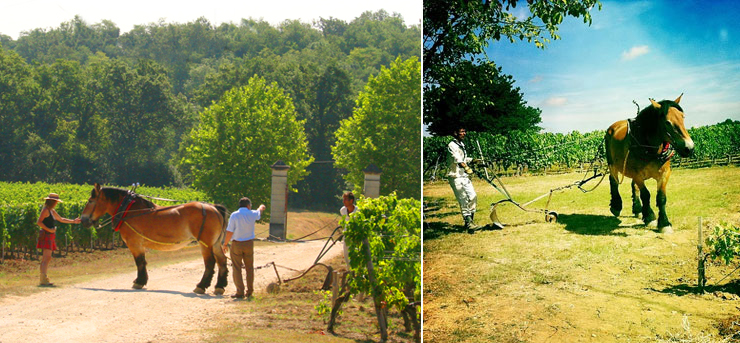 | | | |
| --- | --- | --- |
| Manager Paul takes control of the situation: 'move that thing to the other side of the road, svp! He commands the stunned Eric. The gorgeous mezzo-soprano Caroline lets the waiting castle horse kiss her hand, quietly hoping it might transform into a prince. | | However a French vineyard horse knows exactly when it's time for lunch. Ignoring the commands of his master, who is still slightly in shock, he takes the path to the chateau and determinedly trots away. |
| | | |
| --- | --- | --- |
| Hyacinth takes her seat at the table and is just in time for a plate of salad. | | The rising stars of the choir are thoroughly enjoying the lunch dishes that castle chef Bernard serves up. Because of the excitement about the swiftly approaching Grand Concert, nobody seems to realize that this is the last lunch we will have together. Tonight, for one time only Les Voix du Vin will sparkle gloriously but tomorrow morning they shall again disperse and leave the same way they arrived, as 22 lone individuals each travelling their own path. |
Friday afternoon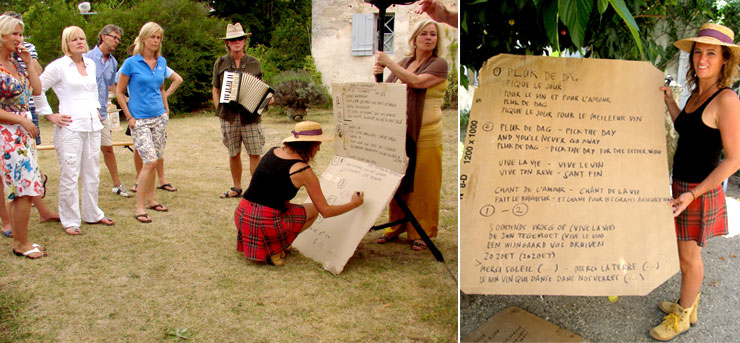 Dress rehearsal this afternoon. The wineboer decides that nobody wants to look at a show where each performer is sneaking peaks at an A4 sheet. Drill sergeant Caroline comes up with a solution; in her skilful art-directors hand she chalks the lyrics in huge letters on wine pallet packaging.
Listening to the choir is great but it'd be even greater if the audience could feast their eyes on something.
A decision is made to invest the last few valuable hours in the composition of a simple but catchy choreography.
| | | |
| --- | --- | --- |
| The wineboer counts the attendees to make sure all are present... | | ... Edwin counts down, the wineboer bangs a strong beat on the cajon and the choir sings with more vitality than ever before. |
| | | |
| --- | --- | --- |
| Mathilde conducts the choreography with an iron index finger and pure will power. | | Said choreography is so seductive that Bence, the man in charge of holding the lyrics, sinks deep into a pleasant reverie and completely forgets to change the cardboard sheets as the songs go on. |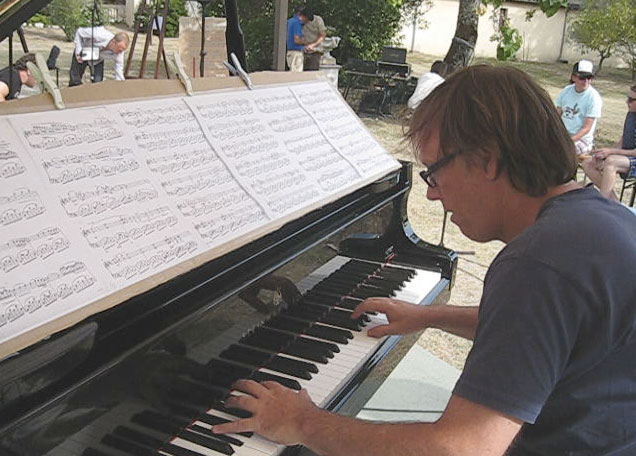 We don't have a support act yet. When, around six o'clock les choristes take to their airbeds for a short break by the pool, Edwin has barely an hour to study an insanely complicated Nocturne by Chopin. After that he finds the time to work on to solo pieces for Mathilde. A true Hero indeed.
| | | | | |
| --- | --- | --- | --- | --- |
| At eight pm the villagers start to arrive. A five course menu for over a hundred people. | | But castle chef has faced tougher challenges. Admirable, seeing as we are dealing here with black belt or even 12th dan bon- vivants. | | Bewonderenswaardig, daar we hier te maken hebben met zwarte band en 12e dan levensgenieters. |
| | | |
| --- | --- | --- |
| We didn't set a minimum age, so even the very youngest wine makers could come and enjoy our shenanigans. | | Friend, mayor and fellow wine maker Alain arrives and is immediately jumped by a film crew. We're baffled when this simple farmer suddenly begins speaking the language of Very Important Politicians as soon as he's on camera: 'I very much concur when you state that the current extensive drought is beginning to form a serious issue. It does not seem beyond the realm of the expected that in the shorter rather than the longer term, appropriate measures shall be considered.' My jaws drop in dumbfounded amazement. |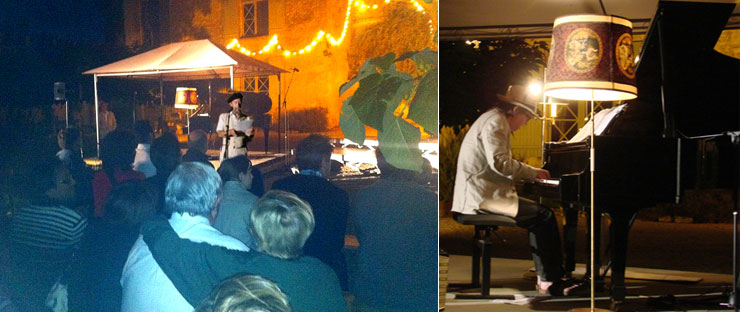 | | | |
| --- | --- | --- |
| The wineboer attempts to communicate, in his Tarzan-French, to the assembled audience what they can expect from tonight's program and why. Part of his address appears to have been understood. | | The lights go out, the mood lighting comes on. Edwin opens the concert with his Nocturne. He plays better than ever, his soul-melting touch makes the gathered wine makers, generally not the most finely tuned folk, nor with the most delicate of manners, hold their breath. In complete silence they listen as the subtle classical notes fade into the night. |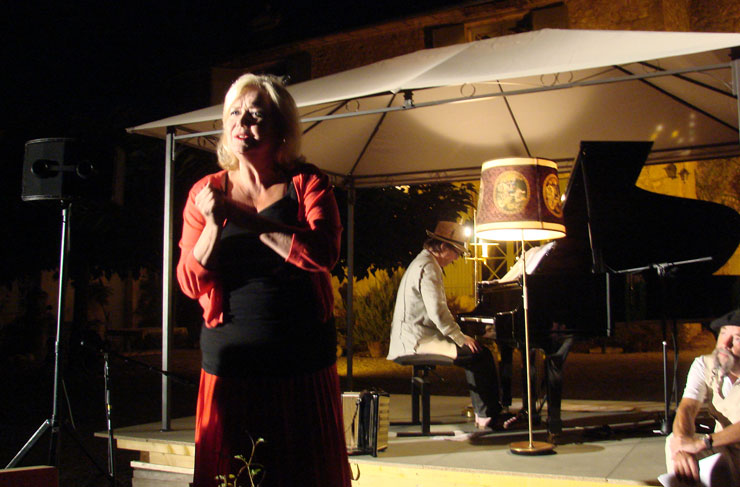 After the last of Edwin's tones has withered, the silence remains palpable for a few moments under the night sky. Then the audience explodes in a thundering roar of applause. With a short introduction the wineboer announces Mathilde: 'Mesdames et messieurs, all the way from la Hollande, La diva du Jazz, Mathielde Santiengue!' Mathilde blows away the audience completely with a breathtaking a-capella piece. This is something they've never experienced before. Jamais vu!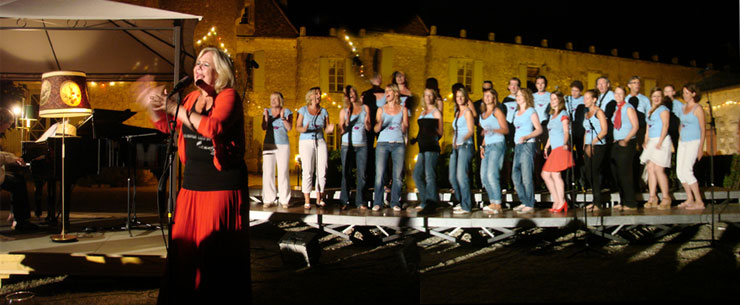 The whole village goes wild when Les Voix du Vin comes on with 'J'aime le Vin' the winechanson we composed specifically for our village and this occasion. The choir puts on a spectacular performance, everything goes to plan, nobody forgets their lines, and not a single French wine farmer can resist our seductive choreography. They clap their hands and stomp their feet in tune with the songs, chant for an encore and when we repeat 'J'aime le Vin' once more everyone joins in...
At the end of the night a deeply emotional wineboer delivers, in fluent French, a passionate farewell speech. Unfortunately everyone's already left.


Epilogue
'And? My dear wineboer, looking back, how do you feel about the whole thing? Same again next year?'
'Yes indeed, not a doubt, same again next year!'
---
| | | | |
| --- | --- | --- | --- |
| forward this Slurp! | follow us | | |