Allô, allô, Bonjour!


Where the last issue was completely dedicated to Zen, for this issue we're taking the opposite approach.
This month we're all about getting rich quick. No bullshit, just fill your pockets. No more esoteric nonsense and airy-fairy ideas, just hard work and hard cash.
Ferrari, Rolex, Gucci, it's all there for the taking. You wanna be rich and famous? Find out how in this issue.

Allez, à l'attaque!




---
Talent? It's a ball and chain. Before you know it you're trying lots of different things and spreading yourself too thin without excelling at anything. Will power, much more useful. The second building block of success is resilience, nicknamed Patience. With Talent as a helpful extra, these components form your Focus; the foundation of every achievement.
Focus 2

Spring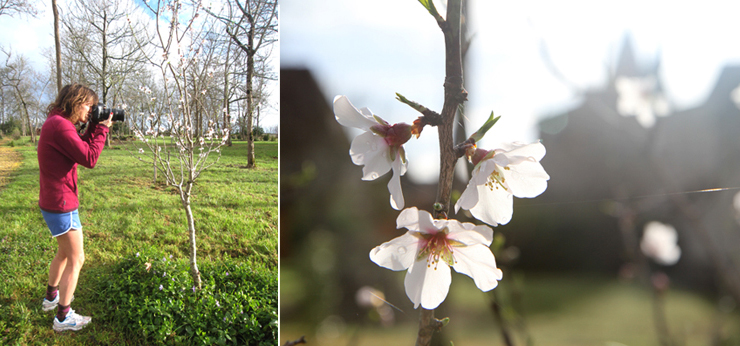 Caroline, the wineboer's mistress, is waiting patiently until the first dew drops are beginning to form on the spring blossom. In charge of photography for this newsletter, she has been waiting for hours, stock-still since before dawn, to get the ultimate shot.
| | | |
| --- | --- | --- |
| Nothing can deter castle hero Frédéric; meanwhile he just carries on laying bricks. He too has a focus: a very long wall. | | Less than 5 months ago, we took down the dilapidated defensive wall around the vineyard. |
| | | |
| --- | --- | --- |
| Due to steady and deliberate building, a solid base has already been established for a brand new castle wall. It will be around a hundred meters long and two metres tall. It's beginning to look like this eternal structure might be even more beautiful than.... | | ... the stone sculpture around the tractor shed, built by Frédéric last year. |
Really, spring is on its way. After three months in hibernation, the vineyard is coming alive. All a matter of Patience.

| | | |
| --- | --- | --- |
| On Bordeaux's market square, the book salesman has put his cap aside... | | ... Dutch daffodils are selling like hot cakes... |
| | | |
| --- | --- | --- |
| ... and you wait in line at the bakery with a cup of morning Bordeaux. | | In the evening we dine at our favourite restaurant in town. Jackets on but still...al fresco. |
See below for an exquisite example of Focus. We witness a combination of Will power, a large dose of Patience and a pinch of Talent. This sea devil lives in the Atlantic and the Mediterranean. From his nose protrudes a feeler, which he uses as a fishing rod to catch his prey.
Cliquez ici


(Cliquez on the image below)
Living a blessed life takes, beside Will power, Patience and Talent a fourth characteristic. Making the right Choices.
Halfway through the boulevard Montparnasse in Paris you will find yourself on a gastronomic crossroads where you are quartered by four satanically tempting choices. Your personality will decide your choice.
Le Bar à Huitres
Like a sea devil with a fishing rod this flashy restaurant lures you into her jaws. Sparkle, sparkle, bling, bling.
This is the life long dream come true of prodigy Gary Dorr. This former sous-chef of Michelin starred Alain Ducasse is just 26 years old but already possesses a chain of four posh venues like this one. All four specialize in fruits de mer and where these guys are concerned nothing here is ever too excessive. What do you mean, recession?
| | | |
| --- | --- | --- |
| Modus operandi: leave your hummer outside the door, engine running and saunter casually into the restaurant. A uniformed Voiturier will take care of your vehicle. | | Menus have been replaced by Ipads, dishes are served swathed in dry ice and for the cost of a bottle of wine you'd get a complete outfit at H&M. |
| | | |
| --- | --- | --- |
| | | Unfortunately personally we have not always made the right decisions in life. A career in banking, the international drug trade or pornography would perhaps have born fruit. But no, we insisted on making wine and writing books. Therefore the Bar à Huitres remains inaccessible to us, as indicated by the red symbol in the top right corner of the image. |
La Rotonde
Diagonally across from Bar à Huitres lies La Rotonde. During the time between the two world wars, a never-ending stream of celebrities came to dinner here. Picasso, Modigliani, Matisse, Jean Cocteau, Satie. Even Lenin and Trotsky frequently came in to stir up the place.
The food is excellent and reasonably priced (by Parisian standards). We however, prefer to settle down on this terrace after a dinner enjoyed elsewhere and order a tarte tatin with two spoons, two Coups de Champagne and relax while enjoying Tout Paris parading freely in front of our eyes. On the right hand image: Pablo Picasso shows his most recent doodles to his beloved Paquette.
Directly across from La Rotonde is located the mythical restaurant Le Dôme. Like her neighbour across the road, dating from the beginning of the 18th century.
Picasso, Gaugain, Hemingway, Sartre and other icons found themselves at the same culinary crossroads as we do and used to come here regularly to sup a bowl of the famous Bouillabaisse.

Photo, taken by Jean Cocteau, from left to right: Amedeo Modigliani, Pablo Picasso en Andre Salmon in front of Le Dome in 1916.
Le Dôme has its own Ecailleur, an oyster opener. The plateaux de fruits de Mer are served here without a smoke screen, but are at least as good as the flashy neighbours'.
Besides an Ecailleur, Le Dôme has its own Poissonnerie. So its fish is guaranteed wriggle fresh.
After all these years it's still a comfortable dining experience amongst the plush burgundy velvet, the white damask table linen and the shiny polished silver. The service can be described as a 'ballet of waiters' and quality of food is excellent.

There is one small drawback however; just like the interior decorations haven't changed since 1930, neither has the menu. The prices on the other hand have kept up with the times. Dining in Le Dôme requires a credit card loaded to the brim.
Any wineboer worth his salt will make the right choice. Because, in a narrow alleyway, hidden behind the epic eateries previously mentioned, you will find one of the best restaurants of Paris.
The light is pleasantly atmospheric, there's always a friendly flurry of voices and when you enter the room you're welcomed as if delivering a winning lottery ticket.
Waiters here look like waiters are supposed to look like. Our favourite is 'the Florist' (right). He understands that before anything else, guests need to be plied generously with Quincy.
| | | |
| --- | --- | --- |
| So generously in fact, that we need to resort to the ancient Dutch tradition of bar slurping. But pas de problème, which Dutchman would disagree with two for the price of one? | | The wine list here is comfortingly methodical: all wines are good, all wines are sold by the bottle or the glass and all cost the same. A great excuse for us to cheat with an unknown wine. |
And then there is 'The Sign' (on the left in repose on a chair). Menus are considered superfluous here, all dishes are written daily on The Sign. And that Sign will be sat on your table or beside it. 'Efficace', as the French would say, because this system grants the customer a chance to Focus on their choice in private.
We call "The Florist", "the Florist" because he always carries with him a particularly pungent bouquet which will linger for some time even after he himself has left. The image on the right is a shot of this body odour; The Florist himself has already departed at this stage.
'Eating is more than just filling up your bowels', regular Jean-Claude declares. 'It's serious business, so to be on the safe side I like to reserve all the tables around me. So I can Focus on my dinner without any disturbance.
So what do you get here? Oysters that are fresh out of the ocean; a delicious Tartare de Dorade et Saumon or adventurously grilled baby-squid, locally known as Encornets. But to be honest we come here for a dish that is so wickedly delicious, that your tonque wants to jump out of your mouth to announce the exquisite taste to everyone. And this special dish is...
The anglerfish or sea devil!
| | | |
| --- | --- | --- |
| It's a miracle how an ugly thing like this can taste so good. Because we are health freaks we normally fry everything in olive oil and prepare our vegetables in steam baskets and all that type of drivel. But when you are served one of these butter fried anglerfish all your taste buds explode in a spontaneous gangbang. | | The mash (again with lots of real butter) is so good you want to stuff your pockets with it. For the next day on a bit of bread. |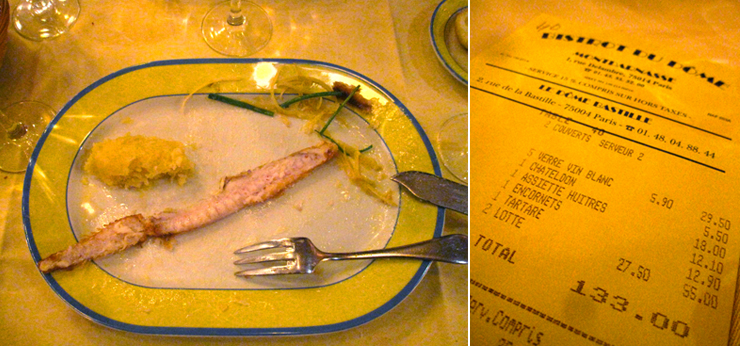 The anglerfish tastes excellent, contains a lot of edible matter and has only one bone. Evolutionary speaking he would be, as a biologist would say, screwed. However thanks to Will power, patience and Talent he manages to survive quite effortlessly. The anglerfish is safe from extinction.

If EVER there was an Adresse it's this Parisian bistrot. We have been very hesitant to share it but the food is just too good. To keep this Adress to ourselves even longer would be blatantly anti social. So, voila, we shall reveal all:
Le Bistrot du Dôme, 1 Rue Delambre 75014 Paris, Telephone +33 1 43 35 32 00

Don't tell anyone: book a table under the name of 'Caroline d'Amsterdam' and you'll get the best table of the house.
---
Will power, patience and talent
Get the below motto tattooed on the inside of your forearm:
Allez, Wholeharted Santé et à la prochaine!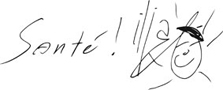 ---
| | | |
| --- | --- | --- |
| | Share this Slurp! on Facebook | |
---
Cuvee Trois Mille is a very rare red Bordeaux wine of the highest standard, of the best year of the decade: 2009.
Only 3000 bottles have been produced, supervised by
Michel Rolland, the world's best wine maker.
The name has been printed in 18 carat gold directly on to the bottle.

Cliquez ici for the Fiche Technique and a film clip.


Finally,
Château la Tulipe
de la Garde 2010
est arrivé.


order here
order here
---
| | | | |
| --- | --- | --- | --- |
| | | | SlurpShop |