Allô, allô, Bonjour!


Last year's events left us bewildered on an almost daily basis. That's why this issue of Slurp is all about 'Understanding'.


We have been tagging along on this journey for a very long time. Yet there are many things we still do not understand. Like Jung for example. Cathie Jung that is.

Allez, on y va!







---
| | | |
| --- | --- | --- |
| De 75-jarige Cathie Jung heeft in haar leven slechts één doel: de The 75-year old Cathie Jung has one single ambition in life: to possess the world's thinnest waist. Since 1983 she has been wearing an iron corset in order to ensure that her midsection does never exceed the desired 38-centimetre circumference. | | Our Chef des Vignes, Régis, does not share this ambition. When he hears the word 'taille' only one thing comes to mind... |
| | | |
| --- | --- | --- |
| In October, after the last of the grapes have been sent to the yeasting tanks, we let the earth catch her breath for a while. Ever so briefly, the vineyard is allowed to relax. After all, we have cruelly ravaged her of the grapes, which she nurtured for a year. | | To help her come to terms with this infant robbery, she is allowed to recover for a month. For thirty days we leave her in peace. We do not plough her, or trim her, or drive on her with heavy tractors. Whispering quietly we pass by her deserted fields. But by the end of November we return; sharpened secateurs at the ready. |
Understanding why grapes need to be pruned
| | | |
| --- | --- | --- |
| While pruning you decide the course of next year's harvest. A grape vine is a wild creeping liana. If you do not restrict her, her shoots will proliferate rampantly and within a year will form an impenetrable jungle. | | She shall bear an abundance of grapes, but all shall be small and corrosively bitter. She will yield a wine only suitable to serve to the neighbours. So, in with the knife. Year after year. |
Understanding the technique
There are many different ways of pruning, but we use one called 'Guyot'. Depending on the terroir we either go for a Guyot simple or a Guyot double. In both cases all branches are cut of the main vine bar one (simple) or two (double).

We select the most beautiful branch of the previous year and cut it after the eighth bud. Then the branch is curved and tied to a horizontal wire running across. Battered by rain and wind you repeat this process 8000 times and you will have trimmed one hectare. One down, 19 to go...


But there is a different way. A much milder way to mercilessly emasculate the grapevines. Make their strength into a weakness! Create a new vine without any need for a bloodbath. Marcottage. This way of growing new plants is free, safe and 'vite fait' (quickly and easily done). But alas, in Bordeaux Marcottage is....you've probably guessed: prohibited.

If you'd like to understand the above: cliquez ici (pick the right hand clip, the other one is booorring)
---
Ars longa, taberna brevis
In the last few months we started pruning our 121.843 grape vines. But half way through, still trembling from this monstrous labour, we had to turn back to Holland. Touring bookshops to promote The lady butchers. But first we had to try and get through the French capital unscathed. It wasn't to be. A gruesome faith awaited us. Below you'll find a report of something that nobody will ever be able to understand, no matter how long you've been travelling on life's journey.
One of our favourite areas in the City of Light is Saint-Germain-des-Prés. Here, every crack in the pavement, every chip in the wall breathes history. Take for example the lively Café Les Deux Magots. Writers like Sartre, Miller, Camus, Miller and Hemingway came here to think and imbibe their daily glass of slurp. A bit further down the road, in Café Flore, Miles Davis, John Coltrane, Chet Baker and Billie Holiday breakfasted in the afternoon with a double whisky and a line of coke.


A few hundred meters behind these culture steeped café's, in the rue Bonaparte, an even more imposing building sits. Founded in 1648 by the Sun King and to this day the most important fine arts school of France: l'Ecole Nationale Supérieure des Beaux-Arts.

Oh, imagine: being nineteen and studying here. Strolling onto this glorious courtyard, knowing that you're about to run in to a group of cheery friends.
Hearing your footsteps echo through this immense corridor and knowing where you're going.
| | | |
| --- | --- | --- |
| Taking a quick look in the chapel, where the gold-plated and marble history beams down on you. | | And then throwing your bag in a corner of the courtyard and, with he soft splashing sound of the fountain in the background, sitting down to draw a beautiful bare ass. |
| | | |
| --- | --- | --- |
| Under the blissful illusion that you will one day be just as famous as your ex-school mates César, Brancusi, Degas, Seurat or Matisse. | | After a day in sun-drenched classrooms saturated with the scent of oil paints, charcoal and pencil shavings, you do not go home. You stand outside chatting and conjuring up wild plans for the future. |
And then on to Bar du Marché with your friends for a good glass of Quincy.
After that to Café La Palette, where Georges Braque used to work as a kitchen porter and Picasso used to pay for his dinners with a monthly painting.
When it's coming up to dinner time you sit down in Restaurant Des Beaux Arts. A super snug and intimate bistro in rue Mazarine. A blind horse would be hard put to do any damage here, but both the wine and the food are honest and of high quality. Don't bother asking for the wine list because the available wines have been written on the window. In this heart of Paris you won't spend more than 70 euro for a fantastic meal for two including a generous bottle of wine.
You won't find crystal goblets here. Standard belons go perfectly fine with the fruity Chinon or the sweet and smooth Chablis. The service is friendly and quick, you'll need to figure out your own lighting plan for the toilet and the table cloth is a blank canvas for your creative spirit. After all you're in Restaurant Des Beaux Arts.
After such a voluptuous meal des Beaux Arts the Parisian nightlife tends to go a little impressionistic but don't worry that'll pass with time.
Voila, here it is. Restaurant Des Beaux Arts.
But hang on: Freeze.
Keep this image on your retina.
Put on hand on the mouse and the other in front of your face.
Close your eyes and scroll down blindly five centimetres.
Open one eye and carefully peer between your fingers.
Restaurant Des Beaux Arts has been sold.

And the new owner did not, like he should have done, give the place a sweep and flip the sign back to Ouvert. This boundlessly depraved degenerate demolished the wildly romantic interior. And went on to mutate the loveliest restaurant of Paris and made it look like an autopsy room in a morgue.
An interior décor you wouldn't even want to expose your worst enemy's mother in law to. Please can someone have ten blind horses trample through this place!
No matter how long and how far we journey, we will never be able to comprehend the thought processes that were behind this decision. What we do understand is the following: Ars longa, taberna brevis; the fine arts are eternal, but restaurants aren't. Not even when their name indicates otherwise. So please, if you know a great adresse share it with as many loved ones as possible. And enjoy it as often as possible as long as it lasts.
---
De Vrouwenslagerij (Lady Butchers)
| | | |
| --- | --- | --- |
| In the Netherlands, everything to do with the slaughter of animals is carefully hidden. Death does not exist. Meat is a tidy slab of non-descript matter in a Styrofoam container wrapped in cling film. Not so in France. Here death is still alive. | | Whilst on a walking holiday we found ourselves in a tiny village in the Pyrenees. I opened the door of the local butcher shop and entered a meat market full of open carcasses, some of them only recently deceased. Pounding music. Behind the counter four women in white coats, chopping and hacking away. They were laughing, they were singing along with the music and having animated conversations with the customers. Before my eyes life entwined itself with death. I instantly knew; I have just walked in to my new novel. |
Cliquez ici for the trailer


(Cliquez on the image below)
---
| | | |
| --- | --- | --- |
| | Share this Slurp! on Facebook | |
---
Cuvee Trois Mille is a very rare red Bordeaux wine of the highest standard, of the best year of the decade: 2009.
Only 3000 bottles have been produced, supervised by
Michel Rolland, the world's best wine maker.
The name has been printed in 18 carat gold directly on to the bottle.

Cliquez ici for the Fiche Technique and a film clip.


Finally,
Château la Tulipe
de la Garde 2010
est arrivé.


order here
order here
---
Allez, Wholeharted Santé et à la prochaine!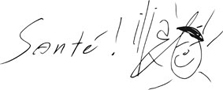 ---
| | | | |
| --- | --- | --- | --- |
| | | | SlurpShop |