---
Âllo, âllo, Bonjour!

The Netherlands is in chaos. The cabinet has fallen, the best ice-skater took a wrong turn and they changed the airtime of Bob the Builder. But also in the humble town of Saint-Romain-La-Virvée something is making waves which, when they reach the edge of the pond, can reach ample sizes to shake the earth to its very core.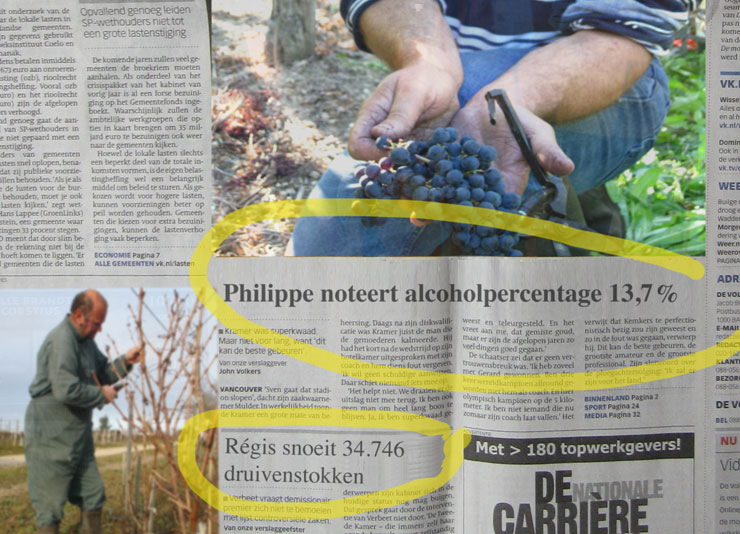 ---
The colour of summer
But the biggest piece of news yet is that the new Rosé la Tulipe 2009 is pretty much done. Just a few more weeks, then she gets to come out of the barrel. But the colour has been born already. It's a colour different from every other rosé. I love this colour. We once analyzed it and registered it, because even though wine is a natural product, we would like our rosé La Tulipe to have the same rosy cheeks every year. But this year her colour seems more lively and succulent than ever. She doesn't really have that rosé colour, it's closer to red. No, not red. Definitely not. It is pink.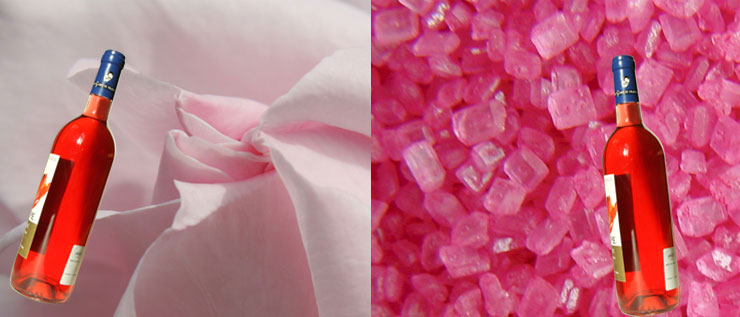 | | | |
| --- | --- | --- |
| Rose-pink? No, too fragile, too frêle. | | Candy pink? No, that's to hard. |

Lip-pink then? Well, there are so any beautiful lips… soft and hard lips, purely or extravagantly coloured.

| | | |
| --- | --- | --- |
| So it is red. Blood red? No, no, rather Tulipe-red! | | Or fire-engine red? |
| | | |
| --- | --- | --- |
| Fruity strawberry red? | | Or juicy cherry red? |
| | | |
| --- | --- | --- |
| The glowing red of a barbecue? | | Or the red of love of a romantic sunset? |
I got it! I got it: it's the colour red, which is called: Happiness. The colour of summer.

---
French entrepreneurialism
French bakers get out of bed every morning at four 'o clock to start making the national breakfast. For this they first prepare the mysterious dough of the French croissant by applying thin layers of butter to thin layers of dough. After that they fold the dough and flatten it with a rolling pin, while they imagine that it is a English tourist, which is why, in baker's jargon, is called "touring". Out those wafer thin layers of butter and layers of dough they eventually form a halfmoon shape, in which during the baking the fat melts and the layers of dough separate from each other, so that the some sort of puff pastry comes into being, which enables us to cycle 5 miles up hill.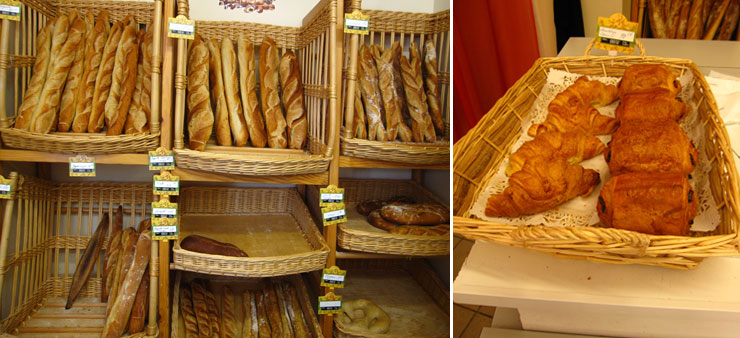 Naturally this laborious piece of Viennoiserie isn't placed among the pain ordinaire, but in an autonomous basket. Now our baker exhausts himself, before even the sun has decided to come out of his dormant state, to make the best three-star croissants in the world, but then he implements a piece entirely incomprehensible entrepreneurialism. For no apparent reason he bakes precisely six croissants en six chocolatines. These golden brown, crispy pastries are however so delicious, that they are sold out every morning at about 09:03 am. Meaning that when we more or less fall off our bicycles and enter the boulangerie after pressing that wonderful snooze button one too many times, we often find an empty croissant basket, must laying there laughing at us.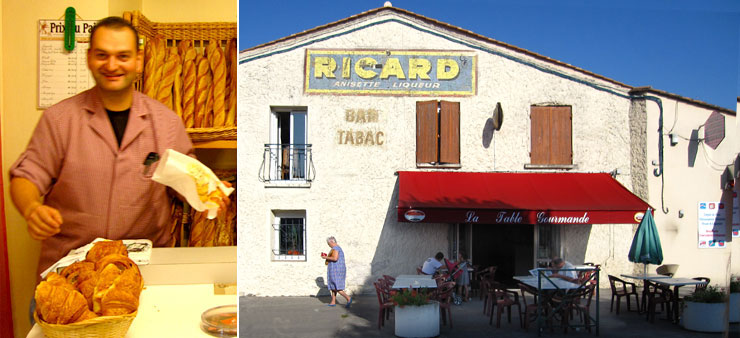 | | | |
| --- | --- | --- |
| Every so often when we do get there on time we experience something very special: when half of the viennoiserie has been sold, and the half empty basket seems a bit conceited, the baker makes a switch. He moves the pastries to a smaller basket, and succeeds in once again creating an ambiance of abundance. | | The problem that inevitably surfaces is this: in the above picture we can see a disappointed local, returning home with fallen shoulders, 09:04 am, that Dutchman and his stupid mustache nicked my croissants again. At home scorns and lovelessness await her; a promising day stopped before it could even properly begin. |
But that is of course the last thing we want, to set the local population against us. So we try to convince the baker to make more croissants.
The reply: 'No, because if I bake to many, I'll get stuck with them.'
' Don't think so, we'd be more than happy to take them off your hands.'
'Yes, but what if you don't come.'
'I see your point, but I will come. And then I feel guilty because the locals don't have any croissants.'
'Then they'll just have to get up earlier.'
'But that's even worse, then I don't have any croissants!'
'Nothing I can do about that.'

So in short, whatever we do, we destabilize the local economy. Either I am too late and I don't have any croissants, or I am too early and the rest of the village doesn't have any croissants. Or I convince the baker to make more croissants, forget to pick them up and then he gets stuck with them, he gets duped, goes bankrupt and then no one will have croissants!

Cliquez ici to share your wisdom.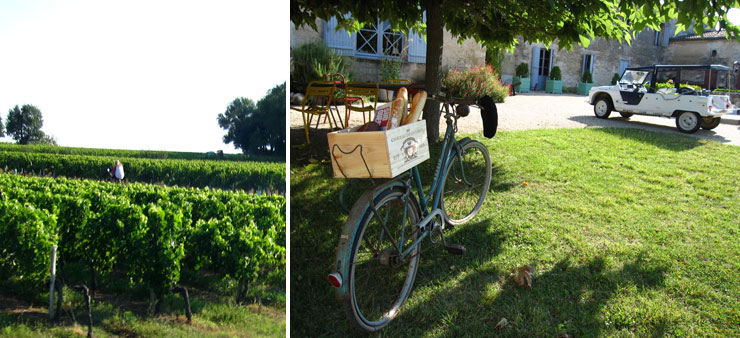 My son Klaas prefers to do the parcours Château -> boulangerie on a solex, but anyone who dare call themselves a wineboer would not consider any form of motorized transport and will fearlessly mount his vélo.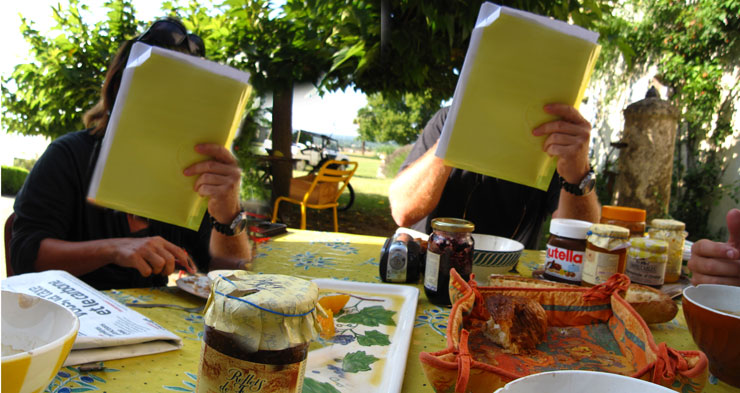 So that the waiting mystery guest can read his scripts while enjoying a fresh croissant.
---
Development aid
Entrecotes, foie gras, boeuf bourguignon, coq au vin, escargots, bouillabaisse, salade Niçoise, crêpes Suzette, tarte tatin, an endless string of culinary wonders with which the French cuisine enriched our lives. What did Holland have to offer?
Exactly. Nothing.
Or did they…
Below is a reportage about our manager/oenologist Paul during a spontaneous meeting with the height of 'La Cuisine Hollandaise'.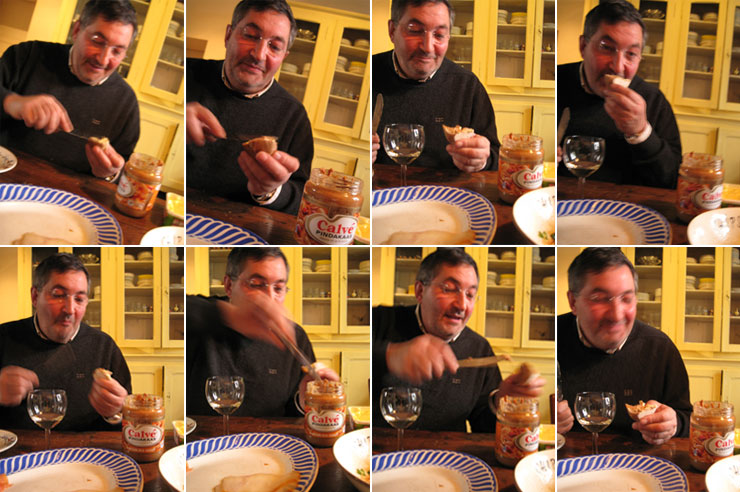 The first piece of warm French baguette with butter and a thick layer of peanutbutter tasted, according to Paul, 'Spéciale…'. The following two pieces were described as 'Tres spéciale'. The forth, fifth and sixth piece promoted via 'Pas mal', to a surprised: 'Pas mal du tout' after that the tempo increased and half a baguette later the pieces of bread with peanut butter were qualified as 'Bon', 'Très bon' and 'Très très bon'. With a well rounded 'Excellent' Paul twisted the lid back it to place on the pretty much empty pot of Calvé peanutbutter.
---
Development aid 2
Enthusiastic about his newly had culinary rencontre, Paul made it into an exchange program and invited us for a typically French dinner. To this end he reserved a table at Château Hotel les Hauts de Loire in Onzain. Not a bad trade for a baguette and a jar of peanut butter.
| | | |
| --- | --- | --- |
| | | When we got there our hearts skipped a beat and not in a particularly pleasant way; was this the by Paul reserved hotel? |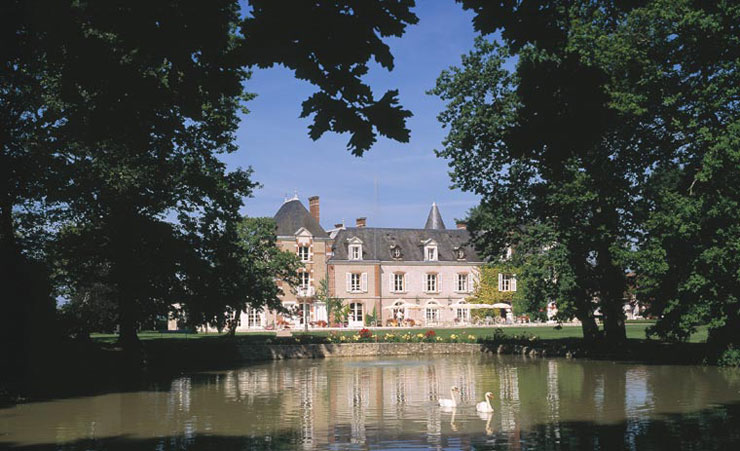 Luckily it turned out to be this eighteenth-century castle, surrounded by a park of twenty hectares with speaking swans in a wrinkleless magical pond.

After entering it turned up to be a very fancy place; sparkling chandeliers, shiny silverware, squeaking floorboards and velvet curtains with tassels the size of a fist. Are we actually aloud to go inside?

So we are in the Loire region, proud as the French are of their country, the wine list is full of as of yet undiscovered wine from the Loire. A pleasant way to expand one's knowledge about the wines from the Loire. We opted for bone-dry sauvignon from Henri Marionnet.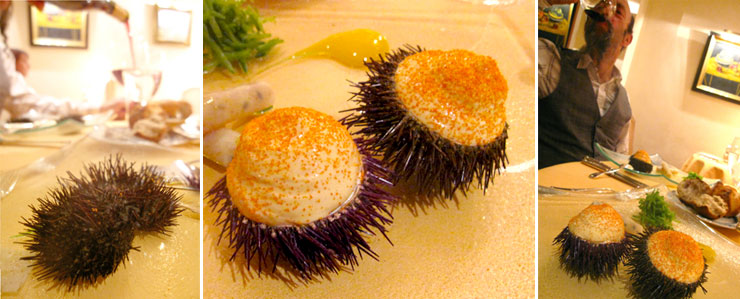 | | | | | |
| --- | --- | --- | --- | --- |
| As a starter we were surprised with fresh monkey brains on ice. | | The skulls are removed... | | ... but before planting his spoon in the primate grey matter the wineboer needs some liquid courage. |
| | | |
| --- | --- | --- |
| Behind the door the manager and chef de partie are having themself a laugh: 'Are those weird foreigners going to fall for it? Are they going to eat that muck?' | | Victory! With a satisfied smile the black and white brigade takes the empty plates and replaces them fill full ones, our next course: |
| | | |
| --- | --- | --- |
| Sashimi Harakiri with window sealant and a glass of lighter fluid. | | Luckily we can rinse it all away with a tasty bottle of Bourgueil 2006, which excellently compliments the rosé roasted Reeves's Pheasant. |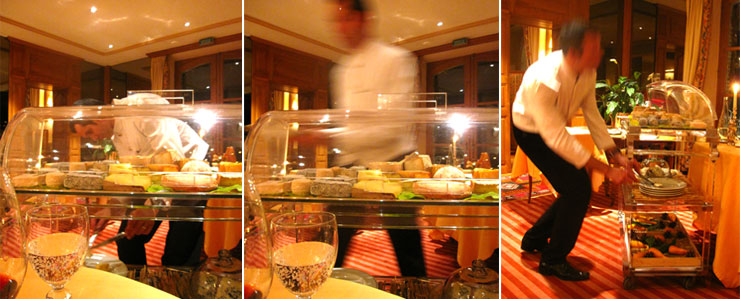 In the distance there is a faint rattling noise that indicates the arrival of what in professional jargon is called 'the stink cart' or 'smellomobiel'. The Maitre fromagier sets the plates, grabs the serving cutlery, but makes the mistake of opening the lid too early. He could only just dodge an escaping cloud of ammonia.

The following morning we are still alive. To celebrate this the management turned the fountain on and is serving a celebratory breakfast with fresh croissants, softly boiled eggs and freshly baked sweet bread.
| | | |
| --- | --- | --- |
| | | A maid gives us a bag of black money for the road… |
… so that we can go nuts and do some fun shopping in the exiting second world capital called Onzain.
For the truly bonvivant, this is the link: www.domainehautsloire.com
---
A free barrel of Bourgogne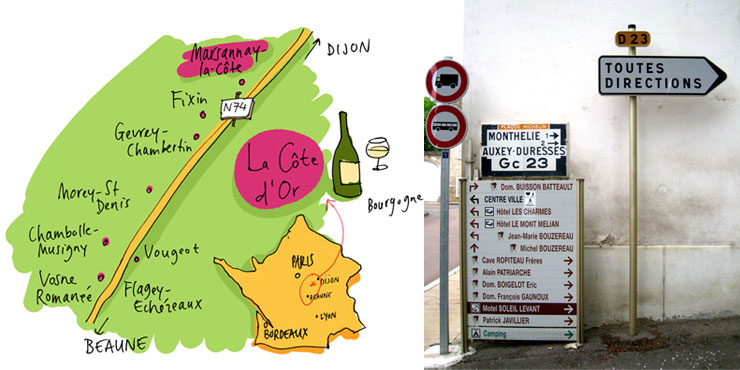 Puligny-Montrachet, Gevrey-Chambertin, Morey-Saint-Denis... Once you've all of the goldmines in the Bourgogne behind you, you'll arrive at the twatshire of the Côte d'Or: Marsannay-la-Côte.

A boring village that has been brought to the cutting edge of ugliness that hurts not only your eyes but also your heart by a consistent maladministration by the mayor and the aldermen.

| | | |
| --- | --- | --- |
| The cozy shopping centre… | | … the monument for the fallen… |
| | | |
| --- | --- | --- |
| ... the salle des fêtes... | | ... and of course the romantic family run hotel… |
| | | |
| --- | --- | --- |
| Marsannay is therefore bursting with coziness. There are yearly bowling championships… | | ... raving dance parties... |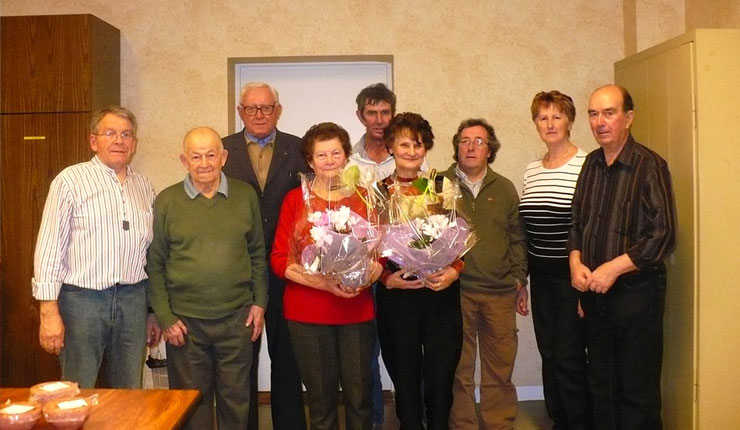 ... bingo every first Wednesday of the month...

| | | |
| --- | --- | --- |
| ... and of course the full-contact-bridge where everything above the belt is allowed. | | Actually, getting money out of a cash machine is the most fun you can have in Marsannay. |
| | | |
| --- | --- | --- |
| Which is quite fortunate because we're going to Régis Bouvier, viticulteur. A friend of a friend, who produces tasty Bourgognes for reasonable prices. | | As is usual at a wineboer's place, it's a cozy mess, with walls that turned black and loosely stacked wine barrels. |

Régis doesn't mind risking his live and climbs the mountain of unstable barrels to get me a mouthful of his excellent Marsannay blanc 2008 to taste.

When he is back on safe ground, he has the wine in a characteristic wine farmer grip, which can only be learned by endless hours of practice and many broken bottles.
In Bordeaux a wine farmer has a vineyard with Bordeaux. And with 20 hectares you start to be taken a bit serious. But a Château like Giscours for instance, has about 400 hectares.
In the Bourgogne it's different. There, if you have 10 hectares, you're already one of the big boys and you don't have 10 hectares of Bourgogne, but a piece of a vineyard around your domaine, half a hectare in a neighboring village, a shared hectare in yet another village and a quarter of a hectare in a village 10 miles away.
Like many Bourgogne wine farmers, Régis produces Fixin, Gevrey-Chambertin, Morey-Saint-Denis, Marsannay and Bourgogne all at the same time. To avoid the needless printing of boxes he packs all f his wine in standard boxes which have all the appellations on them, so that he only has to mark what's in it. Very useful.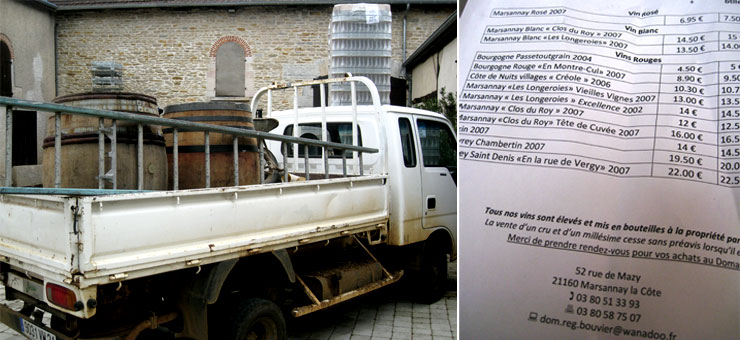 Once we have gently deposited several of his wines in the trunk, Régis askes if we are perhaps interested in an empty winebarrel to take home with us as a souvenir, which we politely declined. Because the winebarrel is every wineboer's nightmare: when buying them they cost around the £700,-; three years after that the wine will have sucked all the oak-aromas out of the barrels and, if you're lucky, you'll get a tenner for it.

Here is Régis' price list plus address and phonenumber. Tell him you know me and make sure you don't let him talk you into one of those wine barrels.
---
Allez, a wholehearted Santé et à la prochaine!



Slurp! The new wineboerenbook,
€ 14,95. In stores now.