---
Âllo, âllo!
Hearty Bonjour on the first day of second decennium of the third millennium.There's not much happening here. It's winter, the vineyards are for all intents and purposes dead, the wine from last year is still hibernating and this years wine has yet to become wine. Luckily, we've an excursion from time to time, so in spite of the winterly calm we have a double New Years edition.
Allez, on y va...

---
The particularity of daily life
You wouldn't give it a second glance. For the Parisians this is something very ordinary. A small bistro, with a worn tile floor, a bar and a few simple wooden tables and chairs.
Don't do it, don't go on. Bring yourself to a halt, take the time and treat yourself to a nice lunch. During the summer, on the terrace, sitting in the sun with a nice glass of Sancerre or Chablis and during the winter inside, where it's busy and cozy, or outside underneath the patio heater with a generous red Bordeaux or Bourgogne. You can securely order that here, because 'Au Sauvignon' was probably already a 'Bar à vin' before you decided to join this world.

To accompany the wine they serve crunchy grilled bread from the baker Poilâne, on which they put lovely mature cheeses like St. Marcellin, several Chèvres and Camembert au lait cru…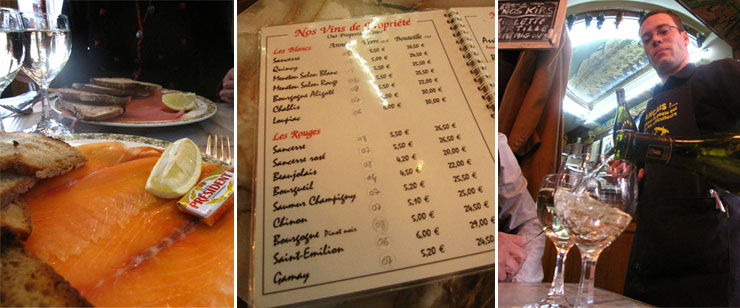 ... but pain Poilâne also goes excellently smoked tuna, salmon, freshly made ham or rillette.
Which bring us to the difficult fight with the choices on the growlingly delicious wine list.
They only have Vins de propriété, so no brand wines from the factory, but wine from the farmer.

According to the owner Jean-Marie the clientele consists mostly of artists and journalists, but that, luckily, seems to be an exaggeration; it appears to be mainly made up out of local who feel at home in this cozy, no-pressure atmosphere with friendly and capable waiters, the antique bar and walls plastered with frivolous drawings from the fifties about wine.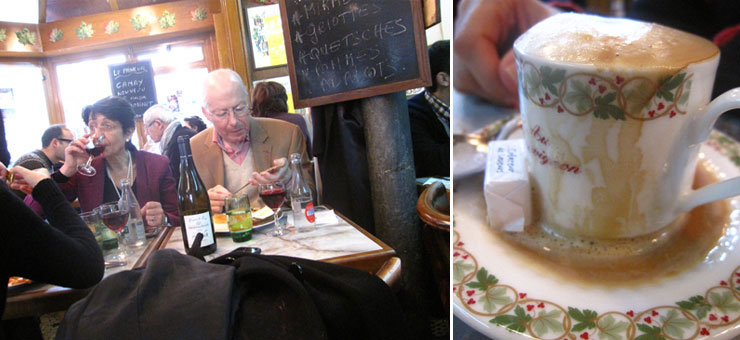 And well, with this much French coziness it doesn't really matter that the coffee is served with slightly too much enthusiasm…
After the lunch, strolling through the alleys around Montparnasse and the nearby quarters full of galleries and pubs, Saint Germain des Prés, until its time for the apéro.
Bar à Vins Au Sauvignon, 80, rue des Saints-Pères, Paris, 7e arr. Téléphone +33 145 48 49 02

---
| | | |
| --- | --- | --- |
| Bakery Poilâine makes the best bread money can buy in the whole of Paris. You won't find it in the supermarket, but you'll find this go-getter in an inconspicuous little store on a small street behind the busy rue de Sêvres. Here the heady baker Pierre Poilâine opened his bakery in 1932 and did something unexpected: the whole of Paris was eating baguettes, so Pierre started baking flat round bread. Instead of the white baguette, which every Frenchman carries under his arm, he specializes in brown sourdough bread which is rich in fiber. 'Oh well,' is the responds of the neighbors, 'an idiot, he isn't going to last...' | | |
It became a groundbreaking success. After thirty years his son Lionel took charge of the little bakery. He expanded it, increased the production and started to export the unique Poilâinebread to the UK and Asia. In 2002 Lionel's daughter Appolonia continued the success. Now, in her 24th year, this young woman directs 137 employees, 3 stores (2 in Paris and 1 in London), a factory with 24 ovens in Paris and a fleet of 23 lorries to supply distributors all over France with the freshly baked Pain Poilâine every day.

Go round the corner at César's ravishingly beautiful 'Centaur' and after about fifty meters you'll be in front of the modest window of the world's most famous bakery.
We meet Appolonia Poilâine in the tiny store. A joyous girly woman wit sparkling dark eyes. When we ask for the recipe for her bread she shakes her head. No, the method of making it is a well-guarded family secret. She explains that their grain comes from durable farms, it's ground by grindstones and the added salt is sea salt from Guérande and it's baked in wood-burning ovens, but that is all she'll tell us.

In those wood-burning ovens they bake 15,000 loaves of bread, 5,000 of which are destined for the USA. Apart from the quite a few top of the line restaurants and delicatessen shops, they also foresee clients like Robert de Niro, Steven Spielberg and Kevin Spacey of bread.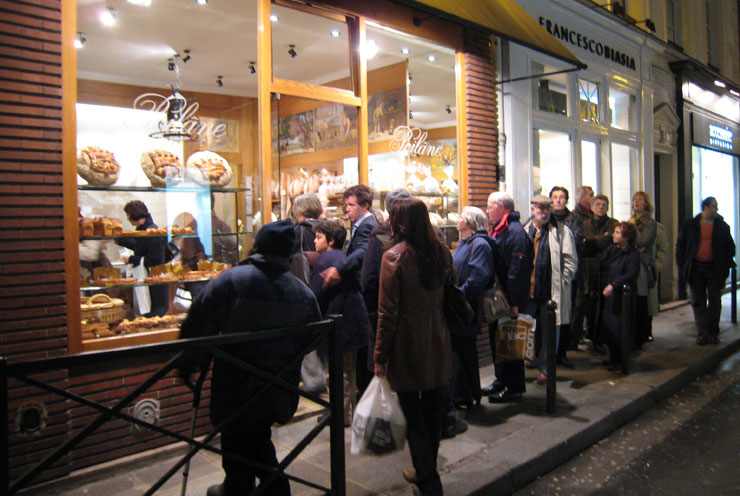 No, this isn't the hungerwinter of 1944, this is the center of Paris: three times a day, there are Poilâne-fanatics queuing up for a piece of bread.

I do understand it, because eating one of those crisp, toasted slices of Poilâinebread with smoked salmon or some fresh Chévre is delicious, but does require a bit more chewing gymnastics than a regular baguette. This is mainly because it's rich in fiber, but there is something else… in between all the fiber you taste the character of a little stubborn baker, who did something that was spared from any type of logic.
Laughed at and declared a lunatic, yet continuing and becoming a hero. That gives it that wonderful crispy bite that makes one so very happy.
The basis of Poilânes succes is, aside from Pierre Poilâne himself of course, a small winebar across the road:
In 1954 Poilâne's first client was Au Sauvignon, a neighboring wine bar that served the bread with cheese and charcuterie. A small poster indicated that they sold Poilâne loaves: "Ici Pain Poilâne, sourdough bread, stoneground flour, wood-fired brick ovens." Finally, restaurants joined the trend. (Archief Figaro).

Boulangerie Poilâne 8, rue Cherche Midi, 75006 Paris. Téléphone +33 145 48 42 59.
Métro: Saint Sulpice
---
What about the poor children in Africa? How do we explain this to them?
Now that we're in the rue de Sèvres, we might as well do some not-shopping at the Bon Marché; the luxurious warehouse store which, in contradiction of the name, is exuberantly expensive.
It's allways nice to not buy something there.

Something fishy to accompany the aperitif or a few goose livers, on which they naturally sprinkle winter truffle shavings.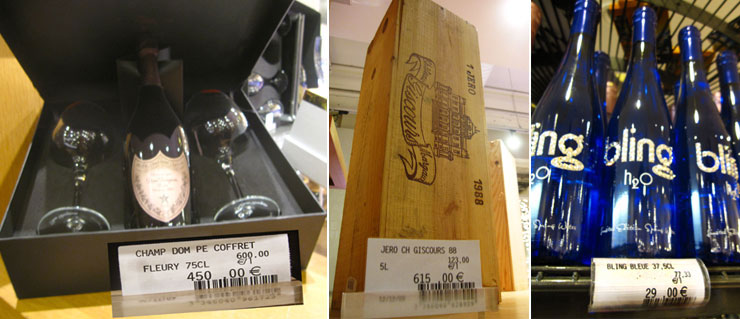 Some bubbly costing four hundred and fifty quid, or a bottle of wine for six plus. Ha, a rare opportunity! The water is on sale: 29 euro for a bottle of water, bargain of the century.
| | | |
| --- | --- | --- |
| | | Still, a proper wijnboer wouldn't go home without is daily bottle of red. |
Le bon Marché 24, rue de Sèvres, 75005 Paris
---
To whom do I give which wine
Mistakes; who doesn't make them. There are of course degrees; trusting your life savings to an Icelandic bank, falling in love with an ape, spilling the pint of a martial arts expect. Somewhere in this list there is the disastrous blunder of giving away the wrong wine.

I first met Alain Guyard at a French Salon des Vins in 2000. I was still a rookie was under the impression that my presence at this event might contribute to the emptying of our evergrowing wine-storage. Instead I left with more wine than I came with. Among which were 4 boxes of Alain's Vosne-Romanée 1997.
After arriving home an all to common scenario played itself out: the wine, that at Alain's stand illuminated my hart and soul, revealed itself at the dinner table to be as full of tannins as a serrated edge of a knife and as hard as an unpaid bill (of which there was already a considerable pile grimacing at me).
Still, you have to look for and see the silver lining, so the boxes disappeared in to the basement and every time it was someone's birthday, with whom my relationship was perhaps a bit chilly, I gave away a bottle of Alain's rock-hard Vosne-Romanée in a festive wrapping.
Recently I happened to come across the last box of Alain's wine in a forgotten corner of the cellar. My curiosity got the best of me, so I brought a bottle upstairs.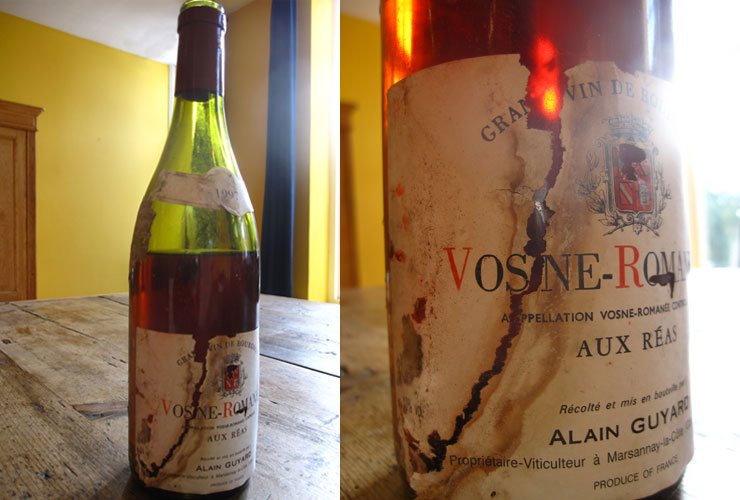 A miracle had taken place.
During the passing of twelve years, the dark purple glow had been transformed into the colour of translucent theater curtains, as transparent as the last rays of a summer dusk.
The surface mirrored a ruby sparkle, so beautiful, that you'd wish you had a thousand more eyes.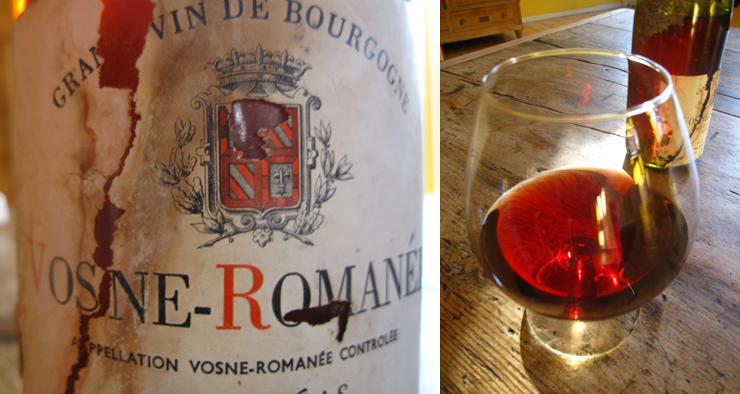 The tannins had disappeared. Broken down, vanished; the sour rough edges changed into molten velvet.
But the fruit, that remained. A taste, as soft as velvet, of woodland strawberries and cherries which were picked by butterfly-light spring-nymphs.
The wine went down as smoothly as a peeled peach gliding over the stomach of a nun and submerged my soul in a bath of lavender honey. The previously undrinkable liquid had been reincarnated as a drink of the gods, no, a magic potion! My cheeks were glowing, my tongue flashed like a rapier, words flowed to my lips like pearls, curiosities, facts, anecdotes, interesting heroic or dramatic stories.
What an amazing wine… if love was liquid she would taste like <this>. NIEUW STUKKIE TEXTxxxxxxxx
For those of you brave enough and have the time to wait twelve years: visit Alain and buy a box of his Vosne-Romanée. Tell him you know me.
Below is his address:
Domaine Alain Guyard, 10 rue Puits de Tet, 21160 Marsannay la Côte. Téléphone +33 380 52 14 46
---
A sink full of blood
Wine. Ever more often I have trouble referring to it as a he; because if there is one thing that is feminine it is wine. So today we subject the wine to a sex operation.
Now she is three months old.
After the harvest, last October, we let the grapes become wine during three weeks in stainless steel cuves. Afterwards the skins were removed and the wine was transferred to oak barriques.
Under the protection of the soft, round oak she lays there slumbering under dimmed light for a year and a half, doing nothing else than becoming just a little bit better everyday.
Not until the crocuses pop out of the ground in 2011, will she be woken and bottled.
But in the meantime brave men guard her wellbeing. They frequently drain a small amount from each barrel. With the accuracy of a tax collector they keep record of the date, temperature, the moment of draining, the amount, etc. To this purpose, Maitre de chai Philippe has build a field office in the winecellar.


In a redecorated kitchen that we call the labo, the tasting bottles are being lined up. And then it begins.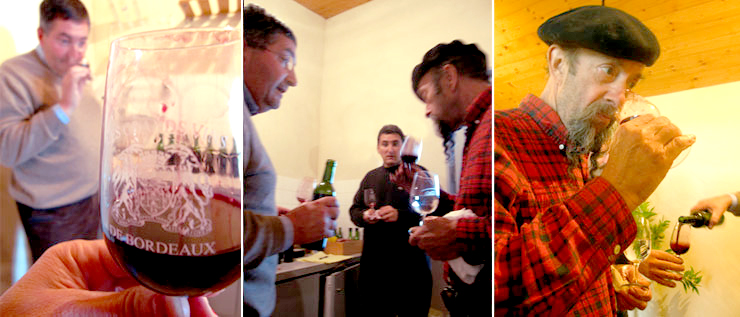 Spying, with one eye shut tightly, the wine is looked at from every angle. Concentrated as a buzzard hovering above a cornfield, the colour, mirroring and the behavior of the glycerin are being studied.

Then the noses are plunged in to the glass; the men start to smell the wine and sniffle like a pack of wolves that found a trail.
This doesn't happen is silence, oh no: they debate on different pitches and at an increasing level of intensity.

At one of those professional dégustations, during which you'd easily taste fifty different wines, swallowing can be safely equated with suicide: you'd be under the table loosing your grip on consciousness before you'd even have had your morning coffee.
So there is slurping, gargling, sopping and spitting out wit a splash.
So that the sink soon looks like there has been someone who was furiously kicking in every direction had been murdered with a chainsaw.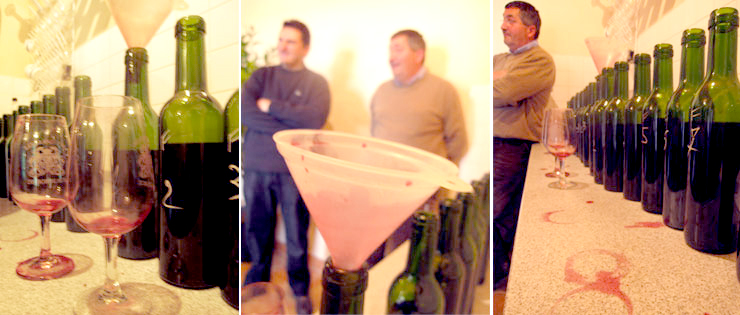 Our different pieces of vineyard are kept in different barrels; it's not until the bottling that they are mixed at predetermined ratios, the assemblage. To get an impression of the final result, we mix different samples from the barriques in a test-marriage.

| | | |
| --- | --- | --- |
| A job I wouldn't wish upon my worst enemy; the wine is icy and is rigid with tannins. Still we have to decide nów how we want the wine to taste in a year and a half. | | Whoops, Excusez-moi! This assemblage was just a bit too good: I accidentally drank all of the wine in my glass. |
---
Slurp-phobia
Celebs. Nice. But are they properly aware of their function to lead by example? When we're talking about a view on general worldly affairs, it's all right. But when it comes to breaking through the deep-rooted taboo of slurping, can we still count on them?
The bookfair Manuscripta, last September in the Westerngasfactory in Amsterdam, was a great opportunity to do some research in the matter.
From left to right: Jan Siebelink, Bart Chabot, Jakhals Frank, Arjan Peters, Herman Brusselmans, Ilja Leonard Pfeijffer, Yvonne Kroonenberg en Ronald Pasterk.


Cliquez ici for a short film and be witness to shocking image.
---
The Happy Few
Below are the happy winners of the 10 slurp-packs. If the snow wasn't too bad they should have finished their slurp-homework by now.
W. Hagen, Drachten - I. Reijnen, Amsterdam - Wim Nieland, Diemen - Dorine Niemeijer, Den Haag - W. & J. Janssen, Utrecht - Afke Hermans, Gouda - Dennis & Lucky, Wormerveer - Jos & Lenie, Wervershoof - W. de Graaf, Spakenburg - Menno Witte, Soesterberg.
---
Allez, a très bonne année, wholehearted Santé et à la prochaine!



Slurp! The new wineboerenbook,
€ 14,95. In stores now.