Allô, allô, Bonjour!


In this issue of Slurp: a call for increased winerespect, and a reportage on the antics of the winegrower in the sundrenched Provence region where he has been filming the TV program 'Gort à la Carte'.

Allez, on y va!


---
L'Amour. Toujours l'Amour.
Hmmm....Delightful: spending the evening together curled up by the fire with a bottle of good wine. If you ask me it is the best thing you can do with your clothes on. And it's probably better that at that moment you don't realize what it takes to get that bottle there.

While the lord of the castle is snuggled up comfortably under his four-poster canopy, out in the vineyards the work is being completed by a little elf.

Or is it? No, this is wine tigress Yvette, who at this ungodly hour is clutching a pair of pruning shears in her fist and is headed for the vineyards to decapitate those unruly grapevines. But with love. Always with love.

Pruning, digging holes, hammering new posts into the ground, wiring up the vines, it all has to be done by hand. Whatever the weather.
So please, my dear Slurpers, do me a favour and don't EVER swallow a sip of wine thoughtlessly.
Santé!

Cliquez ici to view the birth of a wine


(Cliquez

on the image below

)
---
Very tasty wines made in a modern style, in the Languedoc, for a friendly price. Pure and honest wines, made of nothing else but pure, ripe Chardonnay- and Cabernetgrapes. We wanted very fruity wines, and succeeded: the aroma's burst out of the bottle.

Now available at Amazon.
Cliquez ici for the Chardonnay and ici for the Cabernet Sauvignon to find out more.

---
| | | |
| --- | --- | --- |
| My friend Christophe is a young yet passionate 'Maître-Cuisinier'. He runs an enchanting restaurant in Provence where he conjures up dishes fit for the gods. | | When I ring to tell him that we would like to visit with the camera crew to shoot an episode of Gort à la Carte he is pleasantly surprised. 'Bring me some fresh bay leaves!' he calls down the phone just before I hang up. |
In the Vaucluse the film-equipe halts at L'Isle-sur-la-Sorgue to pick up Christophe's order.

But while the little town is well-endowed with all the glory that the Provence has on offer, there are no fresh Bay leaves to be found anywhere.

But then, somewhere on a forgotten little square, the winegrower discovers a stall selling Herbes de Provence.
'Voilà!' he exclaims enthusiastically to his camera crew. 'Come on roll those cameras! Fresh bay leaves!'
As he promptly loses himself in an impenetrable discourse on this culinary greenery.

Director Richard attempts in vain to explain to the inspired TV-presenter the difference between lavender and laurel.
After this unfruitful stop the crew moves on a next location. This time they have set their hopes on Lourmarin, an hour away.


Walking backwards, the winegrower attempts to imprint on his viewers the importance of his mission: 'Laurel! The pearl in the crown of the Cuisine Provençale!'
'Trouvé!' the culinary expert exclaims a moment later, glowing with pride: 'Fresh bay leaves!'
'Cut!' director Richard barks. 'Not from a jar! That's useless!' Shaking his head, he decides on an impromptu lunch borne from desperation. 'Time out! We'll carry on shooting after two o'clock!'

The abundant lunch does not have a tempering effect on the spirit of the idiosyncratic presenter. Quite the opposite. 'We'll go and get those bay leaves ourselves! Come on, get in the car! We'll just head into the woods! That stuff is like a weed around here!'

| | | |
| --- | --- | --- |
| As the dusty windscreen of the winegrower-mobile is virtually completely opaque, camera-beast Joost attempts a creative solution by filming the earth's surface as it rushes past. | | When even that old trick of cleaning the window with a wet French newspaper doesn't do it, director Richard resorts to extreme measures. |
| | | |
| --- | --- | --- |
| "Look, I've put the GoPro here next to this rock," director Richard informs his protégé. 'And you'll drive past it slowly and carefully, it's going to be a great shot. OK. Here we go. Camera ready? Action!' | | 'And? And?' the winegrower is keen to know after he has crushed the exorbitant camera under his reckless wheels. The GoPro is nowhere to be found. After a long search and much inarticulate cursing, the winegrower's lover retrieves a minute splinter of plastic. |
Defeated, director Richard announces another lunch. 'Time out! We'll carry on with the shoot after 4pm!'

| | | |
| --- | --- | --- |
| A phone call to the producer's office revives some of the crew's lost hope. Three villages over a bay leaf nursery has been spotted! | | 'So these are bay leaves?' Doubtful the television star fondles the meager bunch of herbs. Surely that won't impress his friend Maître-Cuisinier Christophe? However, he soon recovers his well-known vigour. 'Ladies! Take me to your plantation!' he orders the Provencal greendiggers. |
'Finally! At last I have something to show for our efforts!' he laughs and, followed by the confounded herb-growers, hoists his laurel harvest toward the winegrower-mobile.

In the picturesque mountain village of Seguret the trees reach the heavens, but when our star reaches Christophe's restaurant after a long climb, disappointment awaits him.

| | | |
| --- | --- | --- |
| The outdoor seating area is crammed to overflowing. 'There is no way we can shoot in that racket,' director Richard rules. | | He proceeds to clear some space in a remote corner of the garden. But this is the last straw for camera-fiend Joost: 'Impossible! This harsh sunlight will be the death of the shoot!' |
'Over there!' the winegrower points. 'That view! That's where we need to shoot. You go and chase off those people there, Richard.'

There is nothing else for it. As Zsa Zsa Gabor once said: 'Shooting a movie is waiting, waiting, waiting.'
The crew has to exercise their patience until the very last luncher has vacated the premises and the sun is in decline.

'I'm going to go ahead and have myself a little glass of wine,' mutters the presenter.
'Noooooo!' director Richard shouts in shock, but it's too late: the winegrower has poured himself a generous helping of Côtes de Provence.


Christophe has been waiting patiently on the sidelines all this time, but then he's had enough.
'Are we gonna make a move or what?!' he shouts at the inebriated TV personality. 'My Cotelettes d'Agneau aux Herbes de Provence have gone stone cold!'
| | | |
| --- | --- | --- |
| 'Merci beaucoup for the bay leaves,' Christophe grins as he applies the 'touche finale'. 'I use on average ten leaves per week, so I'd say I have enough now for the next hundred years.' | | 'Ok pay attention,' director Richard instructs the idol, 'we are going to record you eating this. But of course we'll have to retake it a hundred times, so I'll just cut off this little piece here behind these bay leaves, that you can eat again and again. So don't swallow, eh!' |
But the full-figured red Provence wine has already taken its toll, and come take 22 not a single millimeter of usable material has been recorded.
'Can't we hire a different presenter?' soundman Mike grumbles when the winegrower has taken a toilet break. 'My arm is getting sore with all this fishing.'


'I'll write it down for you,' director Richard says before commencing take 23. 'So these herbs are called Herbes de Provence. Do you think you can remember that?'
| | | |
| --- | --- | --- |
| Even camera beast Joost is skeptical but Richard perseveres. | | 'Grab us a new bottle of wine and a clean glass!' he says to Christophe. 'Camera ready? Action! Take 24!' |
But alas, still the star fails to deliver.
'I'll write down your lines here in capital letters,' offers the ever-optimistic director. 'Those herbs are called HERBES and they are from the PROVENCE. Do you think you can read that out for us?'

Even soundman Mike, hardened by his assignments in explosive warzones, has reached his limit.
'I give up,' he sighs while unclasping his mobile sound unit and massaging his back with a painful groan.
But film-beast Joost doesn't hear him. He's fallen asleep, his head resting against the camera.


Eventually director Richard too has run out of patience and resorts to the most draconian measure in his directing reportoire: A Complete Wine Ban.

Thanks in part to this effective maneuver the shoot is successfully completed just before midnight.
---
Amazon presents: Surviving France, by the winegrower!
Surviving France : The Merry Adventures of a Dutch Winemaker In France

Twenty years ago, Ilja Gort bought a run down wine chateau near Bordeaux, which, over a period of ten years, he managed to transform into a highly successful winery.

Today his La Tulipe wines are winning numerous awards at international wine fairs and are for sale all over the world.

Surviving France is Gort's humorous account of his first years as a chateau owner and wine maker.
In his unique witty way he details the ins and outs of life at a French wine chateau.
He unearths well kept secrets about wine and reveals what it took to make his dream come true. Sometimes lighthearted, sometimes profound, but always sincere.
A delightful book, and a must-read for every francophile out there.

More than 250.000 copies sold in Holland!

Paperback and ebook (Kindle) now available at Amazon.co.uk

Kindle Edition £ 4.02
Paperback £ 7.46
---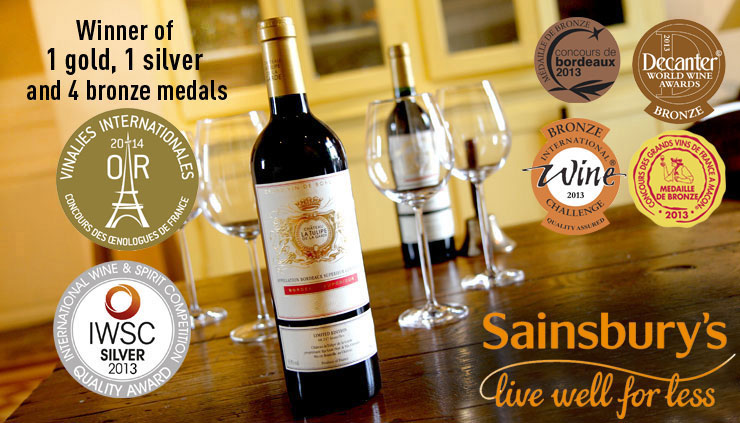 You can find Château la Tulipe de la Garde Bordeaux Superieur at Sainsbury's supermarkets.
Cliquez ici for more information.

---
| | |
| --- | --- |
| | Allez, Wholeharted Santé! |
---
| | | | |
| --- | --- | --- | --- |
| forward this Slurp! | follow us | | |
| | | | |
| --- | --- | --- | --- |
| forward this Slurp! | follow us | | |