Allô, allô, Bonjour!


Voilà, hot news from a cold but sky-blue France. We solve one of life's Big Questions and uproot a vineyard full of old folks.

Allez, à l'attaque!


---
Over at Château la Tulipe we've been blessed with a herd of chickens- consisting of one (1)- that produces an egg every day. Naturally therefore, it is not long before the question arises: What came first; the chicken or the egg?




A perplexing mind-boggler that humanity has been wrestling with for centuries, and failed to solve. Until, in 350 BC, Aristotle gave us the answer: 'Both the chicken and the egg have always been there.' Well, that's one way of thinking about it.

Stephen Hawking has a slightly different view: 'The DNA of the chicken is identical to that of the egg from which she hatched, but the DNA of the egg she lays is different. Ergo the egg was first.

Correct! Chickens hatch from an egg that is bursting with genetic leftovers from the Gastornis, an egg-layer 60 million years its senior.
Gastornis are giant speedy chickens that used to blunder around the Paleocene. With their lethal beaks and strong claws they caught animals akin to horses and other ungulates, whom they gobbled up with gusto.

In the course of history there have evolved many beautiful, strong and shrewd animals that have since become extinct. But the chicken, the dumbest bird on the planet, is still happily tottering around.
How is this possible, one might ask, because a chicken presents as a tasty bite to many predators and is rather defenseless without horns, poisonous bristles or pepper spray.


Well, my dear friends, in order to survive both man and chicken just need to stick to the same simple rule:


NEVER GIVE UP!

Cliquez ici to see how a chicken does that


(

Cliquez on the image below

)
---
For the filming of a new series of Gort à la Carte we travelled to the French province of Bresse, situated between Burgundy and the Jura. Here we shot an episode about the most fantastically tasty chicken on the planet, the Poule de Bresse.

| | | |
| --- | --- | --- |
| During the shoot the winegrower fell so deeply in love with his fellow star that he asked the farmer if he could take her home. | | This led to the trip having to be resumed with a particularly aromatic domestic bird in the boot of the car. |
| | | |
| --- | --- | --- |
| Which in turn led to mutiny among the crew who insisted on enriching the daily fitness lunch served by the winegrower's lover with the new travel companion, in grilled state. | | But the winegrower and his lover held fast and managed to get their protégé, now known as Babette, safely out of the danger zone. Because chickens have a certain sensitivity to that kind of thing, Babette rewarded her two benefactors with a spontaneously laid travel egg. |
A fierce clarion call announces the arrival of the most expensive chicken of France at the chateau.

| | | |
| --- | --- | --- |
| However not every chateau dweller is pleased to see her. Resident chicken Adolf immediately logged in to the NSA intranet to lift the file on his newly arrived competitor. | | Soon after, he invited the newcomer to make herself at home in a location he deemed most suitable for her: the barbecue. |
After a penetrating professional review the winegrower's lover manages to persuade Adolf to change his ways. Repentant he offers her his cottage, so the newcomer can produce her first chateau-egg in an atmosphere of peace and quiet.

| | | |
| --- | --- | --- |
| And sure enough, Babette doesn't waste any time: Bresse castle-egg nr. 00001 is a reality! | | The joint egg effort is patiently waiting for the test panel, the interim score is 2-1 boldly in favour of Adolf. |
For the moment Adolf remains the reigning champion. His varied diet (red wine, earthworms and croissants), and the respect he has for the nationality of his patrons, produces eggs with a yolk the colour of our Dutch royal family.


The taste of Babette's produce (left on the plate) is excellent and only marginally inferior to that of her opponent, but there is still some work to be done on the colour.

Bravo, Adolf & Bon courage, Babette!
Oeuf Cocotte à la Grand-Mère
Once you have tasted the real French 'Oeuf cocotte' even once, you'll never want anything else. However, there are very few people who are aware of how to prepare this addictively delicious dish, even though it is laughably simple.
Allez, on y va:


Oeuf Cocotte à la Grand-Mère pour quatre personnes
Preheat the oven to 200 degrees.
Take 4 individual over proof dishes and drop in a little butter and crème fraîche.
Break an egg over each dish and sprinkle with salt and pepper. Grate some cheese over it and then pour on a little more crème fraîche.
Put the little dishes in a big oven proof dish and fill that up with boiling water so the small bowls are half submerged.
Put in the oven and leave for ten minutes. The egg white should be solid but the yolk still soft.
Cut some fresh chives over it and serve with toasted crusty whole meal bread, a chilled glass of Château la Tulipe and a wall-to-wall smile.

---
A vineyard full of old folks
| | | | | |
| --- | --- | --- | --- | --- |
| Wine is made from grapes. | | Grapes grow on grapevines. | | A bunch of grapevines together form a vineyard. |
| | | |
| --- | --- | --- |
| In the winter after the grapevines have offered us their fruit, we prune them. The old fogeys have suffered this treatment so many times that they have lost count. But it's these knotted old bushes that give us our best wine. | | But because of their advanced age these centenarians resent the merciless amputation of their limbs more and more, and they resist it with all they've got. |
| | | |
| --- | --- | --- |
| No matter how lovingly we address our treasured veterans, one after the other gives up the ghost. And finally the day comes round when we can no longer look the other way; we have to face the truth: the scant drops that these seniors manage to suck up from the earth, are not really worth our while anymore. | | The old vineyard, the Vielle vigne, has reached the end of her life cycle. She has to be dug up. |
Where birds once nested, where bees once hummed their happy tunes, and where deer used to dart among the shrubbery, there is now nothing but a yawning expanse of silent emptiness.

A broken man, the winegrower trudges home. Of course, when spring comes the desolation will be re-planted with young baby grapes. But still... But still...


For a moment the hand of the winegrower hesitates as it closes around one of the oldest branches.
Does this vine really, after all those summers of loyal service, need to be reduced to fodder for the flames?
With a deep sigh the lord of the manor sets himself down at his writing table and attends to the composition of a poem on the impermanence of all that is.

---
Amazon presents: Surviving France, by the winegrower!
Surviving France : The Merry Adventures of a Dutch Winemaker In France

Twenty years ago, Ilja Gort bought a run down wine chateau near Bordeaux, which, over a period of ten years, he managed to transform into a highly successful winery.

Today his La Tulipe wines are winning numerous awards at international wine fairs and are for sale all over the world.

Surviving France is Gort's humorous account of his first years as a chateau owner and wine maker.
In his unique witty way he details the ins and outs of life at a French wine chateau.
He unearths well kept secrets about wine and reveals what it took to make his dream come true. Sometimes lighthearted, sometimes profound, but always sincere.
A delightful book, and a must-read for every francophile out there.

More than 250.000 copies sold in Holland!

Paperback and ebook (Kindle) now available at Amazon.co.uk

Kindle Edition £ 4.02
Paperback £ 7.46
---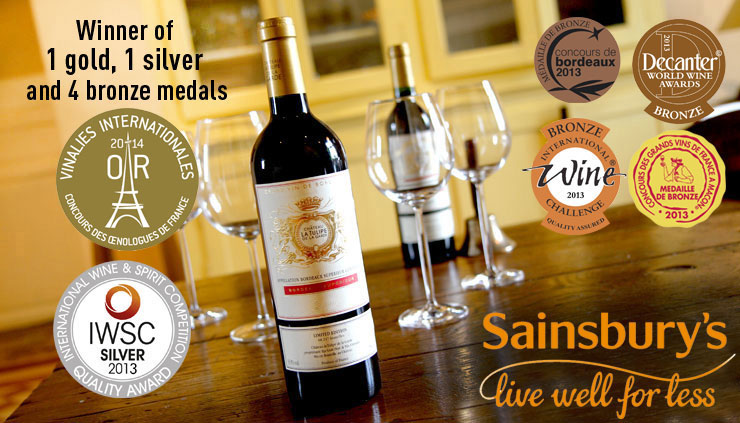 You can find Château la Tulipe de la Garde Bordeaux Superieur at Sainsbury's supermarkets.
Cliquez ici for more information.

---
| | | |
| --- | --- | --- |
| | Share this Slurp! on Facebook | Retweet deze Slurp! |
---
| | |
| --- | --- |
| | Allez, Wholeharted Santé! |
---
| | | | |
| --- | --- | --- | --- |
| forward this Slurp! | follow us | | |