Allô, allô, Bonjour!


Attention: this Slurp! demands a little more from the reader than usual. Besides offering a pearl of planet saving wisdom, it will strip many a reader of a long cherished illusion.

Allez, we'll take the risk.
---
The older the better and My Little Pony
Finally spring has kissed the vineyard awake. The vines, seemingly bereft of life, have sprung new shoots and fresh green leaves have now unfurled. Shiny with wonder they look about themselves and impulsively turn their faces toward the spring sun.

It is touching to see how a hundred year old geezer like this manages to squeeze out a couple of fresh young leaves from his creaky old bones every year.
But make no mistake: these 'pieds centenaires' produce the best wine, with the fullest and most complex flavours. While it doesn't always work the same way for humans, for grapevines goes: the older the better.


If you look closely you can even see the flower buds. Still frail and My Little Pony-pink, but in less than a month they will be in full bloom. After the buds have blossomed, they will reveal tiny grape embryos.
All intricate manoeuvres of which you are unaware when you chuck a bottle of wine in your Sainsbury's trolley. Probably better; you wouldn't be able to sleep at night.
Slurp your way to a clean planet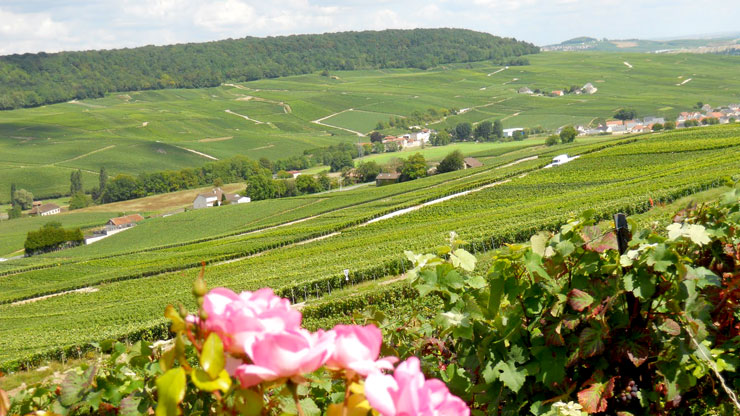 Speaking of which, you should count yourself lucky that those vineyards do wake up on time each year, because they are our salvation. Every time we breathe, we suck in oxygen and exhale carbon dioxide (CO2). The amount of oxygen on the planet is limited, but thanks to trees, bushes and vineyards we haven't dropped dead just yet.
A vineyard contains hundreds of thousands grapevines breathing out fresh oxygen all day long, converted from the CO2 they've filtered out of the air for us.


They use their roots to slurp up water from the soil and push it up through their trunk to the leaves. When the sun warms those leaves, CO2 and water are converted to oxygen and sugar. The oxygen is then exhaled again, but the sugar is stored and burnt up slowly. The energy that is released in this process, the grape plant uses to grow her grapes. Which we then use to make lovely wine. All in all, you're saving the planet with every glass; thanks to you CO2 is transformed into healthy fresh air.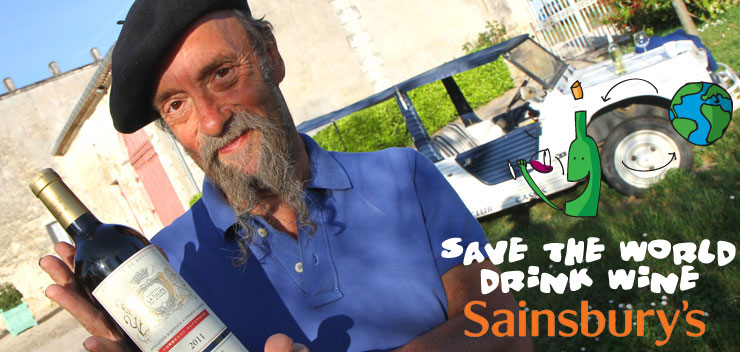 ---
A house in France (start)
For those of you for whom 'freedom' is a picture of a galloping horse on their desktop.

Breathing freely is a vital need not just for plants. Because I was asked to write a piece on 'luxury' I asked my nearest and dearest what 'luxury' meant to them. A Mercedes? Jewels? A fur coat? A three week all inclusive trip to Bali? Nothing like that. Eventually everyone came up with the same answer: Real luxury equals Freedom. Being able to decide for yourself what time you get up and how you spend your day. That is the ultimate affluence.

| | | |
| --- | --- | --- |
| | | Well, if you are free to decide what you want to do, for many the logical next step is: a holiday home in France. One of our better friends too, persisted in this misconception. He asked, or rather begged us to help him with buying a suitable holiday home at an affordable price. Because it was clear that our soothing words would smash to pieces on the flagstones of his tenacious passion, we chose to employ, as it is known in CIA terms, the direct confrontation |
---
A house in France (continued)
'Mwoah,' our neighbour Jean-Claude shrugs. 'I don't use it. He can have it for a grand. Water and electricity he can pull in from the shed. I'll put in an electricity meter for him'.

Within spitting distance we locate this beauty of a tractor shed.
'What do you mean derelict!?' Jean-Paul cries out full of indignation. Those pillars rest on a solid concrete foundation! Just board up the sides, put in a couple of windows and you've got yourself a gorgeous Maison de campagne! For just 5 K it's all yours and I'll leave you all that firewood to boot'.

'In Normandy they'd easily ask 50 grand for something like this!' barks Jean-Michel, nicknamed 'The sausage', with a smirk that shows off his last few remaining teeth. 'It's in a fine state. A bit of fresh wallpaper and it's good to go.' He laughs his booming laugh.
'Sure of course, there's a bit of work in it. But I don't have the time, nor the inclination. So if that mate of yours does it up nice, he can have it for free. But the land will still be mine!'

'What shed?' Jean-François wants to know. 'Ah! The cabane! By the road! Hmm, what would I want for that...But you're right, if you did it up you could live there. All right then, two thousand?'

| | | |
| --- | --- | --- |
| 'Bwroa...' Jean-Luc lets out a modest mouth-fart. 'Since I put up the new barn, that old shed just sits empty, but at one stage it used to be a Maison d'Amis. I think I might enjoy it, a bit of life around the house. If those friends of yours are nice people, they can buy it of me for ten thousand euro.' | | 'Merde!' Jean-Marc curses. 'If only you had asked me last year!' He leans in to me and whispers confidentially: 'Ils sont fous les Hollandais, but go on then, five thousand for that ramshackle sheep hovel...' |
| | | |
| --- | --- | --- |
| | | 'Do it up?!' an incredulous smile spreads across the face of Jean-Jacques, which highlights the remarkable resemblance with the dried up riverbed next to his farm. 'I was just about to take it down! Okay, you can have it. Ten grand. Including the bit of land it's on.' |
A house in France (provisional conclusion)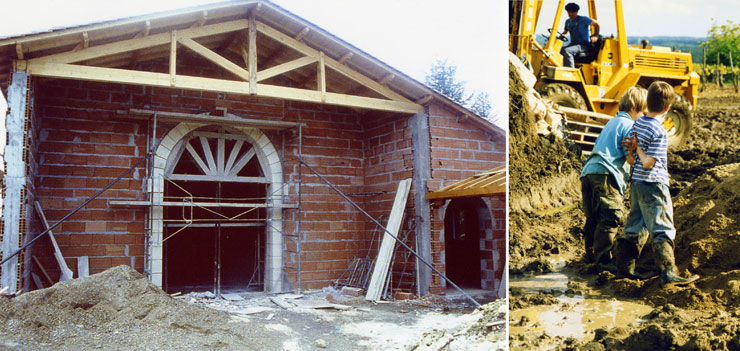 | | | |
| --- | --- | --- |
| Digging up foundations, drilling for drainage systems, wiring electrics. Horrible stuff, but if you're into that kind of thing, you'll manage. But then! Endless debates with civil servants who make the Gestapo seem like a neighbourhood bingo club. Sleepless nights because of contractors that never show up, reluctant suppliers, and repeated deliveries of the wrong building materials (if there are any deliveries at all). All this leading inevitably to raging arguments with every living organism within a 50 meter radius, your future ex included. | | An acquisition like that won't open the door to freedom but to a gulag! The liberty to choose your own holiday destination is replaced by the punitive obligation to spend every day of leisure at your self-selected penal labour camp. An inmate in a forensic psychiatric ward is better off than you. These and similar words I spoke to my house hunting friend. But love makes deaf, dumb and blind. To be continued in the next Slurp!. |
While the wineboer takes pride in answering every email he receives in person, he would like to stress that this particular house hunting expedition was purely directed at getting a friend back on the right track. Requests for intel regarding the above properties will therefore not be granted. Such a thing would be a fool's errand, and besides, you really shouldn't want it anyway...
You have a lot to learn and to discover if you are dumb enough to fall into the trap of 'a house in France' (more on this in the next Slurp!) but one of the first hurdles is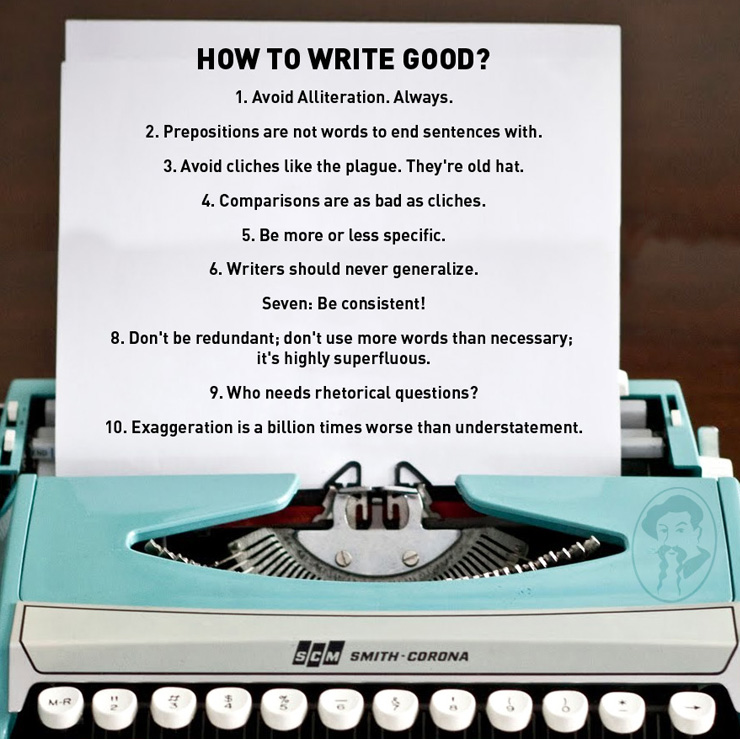 The above set of rules teaches you how to write a best-selling novel. Not directly related to building works, but all the more to do with regulations. This list makes me laugh because, when you take a closer look, you'll notice that all the rules present you with a reversal of the truth. Rules, after all, are made to offer a solution to a problem. But the rules in this list all contradict themselves.

This proves how risky rules are. Those ten neatly organized sentences are very soothing to us. The brain, our laziest organ, sits back and relaxes in its chair: 'Great, rules. I won't have to do anything myself. Just follow the orders; and everything will be fine.'

Try and avoid this reflex at all cost.
You might not always succeed, but please promise me you'll try as much as possible. Because a ready-made solution is handy but dangerous. Befehl ist befehl. And we all know what that leads to. Not just then, now too. The main purpose of rules is to challenge you to see if there is another way to go about it. Don't be lazy, think for yourself. Especially when you go looking for freedom.
---
Dinner in the wine capital
Beyond the vineyards of the Medoc, we can see the outlines of the world's wine capital. Here in the South-West of France, not far from the Atlantic Ocean, she slumbers in the spring sunshine.
The city is bisected by the Garonne, which a little downstream has relations with the Dordogne, resulting in the Gironde. The posh part is located on the left bank; on the expansive gravel planes from which the sparkling crown jewels are extracted in the Médoc, the Graves, the Margaux and other bling-bling appellations.

The other side of the river, a hilly limestone plateau, is the terrain of hardworking commoners such as Château la Tulipe. But the atmosphere is jolly, with neighbours like Saint-Emilion, Pomerol and Entre-Deux-Mers. All this makes up the region of Bordeaux; 290 acres of vineyard yielding an annual seven billion bottles of wine.

When I set foot there for the first time I thought: 'Paris, 1960, without the tourists'. And actually it's still like that. 'La belle endormie', the sleeping beauty, as it is locally known, because of the opulent architecture and the marvellous calm.

| | | |
| --- | --- | --- |
| In 1995 ex-minister Alain Juppé was made mayor of the town. He broke open the entire city and for years gave it the look of an abandoned heart-patient. Inaccessible and incontinent. The town's inhabitants cursed their new mayor and all his descendants. | | But Juppé blithely ignored the criticisms and performed a miracle: he incarnated the dilapidated quay sides and warehouses along the banks of the Garonne and turned the area into a long stretch of merriment with walkways, leafy parks, playgrounds, a skate park and a water square with an urban beach. And now, according to a recent study, the Bordelais are among the happiest city dwellers of the whole of France. |
Just like the wine she produces, the wine capital won't give you 'sex on the first date'. If you want to make love to her, you'll have to work for it. But if you succeed, you hit the jackpot: a summer night in Bordeaux is like an embrace with a long awaited lover.

At the Place du Parlement do not go to the tourist hangouts (they're all by the same owner, so you'll get the same food in any of them), instead book yourself a table at the far end of the square outside at the small and eccentric bistro Chez Jean.

You'll have a great meal here, with a fantastic view of the ever-changing scene on the square. Like a TV dinner, only live. And even better, for a relatively low fee you can hire outdoor advertising that really stands out.

Whether you opt for the grilled baby squid or a vegetarian low-cal salad, it's all of the same cheerful high quality.

The wine list is well furnished, so there's a good chance you'll be one of the last to waddle out of the Place du Parlement. Bonne appétit!
Chez Jean. 1 place du Parlement - 33000 BORDEAUX Téléphone: 0033 5 56 444 443 - www.chezjeanbordeaux.fr

---
| | | |
| --- | --- | --- |
| | Allez, Wholehearted Santé! | |
---
You can find Château la Tulipe de la Garde Bordeaux Superieur exclusively at Sainsbury's supermarkets.
Cliquez ici for more information.

---
| | | |
| --- | --- | --- |
| | Share this Slurp! on Facebook | Retweet this Slurp! |
---
---
| | | | |
| --- | --- | --- | --- |
| forward this Slurp! | follow us | | |