Allô, allô, Bonjour!


How often don't you find yourself mucking about with something fruitlessly for hours on your own, when one fresh glance of someone else immediately renders a brilliant idea? After which you together manage to bring the problem to a glorious solution because as Aristotle already knew: the whole is greater than the sum of its parts. That's what this Slurp is about!

Allez, à l'attaque!

---
Spring is close, I feel it in my toes!
The honeybee delves deeply into the luscious heart of a dandelion. Lasciviously grunting he buries his nose in the buttery yellow and inhales the intoxicating scents.
Ecstatically: 'Grmblmmzzz...SPRING!'
All hundred thousand grapevines have been stripped of their summer twigs. The vineyard is still dozing in the recovery room, but is about to wake up.

Wine giant Régis arrives carrying a bag of wild garlic that he has pulled from between the grapevines.
'Voilà, pour ce soir!'
'But if I eat those, I might die!'
'Mais non! Au contraire! Boil for a few minutes, then fry 'm. Very healthy! They'll help you reach a hundred. Garanti!

My new book is finished and there is not much for me to do during this interbellum. Time to take a trip. We push-start the Méhari and bumble over to Bordeaux.
In the wine capital too, spring has erupted. The stone city is transformed into a sultry Woodstock.
That evening we treat ourselves to a table full of chilled sea celebrations and a bottle of Pessac-Léognan, but not long after we head back to the chateau. Tomorrow is the most important day of the year.
---
The vineyards of Château la Tulipe are planted with four different species of grape. The two main ones are Merlot, 75%, and Cabernet sauvignon, 15%.

Merlot is a soft, precocious woman's grape, well known for her velvety smooth flavour. Her juices are luscious, sometimes almost sweet. In describing her aromas, wine journalists tend to resort to the entire vegetable stand as well as the florist. I quote: 'Black currants, raspberries, strawberries, cherries, violets, blackberries, juicy figs and dark plums.' It's just short of pornographic.

Cabernet is a real man, a tough-guy grape. A grape with hair on its teeth. Stubborn, stocky and not ripe until late in the year, with a thick skin. He renders a dark-coloured wine rich in tannins. To describe him we need to drop round to our local corner-shop because, apart from blackcurrants, he reminds our esteemed experts of: 'pencil shavings, cigar boxes, tobacco, licorice root and dark chocolate.'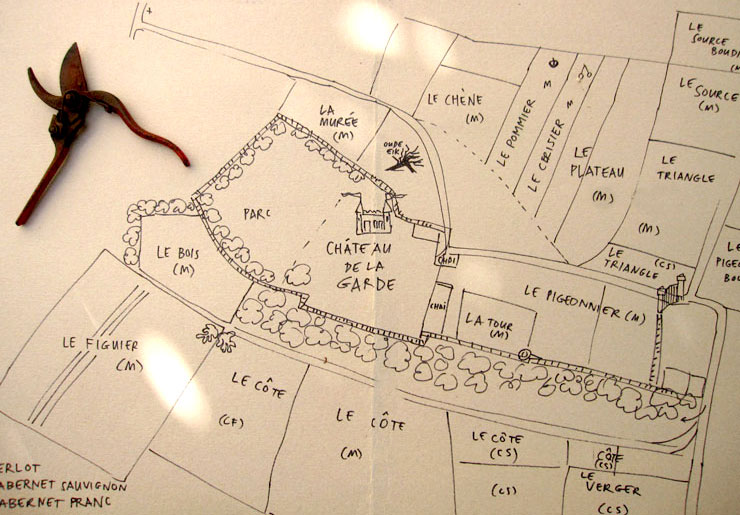 Our vineyard is subdivided into around thirty different plots, each yielding their own unique product. The harvest from each mini vineyard matures in its own vat. The vintage 2012 is now stored in thirty separate tanks. After roughly a year and a half of ripening, those thirty separate flavours need to be united in one wine.

Yin and Yang, Rolls and Royce, Lennon and McCartney. By merging two different elements in the right way, something can arise that far transcends its origins.
This same synergie happens to wine. When you manage to combine the right types of grapes, it results in a wine


Assembling wine is a fine art and a sought after hallmark of quality in which France has a rich history.
Since I bought my château I participate in it myself and it's far from easy. The mixing of grape varieties is a delicate alchemy that requires years of experience and the patience of a tortoise.
| | | |
| --- | --- | --- |
| You only drink one bottle a day, so it needs to be a decent one. You rely on it to spoil your lover and very best friends. So, wine needs to be solid as a rock. Just like a building, it needs to be constructed. | | In order to do that we analyse the building blocks of each barrel individually: structure, tannins, acidity, scent, colour, fruitiness, complexity and taste. |
Cliquez ici for a cinematic impression




(Cliquez on the image below)
---
After such a Pyrrhic victory, one should eat.
The various inhabitants of the chateau each have their unique specialties, and the wineboer can suffice by taking care of slurp supplies.
Entrecôte vigneron: a juicy cut of Blonde d'Aquitaine, roasted on the glowing embers of grapevines, sprinkled with wild garlic from the vineyard.
After the plateau de fromages, chateau secretary Dominique serves her homemade Cannelées, the spécialité de la region.
All in all a lavish dinner, but one particular element cannot remain unmentioned; the driving force behind every French meal...
---
French can't live without baguettes. At the start of the last century an average Frenchman would gobble up three a day. These days, people take it a little bit slower, but those 66 million French together manage to eat an impressive 7 million kilometres of baguette every year.
The French stick was invented on orders of Napoleon.
'Merde!' the emperor gave out to his head chef.
'I've got a hundred thousand men here. They all need to eat. Day after day. But all those wagonloads of round loaves we need to drag along to every battle, it's driving me demented! Think of something better!'

Head chef Jean-François subsequently started baking breads in the shape of a stick. Now every soldier could carry his own bread in a special 'bread-scabbard' on his belt.
But there are more stories explaining the invention of the baguette, this is another favourite:

When the Parisian Métro was being built, labourers from all corners of France were recruited to work in the dark tunnels. Highly flammable bruisers, knife loosely in their pockets. A knife was not something you'd ever consider leaving at home in those days, because with what else were you going to use to cut up those rock hard loaves of bread? But unfortunately the metro diggers frequently used the knives to cut up each other during the regular fights that broke out among them. This did nothing to speed up the underground construction process.

A beautiful example of creative problem solving ensued: engineer Fulgence Bienvenue decided not to rule against the possession of knives but instead asked a baker to bake a type of bread you could break, so the knives could stay at home in the cutlery drawer.
For that reason, purists never cut a baguette with a knife but break it into pieces, like it was intended.

A perfectly baked baguette is an issue of national importance in France.
This is why recently the 187 top Parisian bakers competed for the 'Grand Prix de la Meilleure Baguette'.
Fifty of them were bonjoured out the door right away. Their bread was too short, or too long, too fat or too thin. The parameters are narrow and the French no know mercy when it comes to those sorts of things. Immediate exit through the backdoor.
A panel of fifteen judges assessed the baguettes on their taste, aroma, looks and crispiness.
The French stick bread championship was won by the 24 year old Antonio Teixiera. Apart from the trophy and the 4000 euro prize money, he will be the sole baguette supplier for the 'Palais de l'Elysée', the office and residence of the president for a year. You might have suspected it because of the name but Antonio Teixeira, the best baguette baker of Paris (and therefore of the whole of France) is Portuguese.

Last year's winner too did not originate from France. Ridha Khader left Tunisia at age fifteen to learn the bakers trade in France.
Voilà, a perfect example of 1+1=3. Add a good dose of willpower to the baguette dough and, whether you're Tunisian, Portuguese or anything else, you're able to beat 66 million French at their own game.
Adresse: Antonio Teixeira, 'Aux délices du palais', 60 boulevard Brune, 14e arr. Paris
Adresse: Ridha Khadher, 'Au Paradis du Gourmand', 156 rue Raymond Losserand, 14e arr. Paris
---
Château la Tulipe de la Garde - aoc Bordeaux Supérieur
When you've got a mouthwateringly delicious wine, that's winning pretty much every medal there is to be won, but that is difficult verging on the impossible to get anywhere....well... But when Sainsbury's decides to start stocking that wine, then 1+1 suddenly equals 3!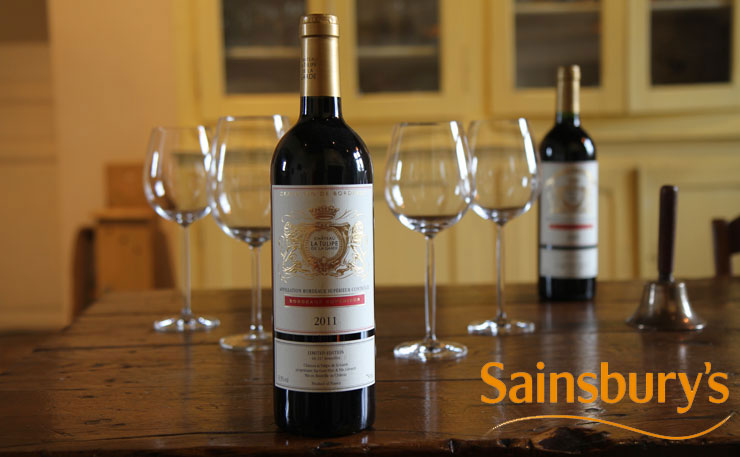 The millésime 2011 is a combination of Merlot 86%, Cabernet sauvignon 10% and Cabernet franc 4%. The wine has undergone an 11-month ageing period on new French oak barriques. This Grand Vin is round, full, strong and with a rich palette of aroma and flavour associations.

But wine is a living natural product and shut away in her bottle she is deprived of oxygen. Uncork her about two hours before serving and let the wine wake up gently. In this way the aroma molecules mingle with oxygen. If you then proceed to drink the wine while slurping, she will really come into her own and the deep fruity accents and the soft oak will merge beautifully.
Either way, whatever you do, only ever drink this ruby red Bordeaux Supérieur with full attention and with people you love. And make sure to enjoy every sip.

Cliquez ici for Fiche Technique plus techno climate info
A decent wine deserves to be slurped- in order to savoured fully. This is how you slurp:
---
| | | |
| --- | --- | --- |
| | Allez, Wholeharted Santé! | |
---
| | | |
| --- | --- | --- |
| | Share this Slurp! on Facebook | Retweet this Slurp! |
---
| | | | |
| --- | --- | --- | --- |
| forward this Slurp! | follow us | | |