Allô, allô, Bonjour!


The harvest is behind us, and the wine is safe and sound in its barrels. The vineyard is getting ready for hibernation and lets her leafy negligee slip to the floor.

Allez, on y va!



In this Slurp!

Get your hands on happiness! It's there for the taking 1
---
That sea of yellow, that is what makes the writing wineboer happy. All wine related chores have been completed and he can finally settle down to the capturing of his thoughts. But hang on, what exactly is happiness?
Get your hands on happiness! It's there for the taking
| | | |
| --- | --- | --- |
| During a female orgasm, the muscles around the vagina contract in quick succession. This happens as a result of sexual excitement. Because the womb is made up of muscle tissue as well, it can contract too. How long this goes on for depends on the individual woman, but something that all women have over men is that they are able to have multiple orgasms. | | When it comes to the duration of the orgasm too, women blow men out of the water. Where a male orgasm lasts no more than four seconds, a female climax can go on for twenty. Unless of course your name is Naomi Wolf and you are an American feminist, because Miss Wolf experiences so-called 'valley-orgasms' that last for more than twenty minutes. Either way: the orgasm is seen as ultimate bliss. |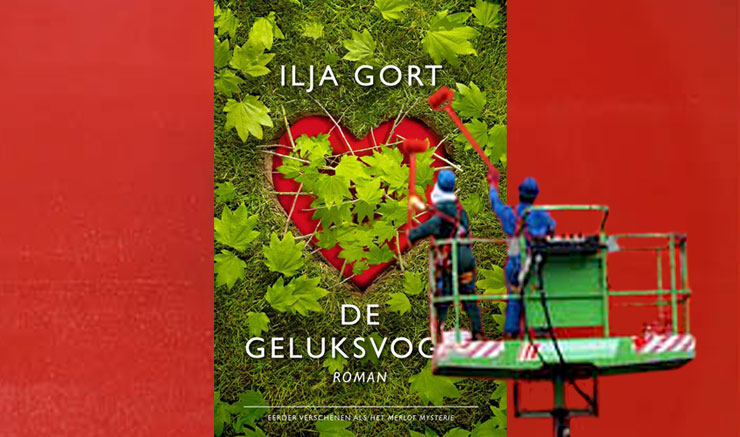 But you can fake an orgasm. And you can't fake happiness. Happiness is defined as "Being content with your current life-circumstances".
But feeling happy is not always the best way to be happy (read twice).

There is a difference between passive happiness and active happiness. Experiencing an orgasm, enjoying a good glass of wine or writing a book are all actions that make you happy. But doing something for someone else will cause a more lasting sense of happiness. Research has shown that the body produces the happiness hormone endorphin when you do someone a favour. This is one of the themes of my newly re-written novel: De Geluksvogel ('Fortune's favourite').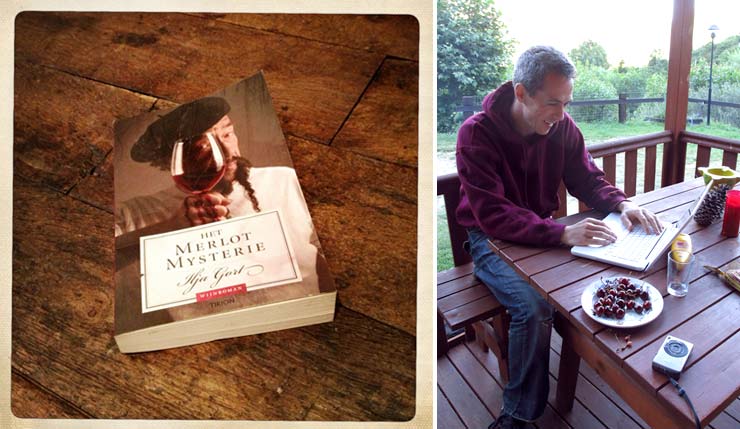 My first novel, The Merlot Mystery was a fantastical tale about the conflict between my dream and my nightmare. I wrote it in a wave of euphoria. The book did fairly well and was reprinted a number of times. When my publishers, A.W. Bruna, informed me that it would yet again be reprinted I decided, for the first time in five years, to read it again.
What a letdown! Gaping holes in the story line and a total lack of dramatic structuring. It appeared that I had missed many a knock of opportunity on my door.

My Irish friend Eoin, sought-after screenwriter and beloved of my daughter Bo, put me on the trail of a solid story-line. 'You need to show yourself more' was his advice 'Give your main character a wife, that will create drama.'
After a mind-expanding family stroll in the Pyrenees, I rewrote my debut novel from scratch. When publisher Joost read the manuscript he was of the opinion that it was no longer the same book and therefore needed a different title.
| | | |
| --- | --- | --- |
| | | Since then, Dutch film producer Rob Houwer has bought the rights, so we can be pretty sure there is at least some improvement. Even if only because some passages have me burst out in laughter all over again. |
---
Get your hands on happiness! It's there for the taking
| | | |
| --- | --- | --- |
| The last couple of months my happiness was positively enhanced by the recording of the TV-show Wijn aan Gort (Wine according to Gort). Slurping a glass of Rosé with Jean-Francois Ott (a man to fall in love with) on his private patio... | | ...then suddenly finding yourself in the salon of Château Smith-Haut-Lafitte with 80.000 euro worth of wine in your hands.... |
| | | |
| --- | --- | --- |
| ...having lunch in the snug little elfin-home of Jean-Claude Berrouet, winemaker of Château Pétrus... | | ...unexpectedly having to take the bike because that @#$%-Méhari won't start... |
...or preparing a delicious fresh lunch for the crew with the wineboer's lover. All things that can make a man very happy indeed. Have a look at this mini-report of our adventures at Le domaine de la Romanée-Conti.
---
Romanée-Conti according to Gort
Last summer we were allowed entry to Burgundy. We had a meeting at the winery that produces the most expensive wine in the world. Even the hard-boiled camera crew, made up of Syria veterans used to filming unflustered with bullets whizzing through their hair, seemed impressed by this mythical place.
Upon arrival at the vineyard, the wineboer kneels down and caresses the stone with the magical name in enchanted admiration.
In the vineyards however, the temperature quickly rises to resemble a blast-furnace. The merciless sunlight rendered the location un-filmable and finally the moment had arrived: the équipe moved to a location that had had the wineboer in a state of high excitement for the last number of weeks.
| | | |
| --- | --- | --- |
| An experience of epic proportions. Taking a walk among the barrels with the owner, each one representing a value of hundreds of thousands of euro. In flickering candle light, lifting a glass of deep red nectar of the gods to your lips and slurping up a mouthful of liquid gold. | | And then, the bitter pain in your soul when you can't allow yourself to swallow that last sip, after the fourth or fifth glass, instead you force yourself to land it in a box of saw dust. |
Barrels of such value are, understandably enough, under constant police surveillance. Which led to a mounting dispute between the wineboer, who wanted to take a snapshot of himself on top of the famous barrels, and the local gendarmerie who did not see the humour of the situation.
Relations with the Hermandad did not improve the following day, when the wineboer parked the crew-mobile a little too energetically.
---
| | | |
| --- | --- | --- |
| | Share this Slurp! on Facebook | Retweet this Slurp! |
---
| | | |
| --- | --- | --- |
| | Allez, Wholeharted Santé! | |
---
| | | | |
| --- | --- | --- | --- |
| | | | SlurpShop |