Allô, allô, Bonjour!


C'est fini. The harvest 2012 is safely stored away in its barrels. As if shielded by the hand of God, we were blessed with three dry days amidst perpetual showers. We rented the latest model combine harvester and managed to get all our grapes of the vines ripe and safe. An hour after the last grape had been picked the sun disappeared, the sky turned gray and the winds began to blow a taster of what is to come this autumn.

Allez, on y va. Below a chilling account of the events.






---
Vendanges 2012


As they say here: 'Un temps de merde'; shitty weather. The méteo forecasts rain, rain and more rain. Apart from three days when it's meant to stay relatively dry.
This leaves us with only one option: in these very three days we need to bring in the entire harvest. An impossible task were we to use a troupe of human pickers. But with a machine it can be done. Manager Paul gets on the phone. We need to reserve the latest and most hi-tech model of harvester. But unfortunately that's the one that everyone's after.
'Impossible,' is the answer. A box of wine, accompanied by a little envelope yields the required effect.
'Thursday 7am La Machine chez vous. Promis.'

On my way to the bakery I spot the machine at the neighbours. Shamelessly she displays her hungry vagina. Tomorrow this moving grape factory will pay us a visit.

| | | |
| --- | --- | --- |
| Thursday morning seven o'clock. And sure enough, it is dry! The méteo was right! We straighten our caps and Allez, on y va! The first day of the Vendanges 2012 is upon us. | | Our equipe is already buzzing around. The spotlessly clean empty cuves lie waiting for their load. While we are waiting for the harvester, Yvette, our vineyard chef and I discuss French macro-economic foreign policies. |
It is 9.17 am when a roaring noise announces the approach of the long awaited machine. Hands defiantly on his hips, wine giant Régis anticipates the entrance of his rival.

All manner of thoughts jostle about in his head.
Will I let my vineyards, which I protected and guarded all year like a wolf-mother, be plundered by a soulless lump of metal? I admit, it works fast but will it work well? Won't there be too many twigs, leaves and unripe grapes in amongst the harvest?
Waddling like a grotesque ravenous monster, La Machine shuffles into the vineyard. She opens her muzzle to the vines and takes the first row between her legs. She pauses for a brief moment as if gasping for air, then lunges forward with a growl and greedily begins to lap up row after row.
When La Machine is sated, tractor driver Hamid manoeuvres his trailer under her cloaca, after which she excretes her burden of grapes into his container.
Next, a duet by Maître de chai Philippe and his Aide de camp Frédéric. Gesturing like meticulous conductors they orchestrate the tractor backwards toward the Table de tri, the sorting table. Voila, the grapes. Immaculately harvested: very few clandestine little twigs or stems.
| | | | | |
| --- | --- | --- | --- | --- |
| Voilà, the grapes. Immaculately harvested: very few clandestine little twigs or stems. | | Until, unfortunately, you look up close! Leaves, stems, tiny unripe grapes; even though it's all natural, it's not the kind of natural you want in your glass. | | And look! Even more nature: a snail. Delicious when fried in garlic butter, but preferably served WITH a glass of wine, not IN it. |
What follows next is a two-tier sorting system. The harvest is dropped on a Table vibrante, a vibrating table containing slits through which stems, small unripe grapes and other illegal intruders are automatically escorted to the exit. The remaining unwanted interlopers are separated manually from the grapes by a troupe of hardened conveyor-belt sorters.
Sometimes, when the wave of grapes threatens to turn into a tsunami, you need both arms to rein them back from the moving belt. After a day of this greedy groping you're covered from head to toe in sticky grape juice.
But that is a sacrifice we happily make for the by-catch of organic wine production.
| | | |
| --- | --- | --- |
| The most commonly heard phrase during this process: 'Il marche pas.' With a loud creaking noise the grapes grind to a halt. Bewildered glances. Dumbfounded scratching of heads. | | Luckily Hervé, the local electrician, understands the importance of the vendange. After Philippe's emergency phone call he drops everything at once and ten minutes later he's lying under our table. |
After an hour we're back in business. 'Ca marche!' The table is leveled anew, so the grapes keep rolling in the right direction and the hose can be reattached.
But before we are let loose once more, the grapes are granted a brief break. In France there is a sacred anchor that pierces the day: le Repas du Midi.
Cliquez to join at the table


(Cliquez on the image below)
After lunch we save enough lives to be assured of a protein rich meal in these tough recessionary times.
| | | |
| --- | --- | --- |
| Voici the organic by-catch of two hours at the table de tri. The contents of this wheel-barrow will go back into the vinyard to function as natural manure. | | It's coming up to nine o'clock at night when we, stiff, cold and sticky with grape juice can finally finish up to go for a nice hot shower. But the lights are still on in the Chai. Rinsing off all the machines, cleaning out the hoses, sweeping the floor. Our men will be another hour or two before they too can go home (please remind yourself of this, every time you take a sip of wine). |
The next morning, the Chai is sparkling clean as if reborn. Ready to receive a fresh load of grapes. During the vinification process, the wine will be stored in these stainless steel Cuves for three months. She is then transferred to oak Barriques to ripen further for a year.

La Côte, our best plot located on the south side of the valley, lies on a 30 degree slope and is therefore inaccessible for the harvester. This is why manager Paul has rustled up a troupe of thirty professional grape pickers specially for today.
But alas: 'Il marche pas.' The table de tri is once again out of service. A chunk of tree bark and a muscular moth turn out to have blocked the circuit, and a little leaking grape juice finished it off. After the machine has been washed and blow-dried we can start.
| | | |
| --- | --- | --- |
| We want to make a report about the harvest. But this turns out to be a non-starter. Faces are being turned away. Hands spread in front of the lens. It appears that the administrative history of our troupe is not entirely spotless. We hire a special photographer. | | Our vendangeurs are averse to any form of contact. And neither do they seem to have complete mastery of the French language. However, one of the undomesticated pickers wishes us, in Dutch, a hearty "Fuck off!" |
| | | |
| --- | --- | --- |
| A furtive glance through the foliage, a glimpse of a pair of torn jeans and the rapid snapping of the secateurs. | | To avoid leaving finger prints, our grape herders wear gloves. |
But the men work exceptionally hard, are very competent and the grapes they bring in are healthy, ripe and of top quality.
| | | |
| --- | --- | --- |
| Despite the stringent Bordeaux laws against irrigation, the supervisor makes a small contribution. | | One of the pickers has taken advantage of this momentary lapse in the supervisor's concentration and has escaped. Release the hounds! |
Saturday evening the 13th of October, 8.36 pm. The pickers have left. Tired but content our men survey the cuves, now brimming with wine. C'est fini. Château la Tulipe de la Garde's 2012 harvest is safe and sound in the tanks.
Do you want to know how 'La Machine' does her job?


(Cliquez on the image below)
---
De Vrouwenslagerij (Lady Butchers); making of the cover
Only a week before the harvest the Wineboer was quietly typing away at his latest novel, Lady Butchers.
And not just any old novel. This macro-shot shows clearly how a specimen of the Long nosed-Lycid beetle, renowned for his excellent taste in literature, sniffs approvingly around the manuscript.
The castle-telephone rings: perhaps it has slipped the wineboer's mind that the book's cover shoot is scheduled for tomorrow?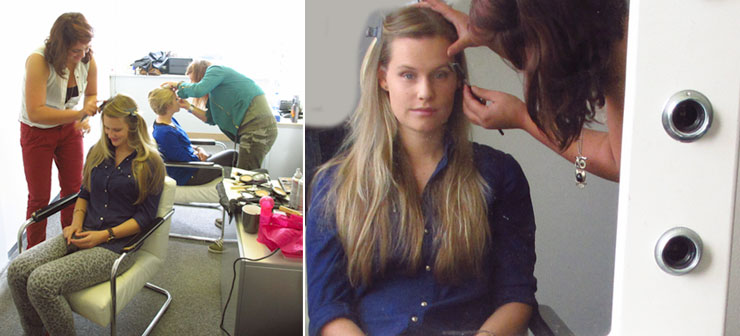 | | | |
| --- | --- | --- |
| The story is involves four women in a tiny French village. Because we wanted to keep the cover photograph as natural as possible, we sent out a call. We didn't want to work with models but instead asked for real women that could portray the main characters realistically. The next morning, 11am sharp, everyone (including the wineboer) is present in the photography studio in Amersfoort. Two make-up artists get to work on our celebs to make sure they're camera-ready. | | Wine tigress Britt, cast in the role of sex bomb Mila, stays cool while she's given a pair of icy blue contacts. Marissa, as Amelie and Vivian as Lucie, are nervously waiting in the corridor. |

| | | | | |
| --- | --- | --- | --- | --- |
| Make up artist Masja is a little gloomy: 'How am I meant to make this woman look like the murderess Bernadette? It won't work, such bad casting. She's much too sweet!' | | Waiting patiently is photo-fiend Stephen. He's confident in the knowledge that he has brought all the right props (look closely at the bag on the left had side of the image). | | Vital for a 'Lady Butchers' shoot: two packs of bloody meat for authentic blood stains, a bottle of ketchup in case of stab wounds and a couple of flea market bought butchers' knifes. Nothing could possibly go wrong. Or so you'd think. |
| | | |
| --- | --- | --- |
| The women are getting into their poses, Masja adds the final finishing touches and Stephen takes a couple of test shots. | | Ah... small setback. Britt/Mila is too short. To raise her up a bit we put a couple of old art-direction annuals to good use. |
The computer calculates all the settings. And yes thanks to the pile of art-books Bernadette and Mila have been assigned exactly the right tonal curve, the perfect Lightroom presets and the ideal RGB gradients.

| | | |
| --- | --- | --- |
| After two hours of changing the positioning and changing it back again; the umpteenth new set-up is confirmed satisfactory, and the definitive image can finally be shot. But just as Stephen's finger hovers over the shutter button, Masja jumps out: "Stop! Wait! Hang on!" the maddeningly perfectionist stylist has spotted a hair that's threatening to escape the hairspray's iron fist. She quickly forces the rebellious strand back in line. 'Okay! Let's go!' | | Camera hound Stephen seizes the moment and attempts to manoeuvre lady butcher Bernadette, played by Pauline, a couple of inches to the front. But she has had enough. In line with her character she plants both feet firmly on the ground. 'No. That's it. I'm not moving another inch. If you want me closer, you'll just have to put on a bigger lens.' |

| | | |
| --- | --- | --- |
| After an hour the group section has been completed to everyone's satisfaction. Time for lead performer Bernadette's solo piece. In order to get the perfect angle Stephen 'I AM a camera', contorts himself into a groin ripping front split. | | The wineboer sees an opening: 'Perhaps a little more cleavage?' he suggests semi-casually. |
| | | |
| --- | --- | --- |
| Not the kind of suggestion you want to make to Pauline/Bernadette: 'Cleavage? Come on over here mister and I'll give YOU cleavage...' | | When things calm down and Masja has reined in a last defiant lock of hair, the shot is taken. |
| | | |
| --- | --- | --- |
| | | Et voilà: after a little expert Photoshop-acrobatics this is the result. Available mid-November (unfortunately only in Dutch- at least for the moment). |
---
| | | |
| --- | --- | --- |
| | Share this Slurp! on Facebook | |
---
Allez, Hartelijk Santé et à la prochaine!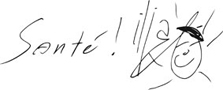 ---
| | | | |
| --- | --- | --- | --- |
| | | | SlurpShop |