Allô, allô, Bonjour!


The vendanges vertes are done, the tranquility has returned. A week long Dutch pickers have worked, laughed, cried, sung, eaten, and drank wine. On the day of the 222nd time the French celebrated the day that the guillotine worked over hours, les Hollandais broke up their tents and the chateau was once more surrounded by peace in quite.

Allez, on y va!






Retweet this Slurp

: Tweet
---
Excitedly Régis came running up to me.
'Quick! come look! The veraison has begun!'
A little while later I'm standing in the middle of the vineyards with the wine giant.
'Here it is. I marked the vine with a sarment.' He points at a vine that is hastily wrapped around a piquet and hastens ahead of me into the vineyard. He kneels down in front of a seemingly random grapevine. 'This is the one!'
Careful as if it was a Fabergé egg he takes a bunch of grapes in his callused claw, which suddenly looks very small. 'Look! The veraison...'
I look, well... I think, a bunch of grapes. They were green, now they're red. It's not very special unless it was the other way around... but I mirror his enthusiasm and utter gladdened sounds. 'Yeah! Nice! Good! Great!'
'Four days earlier than last year.' Régis knows off the top of his head. He says it with a pride as if he just personally gave birth to twins (a possibility that his build definitely seems to suggest). Still it moves me. That such a hulk of a man can become so emotional over something that has happened very single year for centuries. That is wonderful. I kneel next to him. Together we huddle over the blushing bunch of grapes. 'Elle est jolie...'
'Oui,' agrees the hardened wine giant, 'elle est très jolie...'
An immense sea of grapevines. Under their leafs they hide hundreds of thousands of sour, green berries.
And then suddenly, from one day to the next, the moment is there. Berries change into grapes. The summer can begin. Santé...
PS. Véraison, another one of those backwards French terms. It literally translates to 'greening'. But it's a term describing the grapes going from green to red. Rougeaison would therefore be more appropriate. But for that you shouldn't go to France, because there they always do everything the other way around...
---
Fighting with the scales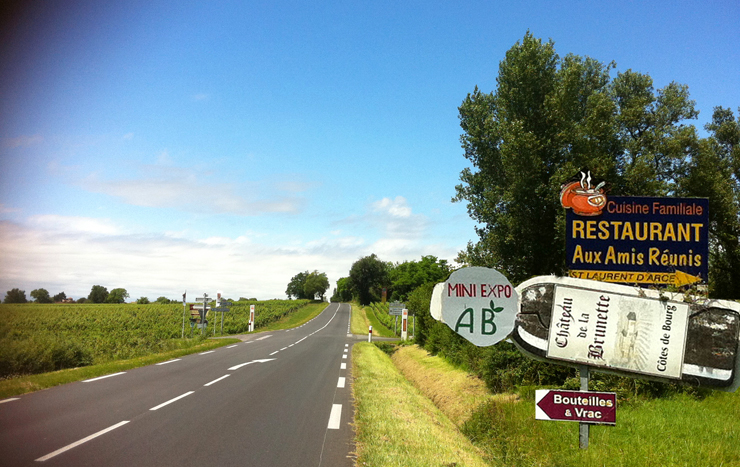 We get our groceries from the market in a neighbouring village. On the way back we stray from the known path and drive through unknown French countryside. Around lunchtime we're faced with a hard decision. Are we going to buy bouteilles en vrac, are we going to visit a biological mini-expo or are we going to grab a bite at the restaurant 'At the united friends'. We go for the latter.
A French village on a Saturday at around noon. Perfect for a metaphor: 'the room was buzzing with conversation, but when Babette walked in, it became as quite as...' (See above).
| | | |
| --- | --- | --- |
| In the 'Place des ancient combattants et les victims de Guerre' is the deserted Mairie. Even the flag refuses to wave. | | The Église seems, judging from the overgrowth, to only be used in the case of urinary urgency. |
But Bar Restaurant 'Les Amis Réunis' is ouvert. There is even life. 18 lives to be exact.
| | | |
| --- | --- | --- |
| For the table arrangement they chose a clear concept. | | The same insightful style of thinking was applied to the architecture for the bathroom. The colour palette was kept in covered tints and because the lid wouldn't stay up in the corner they roughly applied a saw to the problem and removed the top half. When the seat displayed a similar problem it was met with the same solution. |
| | | |
| --- | --- | --- |
| The wine is certainly affordable, but above all is in this restaurant, swear to God, Allah, Shiva and ourselves, a violation of the catering industry code is permitted that would result in an instant intifadah from the owner in most other restaurants (if you don't get thrown out immediately that is). You can bring your own wine!!! | | But to his astonishment the wineboer can set aside his deep-rooted suspicions about Vin du Patron. The ordered pichet rose Cote de Blaye is of surprising quality: juicy, fruity and a sultry summer colour. |
Slowly the terrace started to fill up. Under the shadowy bamboo cane mats you can hear the sound of laughter and the clinking of cutlery and glasses. Every now and then a lazy summer breeze makes the parasol flaps wave. The cats are sleeping under the table.
| | | |
| --- | --- | --- |
| While the sunspots dance over the paper tablecloth, we eat grilled mussels with garlic, chive and parsley, accompanied by a fruity strawberry-rose and a crispy fresh baguette. In an ordinary square, in an ordinary village. We'd trade the whole Côte d'Azur for it. | | For a moment the atmos was on the verge of deteriorating beyond repair. At the sight of the Brochette de thon et saumon with forest mushrooms and home made Pommes Dauphines, the wineboer is suddenly overcome by a wave of plate envy. |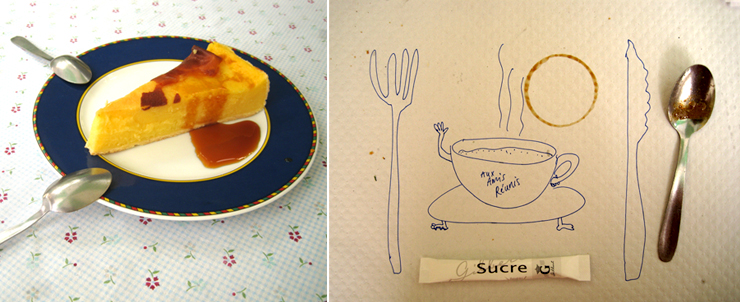 Luckily the dessert managed to bring a semblance of a smile to the lips of the wineboer. The Flan de campagne is something we can't miss according to cheffeuse Bernadette. But the base ingredients of this classic French regional dish is whole milk, sugar and eggs so it contains enough calories to survive several nuclear winters. To avoid disappointing Bernadette we went for the one-with-two-spoons variant.

Sadly her creation was so devastatingly tasty that we repeated it that twice. With coffee, strong enough to reanimate a corps, and a whiff of premature homesickness we say goodbye Aux Amis Réunis.

Cliquez ici for the recipe for Bernadettes Flan de campagne
| | | |
| --- | --- | --- |
| Total of the damage: 39 euro, a stray pants button and a fight with the bathroom scales. | | Voilà, an unmistakable 'Adresse'... |
---
No Dutch Harvest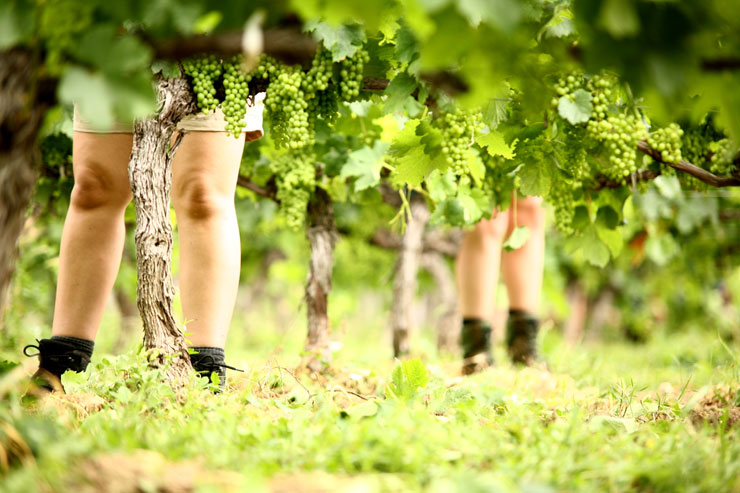 | | | |
| --- | --- | --- |
| It's already written: 2012 is the most fickle wine year of the century so far. Because of the cold, wet spring that was suddenly overtaken by scorching hot summer, the grape vines are barely containable. Because of this extreme situation it is impossible to predict beforehand when the grapes will be ready for the picking. | | That is why we decided we should wait with setting a date for the harvest this year until we know more. Waiting until a week or even a day before we begin. That means that this year we won't be able to work with Dutch harvesters. An unbearable disappointment, because with Les Hollandais we hauled in the happiest and the best harvests ever. But there is no other way and no other option: the grape is always right. 2012 will be a Vendange Française. |
---
| | | |
| --- | --- | --- |
| | Share this Slurp! on Facebook | |
---
---
| | | | |
| --- | --- | --- | --- |
| | | | SlurpShop |