Too late, too late!

Chastise us with a thousand thorns, drag our humiliated naked bodies through a field of crushed wine bottles: we are too late with the publication of this Slurp!
Below you'll find three excuses, take your pick:

1. The wineboer got caught in his New York hotel room with the chambermaid and is currently residing in Rikers Island.

2. Your wineboer was so exhausted after a night spent illegally irrigating his parched vineyards, he could no longer string a sentence together.

3. A sudden surge of lunacy, the planning of a Chateau Sing-along, took up all our time, and delayed the publication of Slurp!

---
Update

t's been pretty hot here in Bordeaux. Very little rain and the warm spring sunshine have made the grapes sprout abundantly.
The local farmers proclaim proudly: 'On est trois semaines avant' as if they'd done a special deal with Mother Nature.

---
A long awaited nightly shower produced barely a scanty millimetre and a half of life elixir for our grapes.
Thanks to the generous spring the vineyards are budding lavishly.
Not only that but they are 'Bien charge'; we can look forward to an ample harvest. There are even occasional blooms to be spotted among the vines. 'Floraison precosse!', the farmers are exulted and dream of happy accountants and long desired renovations. But us Dutch try to keep our cool; at this stage anything can still happen...
| | | |
| --- | --- | --- |
| Recently we have stopped ploughing part of our vineyard with the roaring diesel-guzzling tractor, instead we now use the soft grass-gobbling horse, Hyacinte. | | Erik and his strong steed thus make sure that our carbon footprint doesn't exceed human proportions. |
---
Wanted: Singing grape-pickers!
Chateau Sing-along 2011

The summer-harvest, known in French as Vendanges Vertes, is coming up soon. After last year's success we will work again with Dutch pickers. Between the 10th and the 24th of July we will be cutting off all excess grapes from the vines.



Singing makes you happy
Talking to your plants helps them to grow. And if you sing for them it makes them happy. This is why during this years' Vendanges Vertes, we shall be picking the grapes whilst singing. Thanks to this special loving approach the grapes won't notice that their branches are being pruned and the wine will taste smoother and deliciously sweet. The better we sing, the tastier the wine will be. And what is more, people enjoy singing together too. A guaranteed win-win situation!

And so we are organizing a Chateau Sing-along, between the 10th and the 16th of July. No effort is being spared; choir conductor Edwin Schimsheimer and his inseparable Steinway grand piano are being flown in from Holland, there will be a recording unit, a lighting plan and your wineboer himself will sing loudly and boisterously along and impress all with his cajon drumming. So, if you can sing and pick grapes at the same time, take part in our audition now and acquire everlasting fame in the great La Tulipe grape-pickers choir 'Les Voix du Vin'.
You want come singing and harvesting during the Chateau Sing-along in week 1 (11- 16 july),
cliquez ici.


For an impression: look here

for the daily report of the summer-harvest

2010.


cliquez ici for a movie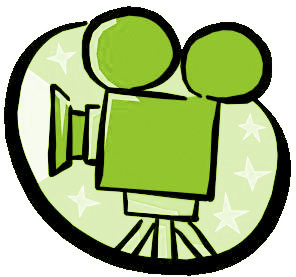 ---
Restaurant: Abu Ghraib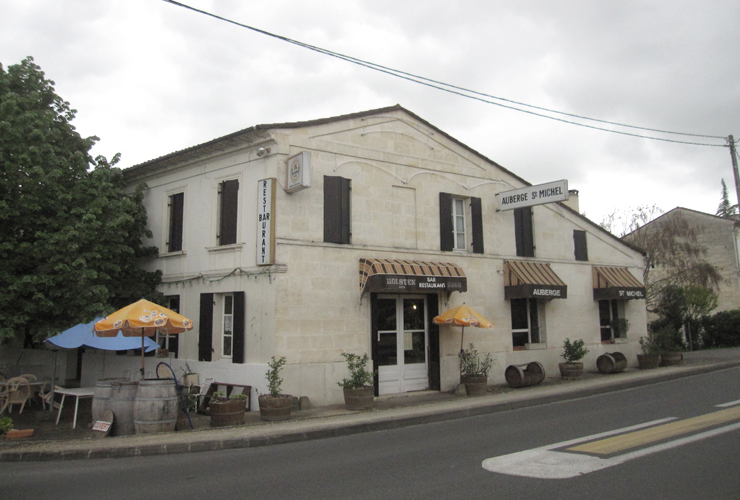 Encouraged by our rumbling stomachs we stopped at Bar Restaurant Auberge St. Michel. It seemed somewhat defected but the lights were on, so we proceeded to have our lunch there. We really shouldn't have.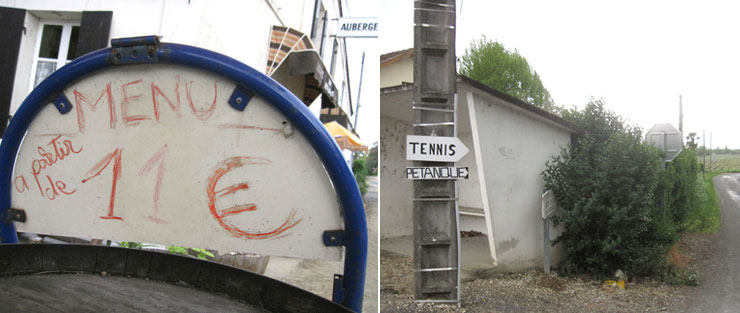 | | | |
| --- | --- | --- |
| We were pacified by the fact that the menu would cost a sparse 11 euro. This was possibly why the ominous appearance of this devilishly double-horned Euro symbol escaped us. | | We were guided in the same direction as Tennis and Petanque. A mix of sports which is not entirely without risks, if one were to attempt to hit a smash with a jeu de boules-ball. |
| | | |
| --- | --- | --- |
| A further signpost brought us to a promising display of floral nonchalance, indicating clearly that the proprietor didn't waste any time on appearances but instead focused all his energies on a conscientious haute cuisine. | | The restaurant turned out to be ouvert and what was more we could relieve ourselves of the 11 Euro by way of Visa card. So far our imminent feast seemed promising. |
| | | |
| --- | --- | --- |
| Our explorative journey to the entrance took us past the back of the restaurant, the architecture of which was in keeping with traditional French casual style. | | The staff entrance to the kitchen too, spoke of the confident nonchalance so typical of the French. |
But we should not be deceived by the easygoing atmosphere; an awkward customer seemec to have been forcefully ejected from the premises, taking the stairs with him.
At last. The entrance. Apparently the establishment is that scarcely visited that sparrows have not hesitated to build themselves a nest right beside the door.
| | | |
| --- | --- | --- |
| Inside 'the party was on'- or so we are led to believe. | | Said party, however, didn't last long. When the waitress presented us with the Menu du jour, we discovered that it is made up exclusively of meat dishes. Your wineboer, who is an ardent vegetarian, was disappointed. |
| | | |
| --- | --- | --- |
| When the alarmed Chateau-lord enquired after the nature of the amuse by way of interpretative sign language, the waitress turned over the menu to display the side designed for customers with Special Needs. What he sees there crushes the spirit of our audacious gourmand: 'Rillettes de grenouilles', ground frog paste! | | The lunch seems destined for disaster. In a desperate attempt to salvage the situation, our discouraged wineboer prays simultaneously to God, Allah, Vishnu and Saint Vincent, patron saint of wineboers. |
| | | |
| --- | --- | --- |
| But, as happens often in seemingly bleak situations, a guardian angel descends to offer a glimpse of hope: the kitchen staff put on yet another deep-fat fryer on the cooker, system overload and the light goes! | | But just as the grape-master is about to scurry out from the restaurant under the convenient cloak of darkness, the fluorescent tubes come back on. |
| | | |
| --- | --- | --- |
| It seems that our dejected grape grower is not the only one looking to leave the restaurant: the napkins are rising up from the glasses... | | ... and even the plants are making a break for the door. |
| | | |
| --- | --- | --- |
| Some of the vegetation has made its way to the heater and are pushing each other out of the way in front of the grimy windows. Let us out! Let us out of here! | | Alas, the wineboer has been spotted! He is being watched with eagle eyes. His car keys are right there and yet seem far far away... |
| | | | | |
| --- | --- | --- | --- | --- |
| Something snaps in our protagonist when the waitress plants the starter in front of him; a plate of 'charcuterie' of dubious origin. Fractured like a fallen bird he begins to write his will. | | The grape-lord gazes expectantly at the wavering light; every muscle taut, ready to leap up and bolt to the door if power failure were to strike again. | | Unfortunately the light stays on. All exits have been closed off. Even a tunnel seems an impossible prospect. |
The main course ('Crottes de chien a la plancha') turns out to be the last straw for our distressed hero.
He readies his cutlery to prepare for Harakiri, which shall be an accurate if somewhat rigorous way to finally end his suffering.
But then dessert is served: Tropicana ice-cream in parrot (Tucan!) mugs! From the neighbouring tables rises a murmur of bewilderment. Our grape grower too, livens up at the sight of the dessert. For some time the room is silent but for the soft tapping sound of spoons on plastic and smacking lips. All at once the patrons push their tropical dishes aside. We are satisfied. It has been a fine lunch....
Auberge Saint Michel 33126 St. Michel/Fronsac. Téléphone:: 00 33 5.57.24.98.31
---
The Barking Grape: Issue 1: What is Slurping and how is it done?
---
| | | |
| --- | --- | --- |
| Come slurp with me. The results | | La Tulipe de la Garde Premium |
| Our La Tulipe de la Garde slurping-competition has resulted in hundreds of enthusiastic entries. From the many correct answers we have randomly selected the winner: Merel from Gouda. She and her husband will be receiving a warm welcome this summer at Chateau la Tulipe de la Garde, and will spend a lovely weekend with us, being pampered to excess. Merel has been notified of her prize and has let us know that 'we will not regret our invitation', sounds promising..! | | Cliquez ici |
---
The SlurpShop is totally renovated. The most important:you can order exclusive wines!

www.slurpshop.nl

for the trailer of the SlurpShop, cliquez on the image



---
Congratulations to all our grape pickers!

For our grape picking teams from the 2009/2010 harvest; a quick update of the medals that have been won by our wines so far this year. It was partially your enthusiasm and love of grapes that have led to a bunch of medals from Paris to London, ten in total and we're only half way through the year.

Voila, hier zijn ze:Voila, here goes:

Chateau la Tulipe de la Garde 2009

Silver medal:
Challenge International du Vin Bordeaux

Chateau la Tulipe de la Garde 2010

Gold medal:
Concours General de Paris
La Tulipe Prestige
2008

Commended:
London International Wine Challenge
Silver Medal:
Concours de Bruxelles

La Tulipe de la Garde rose 2010

Silver medal:
Concours General de Paris
Silver medal:
Concours de Bruxelles
Commended:
Decanter London

La Tulipe de la Garde blanc 2010

Silver medal:
Concours de Bruxelles
Bronze Medal:
Decanter London

La Tulipe de la Garde rouge 2010

Commended:
Decanter London
---
---
| | | | |
| --- | --- | --- | --- |
| | | | SlurpShop |