Allô, allô, Bonjour!
Le printemps est arrivé. 100.000 vines are waking up from their winter slumber.
In this edition of Slurp!: exploding rosé and a delicious restaurant.
Allez, on y va!
---
Spring

is in the air!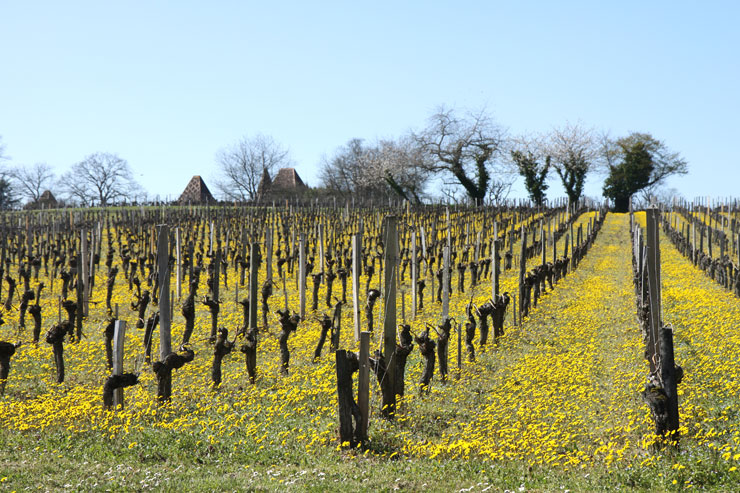 A crisp spring morning kissed the vineyards into awakening, which is why she is now dressed in a summer frock made up of millions of little gold and yellow flowers.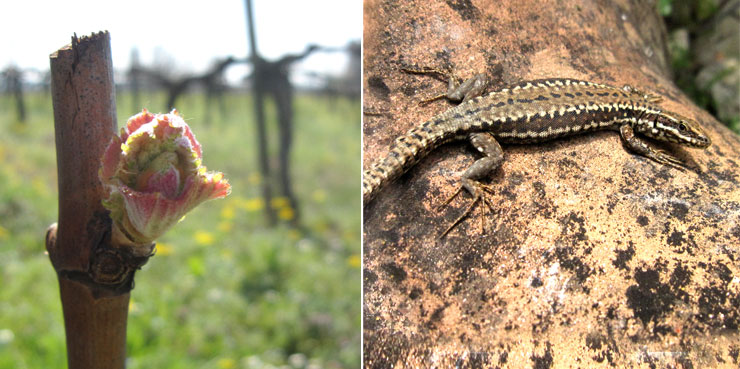 | | | |
| --- | --- | --- |
| Not three months ago these vines were crudely cut off, but already fragile green and pink buds are sprouting out from the wood. Hesitatingly they unfold their delicate leaves towards the first rays of sunlight. | | Spring is in the air: the lizards crawl out from under the rocks and joyously press their bellies against the sun heated stone, but keep one eye open in case a female happens to pass by. |
The pannetone we offered the castle birds last month seemed to go down well with them: all that is left is a cake base. As a thank you the birds now sing at a deafening volume.
---
Winespectator
At this very moment the 'Primeurs' are on in Saint-Émilion. Wine bobos from all over the world converge on this tiny wine city to taste the still unbottled harvest of 2010.Everyone had to wait till 9:00 on the 4th of April when the first corks came out of the sample bottles. But 2 wine journalists were, in the great secrecy and under the cover of darkness, allowed to taste them over a week before the rest: Wineadvocat Robert Parker and former Winespectator chief James Suckling.

The English word 'Suckling' can hardly mean something else but 'Slurper'. The one and only name for a winetaster. James is a great slurper: the latter gave our Chateau la tulipe de la Garde 2010 a very nice score which put us in the same league as the wine made by the wonderboy Jean-luc Thunevin, which sells for 200 euros.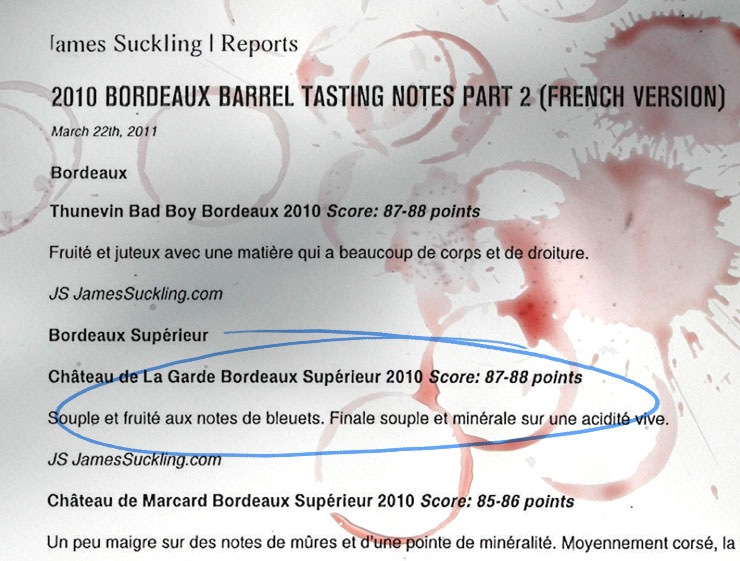 ---
Two medals in Paris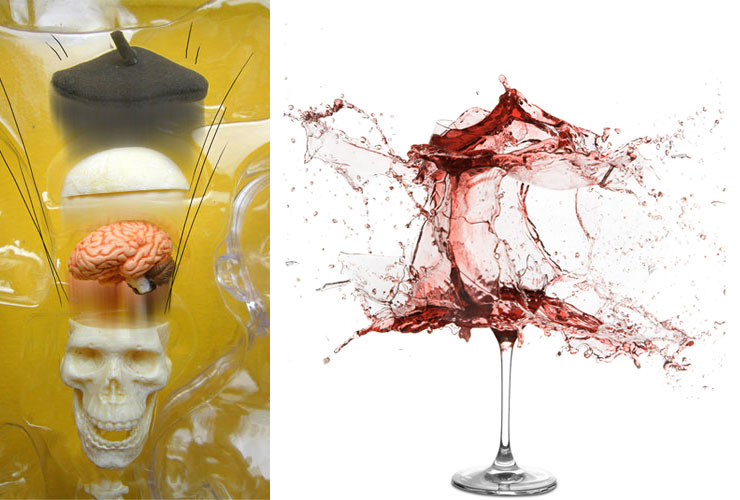 That would make any simple wineboer go slightly ape: this type of rose news hits like a nitrogen bomb.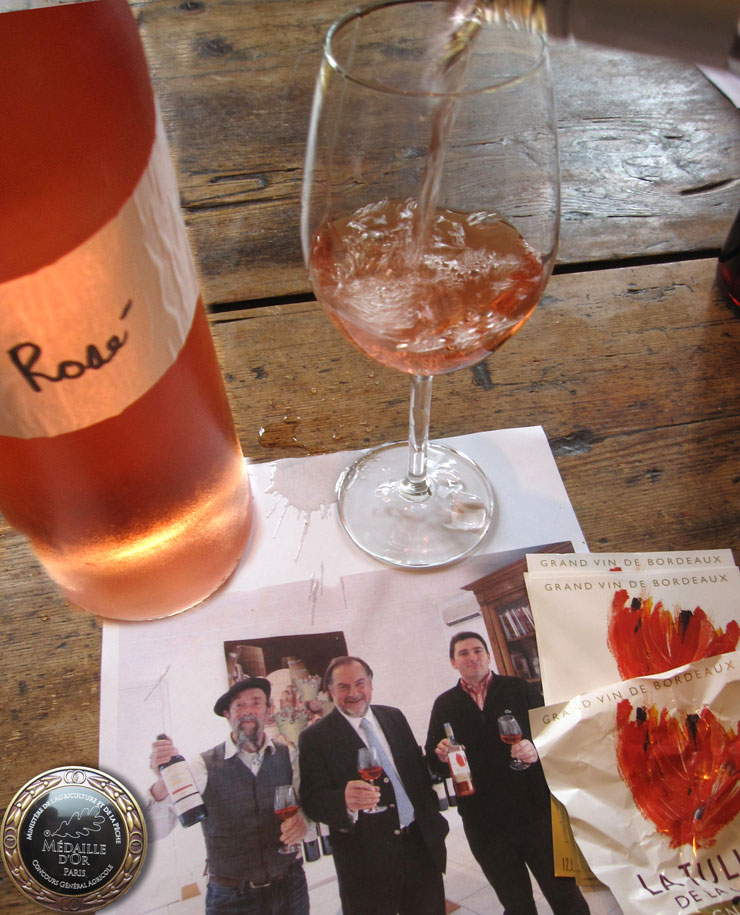 La Tulipe Rose 2010 wasn't even in the bottle yet when we got a call saying that we won a silver medal on the most important concours in the world.
Ten minutes later we received another call: 'Oh by the way, you also won a gold medal for the Chateau la Tulipe de la Garde 2009 Bordeaux Superieur.'



Order?
Cliquez ici
---
Suffering

and joy


Sadly the news of our medals in Paris was overshadowed by another bit of slightly more shocking news. Something happened here that has thoroughly upset the gentle balance in this sleepy wine village. And rightfully so.


When has something ever happened around here?
| | | |
| --- | --- | --- |
| Here strolling to the boulangerie for a newspaper and two croissants is already an event by itself (along the way one can enjoy looking at everything that isn't happening), the way back is even better: carefully the baker has slipped two freshly baked croissants into a bag made out of thin blotting paper. | | The croissant bag has a pleasing scene of sunbathed fields of grain and loudly singing birds depicted on it. While you're promenading back to the chateau you hold on tight to the tip of this prelude to the delicious breakfast you're about to have. |
But without a warning of any kind it seems our boulanger has changed bags! 'Yuck!' I cry out spontaneously. 'Ugly!'
'But I make more than just croissants!' he defends his straying from the straight and true. 'I also do Chocolatines and Chaussons!'

Shaking my head I leave the store, burdened with a light thought undeniably present tristesse.

Luckily the croissants haven't suffered because of the bag change: they look ever so promising.
| | | |
| --- | --- | --- |
| However joy and suffering go hand in hand: it turns out that it is possible to write on the bag. While we warm up the croissants in the oven we quickly jot down an idea for a column that popped up. | | The stream of thoughts is however so abundant that, when our thoughts are brought back to our breakfast it's mostly due to the fact that there are large clouds of black smoke are copiously emanating from our oven. |
---
Joy and suffering

Lovely, an aging cellar like this, full of new barrels filled with good wine: step inside and you're overwhelmed by the mouthwatering aroma of new oak mixed with the smell of ripe Bordeaux. With the excuse that our cherished wine needs to be checked every day, I enjoy spending time among the full, round barrels.
| | | |
| --- | --- | --- |
| But after being used for three years, the barrels hardly give any aroma to the wine and have to be sold. In France this means that someone will say that they'll come get them and then you'll never hear from them again. So that those stupid barrels are horribly in the way for months. | | Because of this I have so much experience moving them, that I could apply with the barrel rollers of Saint-Emilion. |
But what did we spot at the local flea market last Sunday? Opportunities!

| | | | | |
| --- | --- | --- | --- | --- |
| With a little sawing and hammering you can change a wine barrel into luxury salon furniture! | | Or a funny garden set… | | A little googling told us that a barrel sawn in half is still worth 500 euros! |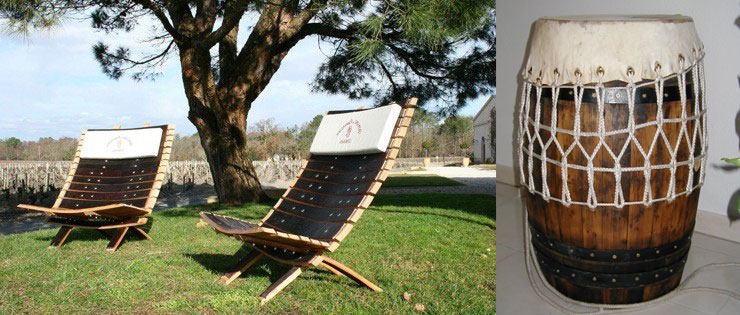 While clicking we realized that there is a barrel-renaissance-circuit in which they get turned into pretty much everything. Luxury lawn chairs, musical instruments…

…hammock… yes, you can even have your whole living room fitted with parquet made from wine barrel staves. That has to smell great!
| | | |
| --- | --- | --- |
| Even coffins from wine barrel wood. A better last resting place is hard to imagine. | | Even better than the iPhone-coffin. Imagine being called about a late gas bill when you've just descended into your restful slumber. |
---
The Gorilla grip
Gault Millau says that Maison Troisgros in Roanne is the best restaurant in Frankrijk. That we had to see for our selves. We reserved a table and to be safe also a room in the accompanying hotel.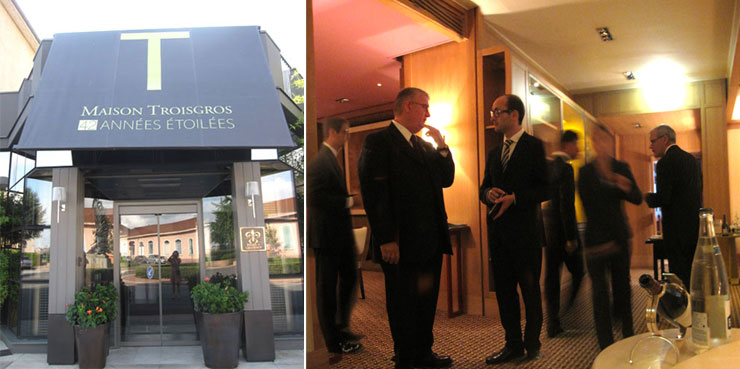 The service was excellent: instantly upon setting foot in the lobby a little midget with a wrinkled face shot in our direction to relieve us of our luggage.
A king gesture which I rewarded by handing the little man a 2 euro coin.
With the magic dining hour approaching we descended freshened up and beautified down the stately hotel stairs, making our way to an unforgettable evening, full of sweet romance.
The restaurant-interior wasn't really helping with that: the room we entered was decorated like a branch of HSBC.
But it was filled with waiters, two of which instantly hurried our way to guide us to our table.
Greedily we asked for the wine list. But alas: the with flair given wine bible contained so much, and so many expensive wines, that one look in it could lead to a fear of heights.
| | | |
| --- | --- | --- |
| A sommelier appeared in an impressive getup. We explained to him our contradictio in terminis: a nice Bourgogne for a modest price. With a reassuring gesture he slammed the wine breviary shut and decided to start by taking our wine glasses; two fishbowls on sticks. Big enough to train two adult killer whales to do three-point turns. | | A reason to worry: did they have to be slammer, or were we allowed bigger ones? The glasses turned out to be of sufficient size that they shielded our eyes from our neighbouring tables. We bended forwards and looked at each other through the glasses full of expectation. What sort of ambrosia requires glasses like these? |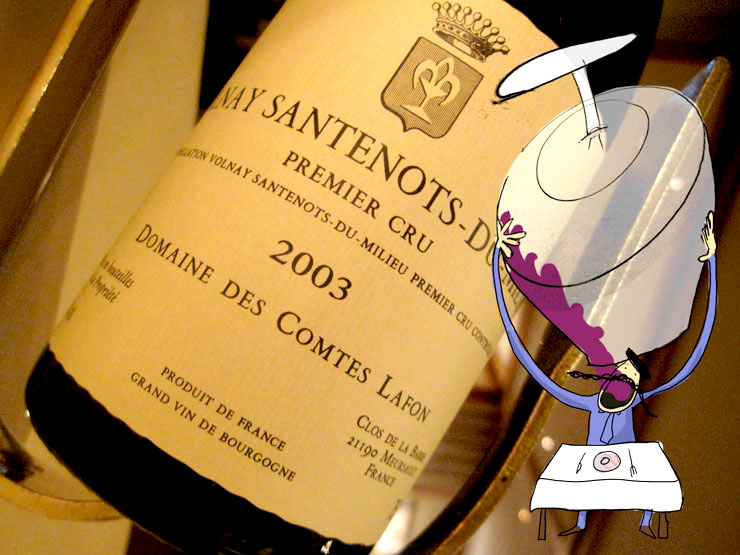 It turned out to be a Volnay Santenots-du-Milieu 2003 by Comtes Lafon. Carefully I lifted the fishbowl to my lips and took a sip. I got the impression that I was drinking the Amazon: like a mighty river of tastiness, the wine flowed through my chest. Heartwarming and soul stroking. A red glowing French kiss. I knew that my life would never be the same again. From this moment on I only wanted to drink that wine.
| | | |
| --- | --- | --- |
| Slightly distracted by this vinological violence we paid embarrassingly little attention to the 'Mezzaluna de petits pois, à la truffe'. The wine, her taste even stronger because of the excessive drinking implements, absorbed all our attention. | | During the 'Lotte sans l'arête aux baies de l'épine vinette' our sommelier passed by. He carried two wine glasses, one step bigger than ours. Tensely I followed his route, what sort of super human grape extract could warrant these giant glasses. |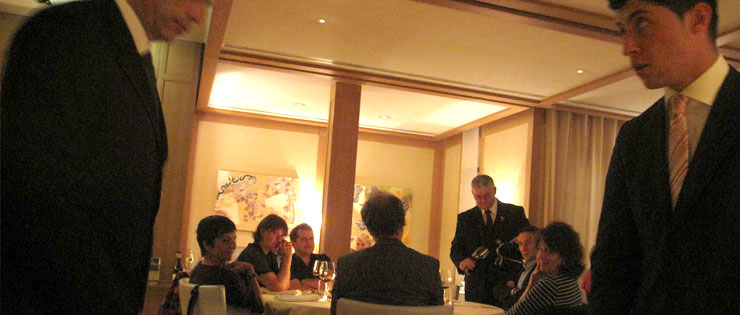 At a table not far from ours he placed the massive chalices on the damask and poured out, with a level of care as if it was nitroglycerin, two drops of red.


When he returned I asked him which wine he had just served. Saddened he shook his head and sighed: 'Romanée-Conti 2001. An eternal shame... Unnoticeably he nodded towards the concerning table, where a stout couple held their monstrous goblets not by the stems, but with the entire hand they encased the chalice in an unmistakable gorilla grip. 'Americans,' sighed the sommelier. 'They have no idea what they're drinking. They take a sip and talk right through it.' While shaking his head again he disappeared.

An hour later he placed the bottle Romanée on our table with a cunning smile. It still had quite a bit in it. 'Here you go. They left it, the idiots… '
Carefully we tasted the priceless wine. Stunned by aroma and the taste pallet I was at a loss for words.

At that moment the chef appeared at our table: Michel Troisgros, three generations of Haut Cuisine, the best chef in France and owner of this three star restaurant plus a range of other prestigious restaurants in Moscow, Paris and Tokyo. He asked if everything was as desired.
In a moment of absolute panic my heart stopped beating. I recognized the midget from the lobby in who's hand I had pressed a two euro coin.

Maison Troisgros Hotel Restaurant, Place Jean Troisgros, 42 300 Roanne
Téléphone +(33) 4 77 71 66 97. Fax +(33) 4 77 70 39 77. www.troisgros.fr
---
---
---
| | | | |
| --- | --- | --- | --- |
| | | | more info |