Âllo, âllo, Bonjour!
It is about to begin, the earth has shaken its fur and awoken. So there is work to do for the winemaker, because when the "printemps" explodes the "biodiversité" will once again have our vineyards in a chokehold. Tractorist Régis though, has his own thoughts on this biodiversity…
Allez, on y va!
---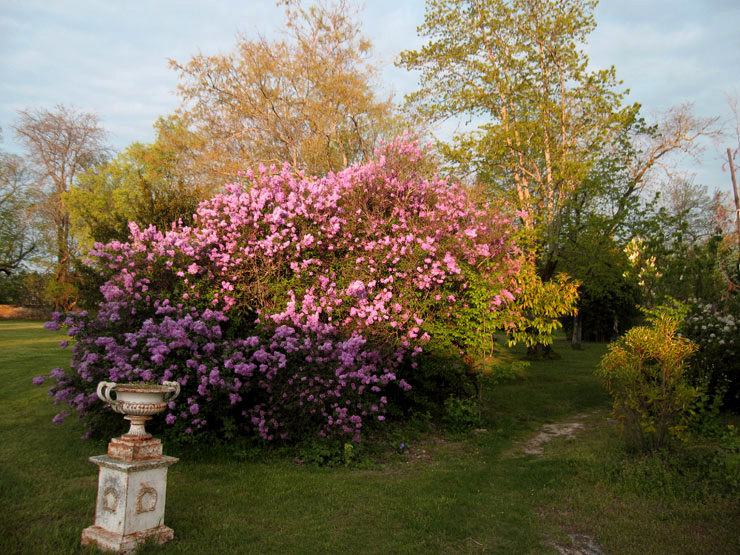 Bam!
From one day to the other spring is all over the place. The Lilac, which they call a Lilà here (emphasizing the a), exploded into a lascivious cloud of purple bunches of flowers that smell of bath foam.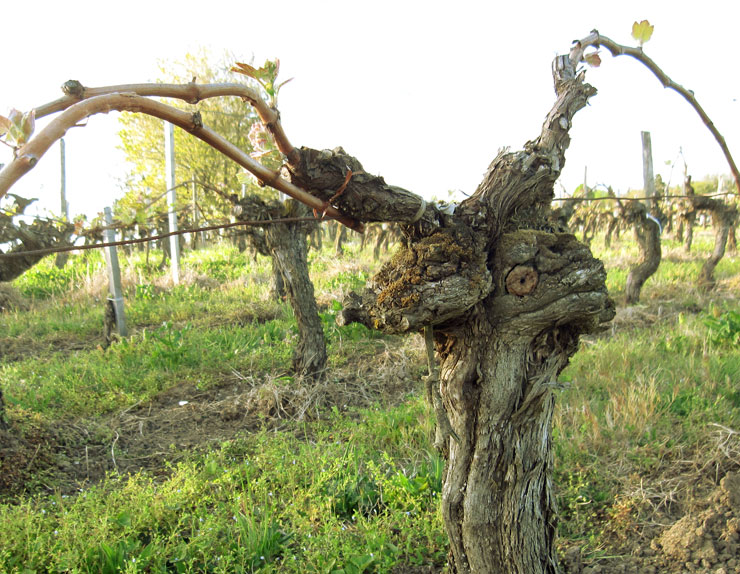 Also in the vineyards the testosterone is raging though the stems.
From the depths of the earth in the rigid roots the old stump has once again managed to squeeze out a few green leaves out of its vines. But don't underestimate him: come autumn it'll be these vieille vignes that produce the most beautiful, most concentrated dark red wine.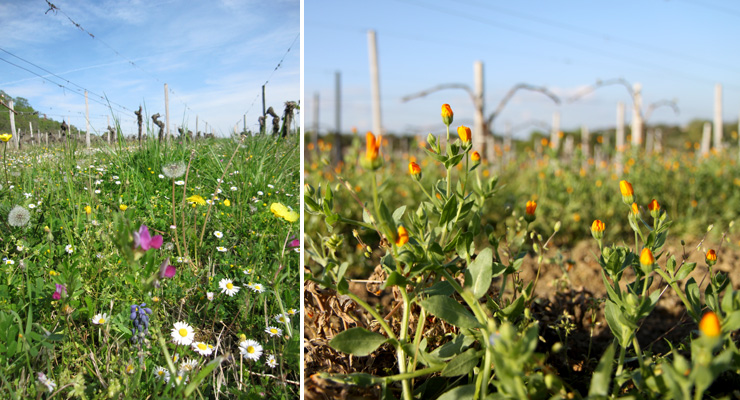 After a long winter it is party time in the vineyards.
But in between the vineyards is where the real partying begins. Thanks to years of biological warfare against the insecticides, our vineyards have changed into a heavenly flower garden. Thousands of wildflowers elbowing each other out the way to get some space as if they were in front of a both giving away free tickets to the final of the football world cup.
No idea what they're all called, but it actually hurts to look at them, they are that beautiful.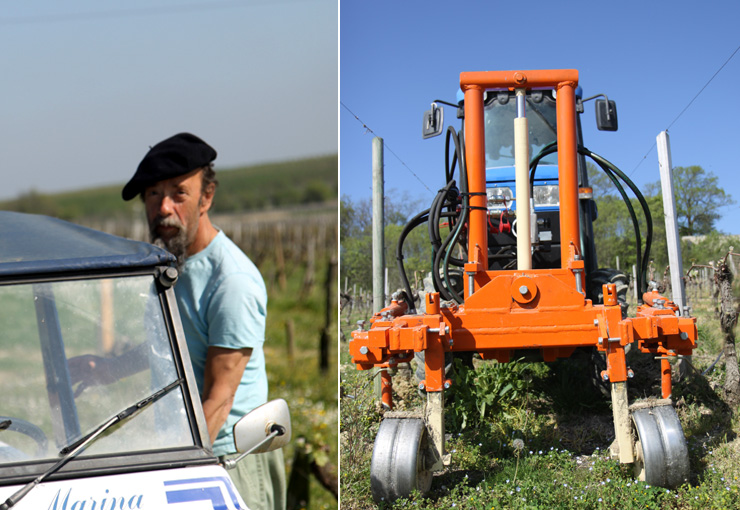 When the wine grower is sitting at the breakfast table, endlessly pondering how to capture the beauty of the flowers in a few well-chosen words, his poetic thoughts are rudely interrupted by the manager, Paul Bordes: the 'Pellegrue', the recently purchased wonder machine, that should rid our vineyards of all unwanted plant life with the soft touch of a nursery nurse, has arrived!

A little while later the wine grower makes his way to the southern slope, 'La Côte', where a steady rumbling hints at the presence of tractorist Régis and his new Pellegrue.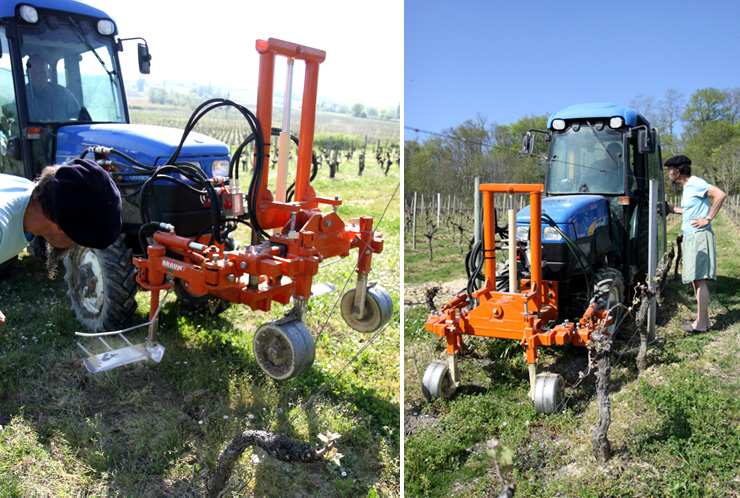 Thanks to a technical principle, that is to complicated to be understood by any human, the pellegrue manages to do the impossible: it can spud out weeds from in between the vineyards without them being harmed in any way. Impressed, but at a safe distance, the winemaker admires the razor sharp plough blades.
Yet still not totally assured of a happy ending, the winemaker asks Régis if it might be possible to perhaps avoid the flowers while ploughing through the vineyards. Worry dripping from is tone of voice.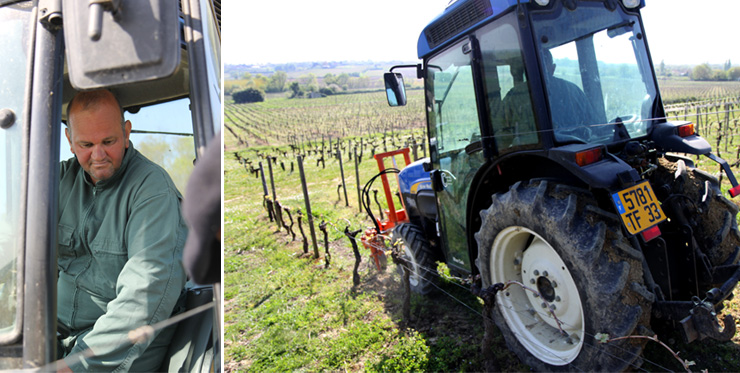 'Go and bother someone else with this hippie crap', one can hear him think followed by 'all those foreigners are softies'. With a friendly smile he firmly closes the window on his tractor and speeds down the hill, the sun reflecting on the shiny plough blades.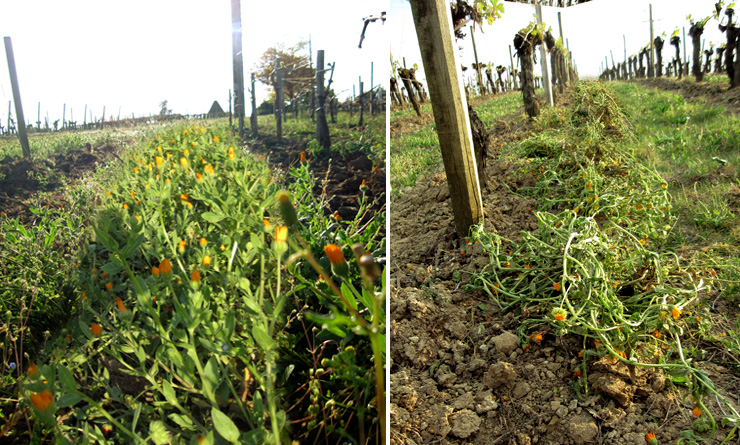 When dusk approaches there is hardly any trace left of the sea of flowers. The flowers lie dead and soulless on the ground. The vineyards have been ploughed, but also in the heart of the winemaker there have appeared deep grooves.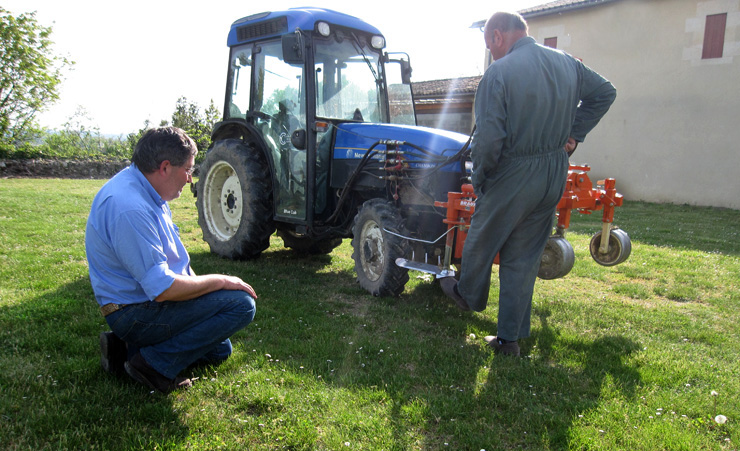 While a ray of sunlight the machine in a silver light, Paul kneels reverentially in front of this new bringer of blessings. Régis shows his respect in the way that any real man would; by giving it a careless kick in passing.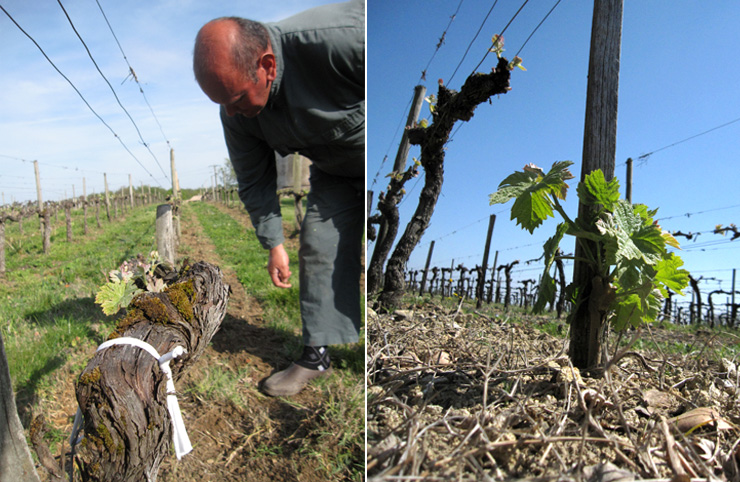 Carefully the tractorist kneels over a recently planted baby merlot: "are you alright little one?" he growls with his sonorous voice. "Yes…" the frail plant seems to say. And indeed: without sustaining even a scratch he has been freed from the terrorizing flower mass, which intended to knick its food.
---
Animalcare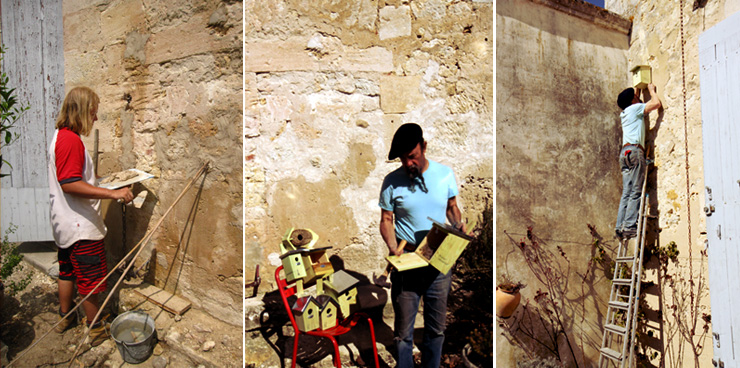 Last summer we noticed that birds of diverse plumage had deemed the seems from in between the stone blocks from the castle wall the perfect spot for some prime bird real estate. Apparently the word of beak traveled fast, because in no time at all the number of castle inhabitants increased so much that the walls were in danger of being perforated with all sorts of nests.

Last summer, when all the baby birds had left the nest, my son Klaas and I, with pain in our hearts, filled up some of the empty-nest-wall-creases. Laden with guilt we sped to the local pet store and bought a serious amount of nest boxes that could not only fill a family car but probably also cost about the same.
Without concern for our own safety, a mouth full of nails and a hammer, which upon reaching the top of the ladder turned out to still be at the bottom, we filled the castle walls with nest boxes.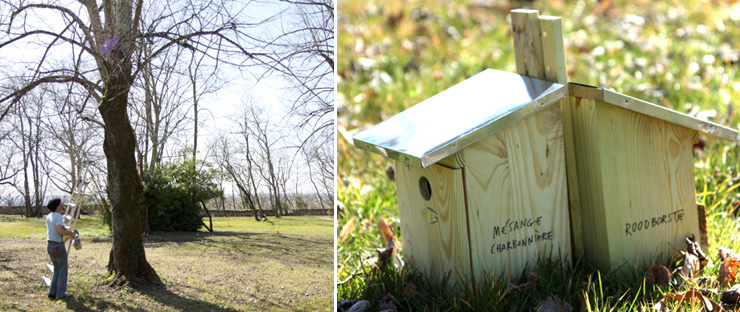 After we couldn't fit any more we moved to the park. Here we also didn't take any risks: to make sure that the happy singers could easily fiend the route to their new housing we wrote each of their names of their respective house in two languages.

Coûte que coûte we wanted to avoid that our castlewallsingers would be disappointed or perhaps resentful and look for another place to live.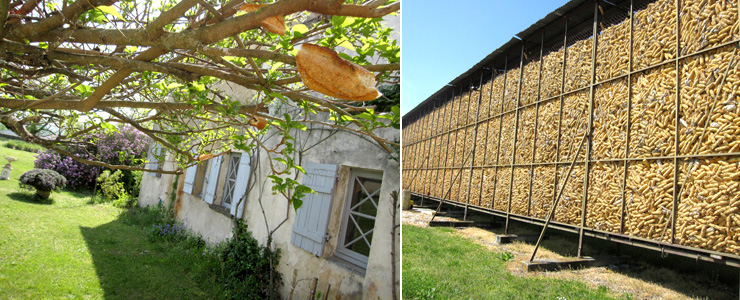 | | | |
| --- | --- | --- |
| When we'd put up all the nest boxes we started a serious charm offensive. We decoreated the trees with baguettes… | | … and from a befriended farmer we bought some corn. |
The following images can disturb untrained readers, so our advise to them is: stop here, do not continue.
Reading on can lead to loss of faith, bitterness and hate towards animals so again: go and do something else. well then, for the diehards among us here follows an all revealing reportage about the raw reality. Because what, after all that effort that it cost us, do those stupid ungrateful birds do?!

Those stubborn animals nest everywhere but in the boxes we put for which we while endangering our lives.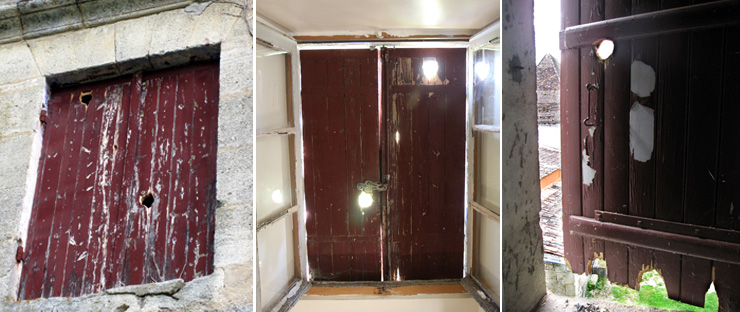 | | | | | |
| --- | --- | --- | --- | --- |
| Also the spotted woodpecker ignored the for him arranged facilities (€29,95). He opted for his own entrance and exit in the shutters of our guesthouse… | | …which at the same time provided environment friendly air-conditioning. | | A woodpecker unknown to us chose a rather more luxurious apartment with access to the one of the castle towers. |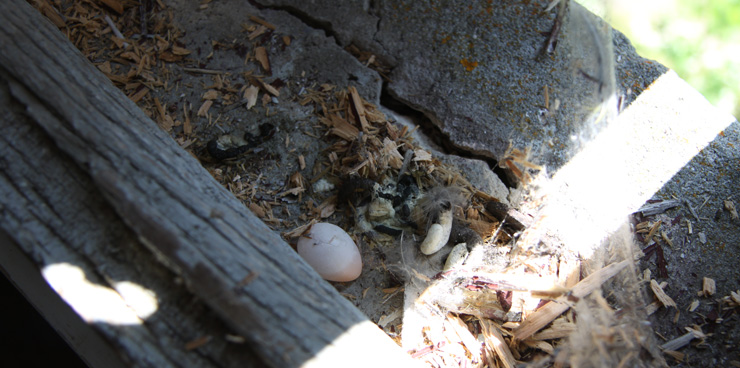 But he at least was polite enough to give something in return.


You might be thinking, what are they going on about, but living an a wine château you are part of nature. The balance between what's going on above and below ground, the coupled nature of the earth and the sun, of foliage and animals, that determines the quality of the harvest.
When the autumn storm uprooted a few of the forest giants that we had in our castle park, we could do nothing but spend a small fortune on the planting of new trees. And how do the deer thank us for the heavy battle we waged to get a hunting ban in our area?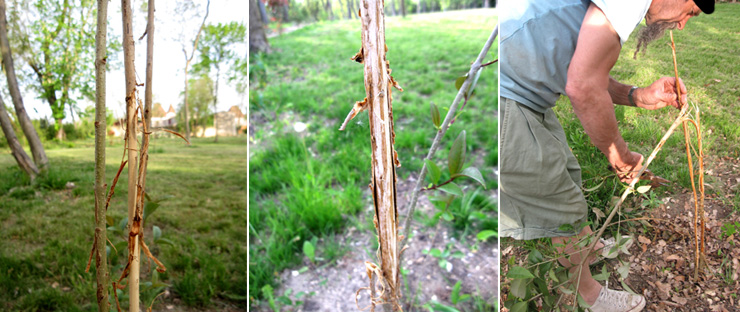 Exactly by immediately eating the bark of our precious new trees!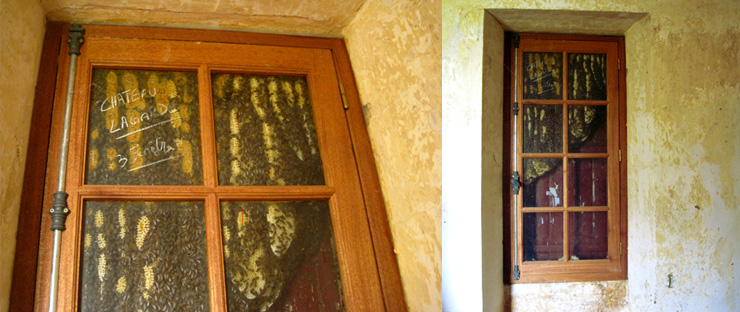 But it isn't only hairy and feathery wildlife that we cope with on our château. We also live with about forty thousand bees. Years ago they constructed their honey industry behind one of the shutters of a scarcely used guestroom and ever since then their enterprise has grown exponentially.
But oh well, we'll, leave them to it; in exchange for a roof over their heads they fertilize our grapeflowers so that they may become grapes.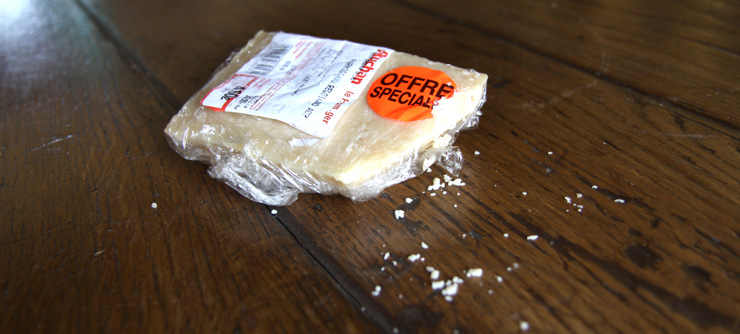 But there are limits. To quote the immortal words of Winston Churchill: "Enough is enough!" after recently finding a piece of Parmigiano Reggiano, which is hard to find in France, half eaten on the table our patience for the animal realm kingdom had run out. This violation of our privacy crossed the line of the acceptable: the culprit had to be found and judged. We installed a surveillance system equipped with movement sensors and security cameras.
When we looked at the security footage the following evening, it appeared that the shameless intruder had struck again that very afternoon.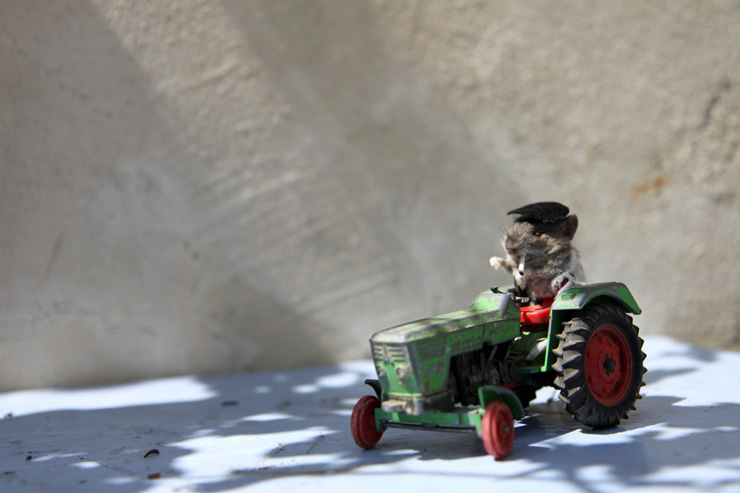 Not even 10 minutes after we had left for our afternoon labour in the vineyards, he showed up calmly strolling around like he own the place.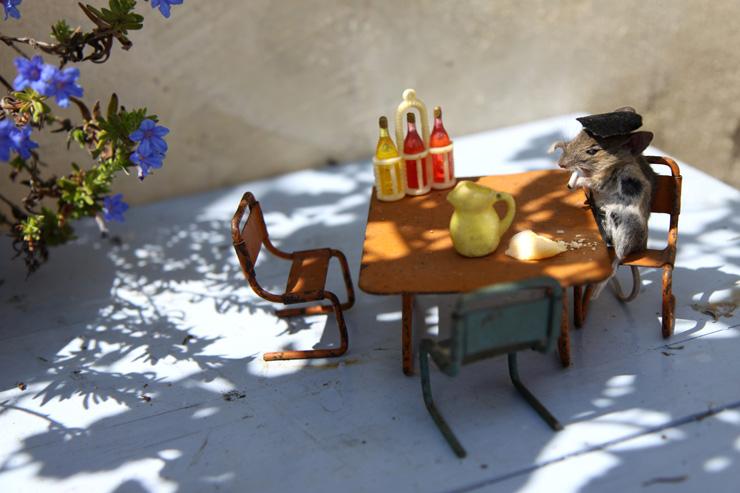 Totally relaxed the unwanted guest took place at the table and fully enjoyed the formaggio italiano.
---
'Verdammpt noch mal!'

Our Château de la Garde Grande Cuvée, made out of hand bruised grapes from the amazing year 2009, becomes better every day. Sadly, we loose about 5% every day because it evaporates through the wood of the barrels, meaning that you can actually see the amount of wine shrinking.

Every year in Saint-Émilion in the beginning of April there is some sort of wine auction, the Primeurs. The most important wine merchants of the whole world come to this small city to taste the new, as of yet unbottled, wines and possibly take an option on them. During these primeurs our company manager pulled some strings and called in some favors to get our wine in a blind tasting of some of the best Grand Crus.

Our finished fourth out of the ten best wines. For a moment I though I had totally lost touch with reality. An excited wine purchaser from New York wanted to by the lot and offered 28 quid a bottle.

We were tempted for a moment, because the roof of the room for the harvesters had sprung a leak, but no, we didn't do it. Wine that had been harvested with such love by Dutch harvesters had to be drunk and enjoyed in Holland. Then we'll just skip lunch for a year and put an empty can under the leak.

Wine-deity Robert Parker arrived two weeks ahead of the primeurs in Saint-Émilion. He also tasted our Grand Cuvée, along with our Château de la Garde 2009 and La Tulipe. He chose all three of them for his list of favorites. At the end of May he'll give them his final judging. Still thirty days to go.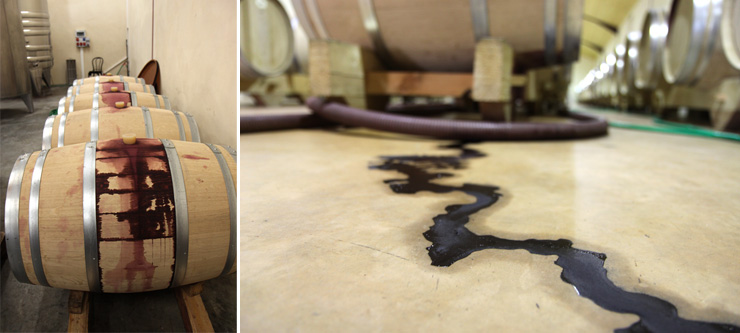 Mean while the barrels will continue to leak. I pray to Dionysus that, when Parker finally releases his 'notes', there will still be some wine left to accommodate the rush that they will create.
---
Bloodwine with whole pieces of wineboer
While traveling we lost our way, when day started to turn to night we ended up at the rugged edge of the city of light. We couldn't really do anything but seek refuge in a peculiar hotel.

Diner started of with a salad that gave the impression as if one of the ingredients was a freshly committed chainsaw murder.
| | | |
| --- | --- | --- |
| Around the scarred epicenter of the main course there was a creation in cubist style made out of several agricultural products. | | What exactly we ate, we're still not sure of. It looked like it could communicate with us. For safety reasons we hid it under a mountain of chainsaw salad. |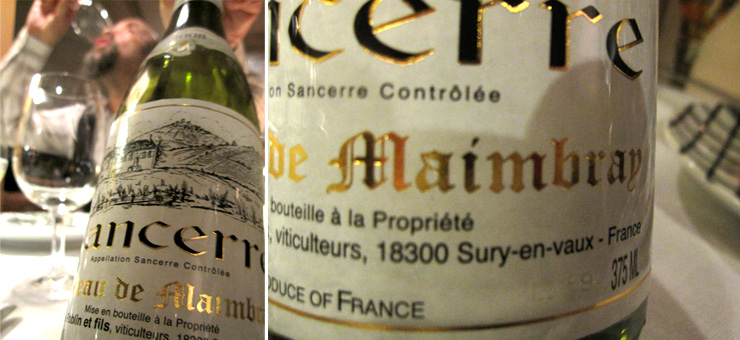 Though yet again it was proven to us that a guardian angel can descend upon your shoulder when you least expect it: the Sancerre we ordered was incredibly good. Lots of minerals en fruit, a French kissing sugar balance with a hip wiggling acidity at the finish. At that moment we almost ran out of the hotel to go and search for this delicious Château de Maimbray.
More! More! More!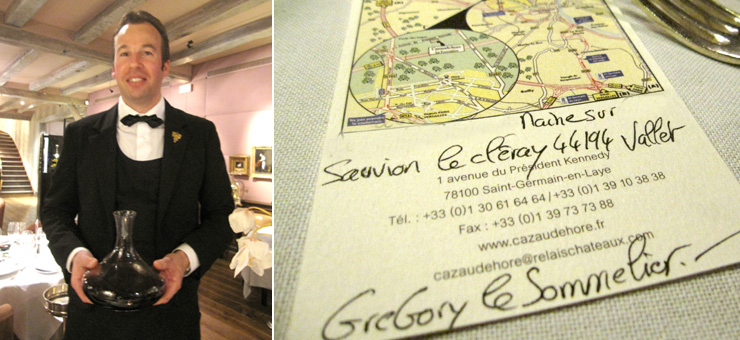 Sommelier Gregory didn't mind providing us with an itroduction: if we didn't tell anyone he'd let us say he sent us…
---
To screw or not to screw?
The replies are streaming in like a sparkling wine waterfall. the trend leans toward the screw cap, but that doesn't prove anything because the questionnaire doesn't finish until the 21st of July. So let your voice be heard and help us decide the future of the cork oak. Win 1 out of 20 signed copies of Slurp! Books or win your weight in wine. Cliquez ici for more info.
In your birthday suit
The winners will be announced in the Slurp! So mail us your best/funniest/cheapest picture: [email protected] and who knows, you might just become world famous in Holland. The winners will be announced in slurp 21.
---
Finally: La Tulipe in restaurants!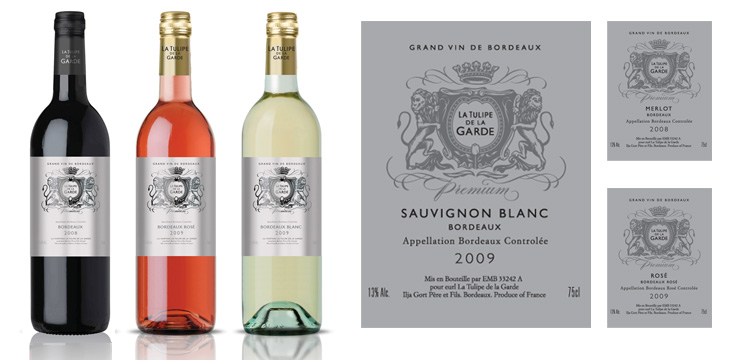 Office communication: we've been searching for the past 15 years for a partner that could put our wines in Dutch restaurants. But alas: no such partner was found. This spring we finally found each other. We've signed a contract with "Oud Reuchlin en Boelen" the wine importer for amongst others Heineken. As of the 1st of May they have exclusively been representing our new range of Tulipe –premium wines in red white and rosé, which we vinified together with Michel Roland specifically for Dutch restaurants and hotels. Congrats! On Wednesday the 28th of April, during the yearly ORB wine tasting in the sunny fort Wierickerschans in Bodegraven it happened: The winemaker himself handed the first bottle of La Tulipe Premium to Eric Baden. Nartional Category Manager wine of Heineken and Albert van Weteringen, general director of Oud Reuchlin & Boelen
---
Allez, wholehearted Santé et à la prochaine!



Slurp! The new wineboerenbook, € 14,95.
In stores now.